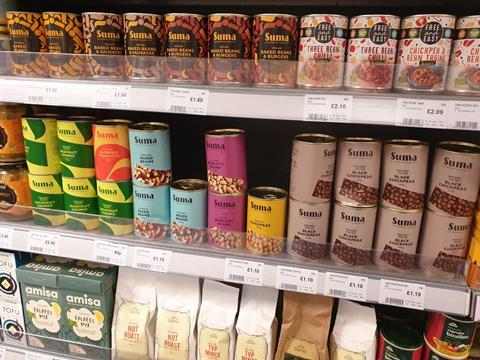 1. Consumers with dietary requirements spend over 9% more
Consumers with dietary requirements are high value, according to Lumina Intelligence. These consumers visit more frequently (+15%), spend more in total (+9%) and more per item (+11%) (Lumina Intelligence, December 2020).
Country Choice adds that the vegan shopper is more valuable, with their average spend £1.80 more than a non-vegan food-to-go shopper.
Vegan lines are selling well at Costcutter Chislehurst in South East London. "Sales are growing," says owner Anil Patel. "Some people come in especially to buy vegan goods."
His free from lines are also big sellers. "We have a 1.5m free from section," says Anil. "It all sells well. We order £5-600 worth a week from a company called CLF, plus we have the Co-op lines."
Budgens Broadstairs in Kent has a dedicated free from section and a strong vegan offer. "We have vegan lines dotted around in the freezer, lunchbox area and a couple of bays of free-from with gluten-free, which also incorporates some vegan lines," support manager Chris King. "We also have vegan ready meals in chiller from Quorn and vegan chicken goujons from Vivera."
He claims that customers come in especially to shop his free from items, many of which are sourced from Suma. "We have a really decent free-from range so people are familiar with that - kidney beans, lentils, burgers or sausages, pastas. We also do free-from curry sauces, mayonnaise, dietary gravy, dairy-free yoghurt, free-from flour, even egg-replacement! We have vegan cheese, vegan chocolate and Eat Real crisps. We try to have something in every section that will accommodate everyone. "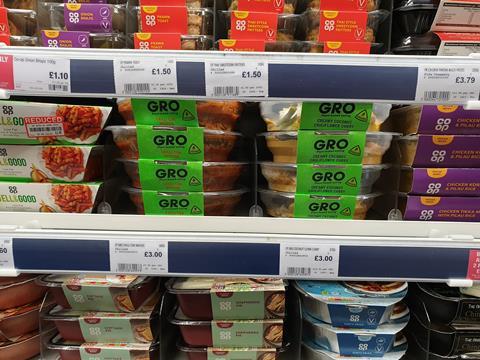 2. Ready meals are the fastest growing area of meat-free
"The market for vegan food has seen explosive growth over the past few years, and this shows no signs of stopping," says Dawn Carr, director of vegan corporate projects at PETA. "Ready meals are the fastest-growing area of the meat-free market," she says. "In 2020, 16% of supermarket ready meals were plant-based, compared to 3% in 2018. Sainsbury's, Tesco, Waitrose, Co-op, and Heron Foods all have diverse plant-based refrigerated ready-meal ranges. Co-op's GRO range features dishes like katsu curry, Kashmiri spice pizza, and chilli with nachos. It's available in 2,000 Co-op branches and 4,000 independent stores, including the Nisa and Costcutter franchises."
BOL Foods spotted a gap in the market for plant-based ready meals for two during the pandemic. "In the short term, rather than socialising, people have been spending evenings at home where household mealtimes have played an important role," says Paul Brown, founder of BOL Foods. "Retailers are seeing an increasing need to order more, larger formats especially for Christmas." BOL launched its Centrepieces meals (rrp £4), comprising pre-marinated, oven ready dishes topped with spiced seed crumb and a drizzle. "The range is designed towards delivering a 'semi scratch' plant-based range for the category, that is customisable enough for an experiential cook or ready to roast for the time-poor to pop in the oven," he says.
Meat-free ready meals are steady sellers for Anil. "The Co-op Gro stuff is selling really well," he says. "We sell two or three cases of ready meals a week, but the burgers are selling really well. My children are vegetarian and they love the Gro burgers, over Linda McCartney and Quorn."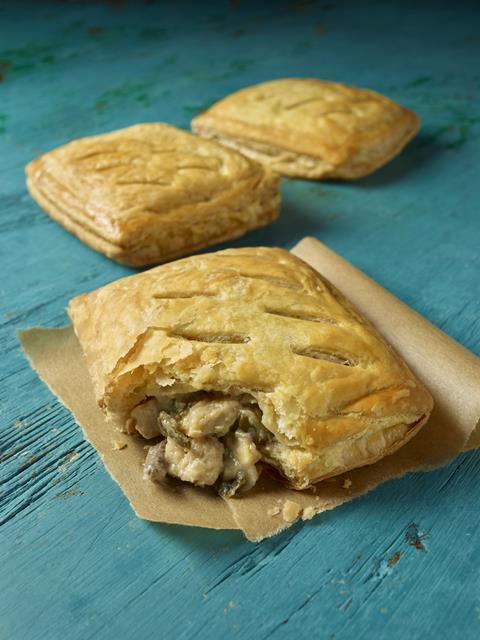 3. Savoury vegan pastries are on the up
PETA describes the vegan sausage roll as "the biggest plant-based hit of our times". Following the massively successful launch of Greggs vegan sausage roll in 2019, there's been no shortage of savoury vegan pastries. "Budgens, Co-op, and Booths offer own-brand vegan sausage rolls, and other stores stock vegan options from Wall's or Ginsters," says Carr. "Developing the category further, Ginsters offer vegan pasties and peppered "steak" slices using Quorn, as well as vegan Mexican chilli empanadas featuring protein-rich Pulled Oats from Gold & Green."
Country Choice has big plans for vegan savouries. "Our vegan range has continued to perform strongly throughout the year within convenience stores, with the Vegan Sausage Roll leading the pack," says marketing manager, customer insight & category management Hannah Morter. "Given that most vegan consumers are under the age of 35 [Gallup 2020], which just happens to be the same demographic as the primary shopper for food-to-go within convenience stores [ACS 2020], the importance of a good vegan food-to-go offer becomes clear. We are confident that Veganuary will bring an increase in demand and so we have some fantastic new products lined up for January including a Steak-less Bake, a Chicken-less Bake, a vegan pasty, and a vegan croissant."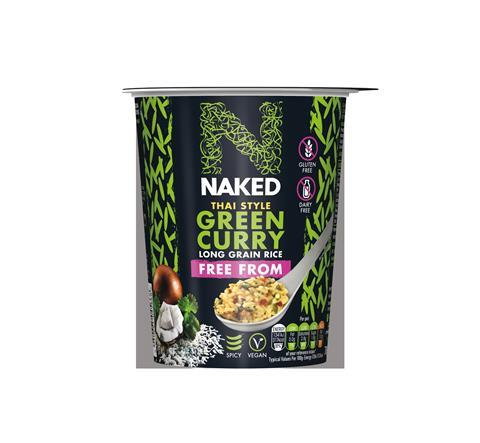 4. Value sales of free from Instant Hot Snacks are rising within impulse
Within Instant Hot Snacks (IHS), free from is growing well at +6.3% value vs YA in the Impulse Channels, states Symington's. "It is a little behind the total market, which is growing at +8.3% - and has benefited greatly from changing consumer habits throughout this unusual year [Nielsen p/e 31.10.2020]," says head of snacking Christine Everett. "There is not a broad offering within Free From IHS, with no brands really playing the space. As a result, we launched Naked Free From Rice Pots (Thai Green curry and Katsu) earlier this year, and we have seen performance well ahead of our expectations."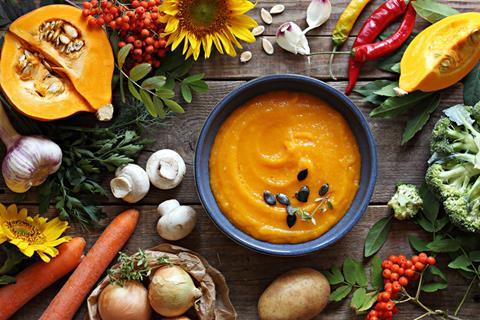 5. There is demand for plant-based lines even within largely meat-free categories
"The whole [Instant Hot Snacks] category is generally meat free, so the drive for plant based in this category is not so much about meat-free alternatives so much as a desire for the positive impact of including more plants in your diet," explains Symington's Everett. "We have recently launched Naked Veg pots which are 100% Plant Based and one of your five a day." The pots are inspired by world foods, with variants such as Malaysian rendang with mushroom & green beans and Korean BBQ ramen with sweetcorn & green beans.
Plant-based is also making waves within the soup category, despite there already being plenty of veggie options. Baxters rolled out its first plant based range to the mults earlier this year. The three-strong range includes adventurous flavours, such as Butternut squash & lentil dhansak, and the firm is keen to gain distribution in the convenience channel in 2021. "The new range has captured the imagination of the trade with distribution quickly established ahead of Winter 20/21 and with over 300,000 units sold in only a few months, it is on-track to be one of our most successful NPD launches in recent times," says category & shopper development controller Gordon Sloan.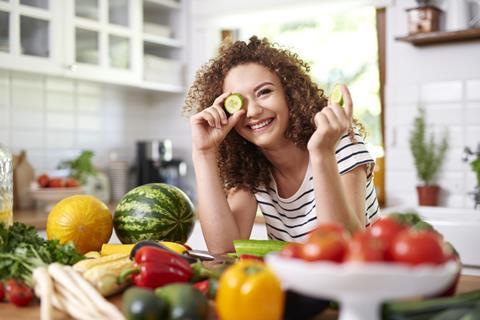 6. Recession hit consumers are turning to plant-based food as a way to save money
As we return to a 'new normal' and potental recession, healthy eating and plant based within it, is likely to be high on the agenda as consumers are more concerned about their overall wellbeing, claims Symington's. "Reducing meat consumption has also proven to be more economic for many households, as they become in some cases financially constrained plant based has been a conscious switch purchase to make a saving vs meals containing meat, a saving on average of 52p per person per meal," says Everett. "We expect plant-based eating to accelerate in coming months/years."
Kerry Foods believes meat-free savings are even greater for main meals. "With the average cost of a meat-free main meal being 87p vs. £1.80 if meat or fish is on the plate [Kantar Usage panel, in home & carried out, 52w/e 6th Sep 2020], a meat-free diet can allow shoppers to make savings, which will be particularly prevalent as consumers navigate the recession," says marketing & category director Victoria Southern. The company launched Richmond Meat-Free Sausages and plant-based brand Naked Glory last year and claims to be the fastest growing manufacturer of meat-free foods.
Chris isn't entirely convinced that money saving is a sales driver for his vegan food customers. "It's a combination of reasons why people are buying in - I'm vegetarian and it was for health reasons, an added bonus is it's kind to animals. It's becoming bigger, the awareness of it. More and more people are eating less meat." He claims that vegan ingredients, such as beans and pulses, can make for an affordable meal, but that processed vegan food is more costly.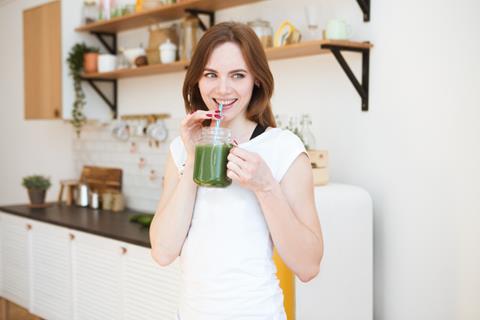 7. Younger people are driving the plant-based movement
"A third of consumers say they've considered adopting an entirely plant-based diet over the past year and that figure rises to 41% of 18-25 year olds so this movement continues to be more quickly adopted by younger shoppers (Kantar, March 2020)," says Baxters' Sloan.
"The younger generation are the key driving force behind the plant based movement," says Brown. He sites a survey by personal finance comparison website Finder.com published at the beginning of the year, which shows that 35% of Generation Z say they're aiming to have stopped eating meat by 2021.
"We are seeing the greatest shift occur in young people," says Carr. "According to research by greengrocer Reynolds, less than half of Generation Z describe themselves as meat-eaters. Entrepreneur Lord Alan Sugar has said that for companies today, diversifying to add vegan options is 'how you remain in business'. Any convenience store not stocking vegan cheese, meat, ice cream, and ready meals is missing out."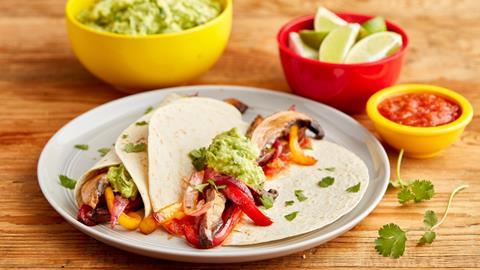 8. The number of consumers choosing to reduce their meat consumption has risen 42%
General Mills is keen to tap into the meat reduction trend with its Old El Paso brand. "We're seeing a rise of 42% in shoppers choosing to reduce their meat intake [Kantar Usage Panel, 24 w/e 6th Sept 20] and we're in a great position to help them recreate the restaurant experience at home at the same time, using a kit like our 100% vegan Smoky BBQ Fajita Kit which is seeing year on year growth of over 40% [WE 24/10/20 – Nielsen Scantrack]," says Maeve Judge, marketing manager, Old El Paso. The brand gives consumers inspiration with online recipe suggestions, such as vegan Portobello Mushroom & Pepper Fajitas (pictured).
In fact, Country Choice claims that over a third of shoppers are now regularly having meat-free meals. "Our data suggests that while only 1.2% of the population follow a fully vegan diet (November 2020, The Vegan Society), 35% of UK consumers make a point of regularly having meat-free meals," says Morter. "This has increased from 22% in March 2019 (YouGov)."
Kerry Foods observes that meat reduction is a long-term trend. "This isn't a trend we expect to go away anytime soon," says Southern, claiming that the firm's plant-based products closely mimic their meat counterparts in terms of taste and texture.
Unilever's vegan lines have a wide appeal. "We've seen that vegan mayo is not just a hit with vegans but vegetarians and flexitarians too – 58% of the shopping baskets that contain vegan mayo also contain eggs [Tesco DH so depending we can source it as Retailer X MAT w/e 4th August 2020]," says Fikerete Woldegiorgis, foods marketing director, Unilever UK&I. "What's more, 37% of our vegan mayo occasions feature meat [Numerator Custom Survey]." Hellmann's has a repeat purchase rate of 51%, the highest within total dressings [Kantar 2020].
Baxters agrees that plant-based isn't just for vegans. "As innovation becomes increasingly mainstream, available and exciting, the growth in plant-based products is not simply attributable to consumers with pure vegan diets and lifestyles," says Sloan.
According to BOL Foods, flexitarian is "the biggest market opportunity".
"It is often the start of consumers' journey to becoming 100% plant based," says Brown. "69% of people who classify themselves as 'flexitarian' are actively trying to reduce their meat & dairy consumption further (Yougov 2019)."
Carr adds: "The boom in vegan food sales is driven largely by flexitarians. There has been huge progress in just the last few years. A January 2020 report by Mintel found that the main reasons why people are eating less meat are to improve their health, save money, and protect the environment."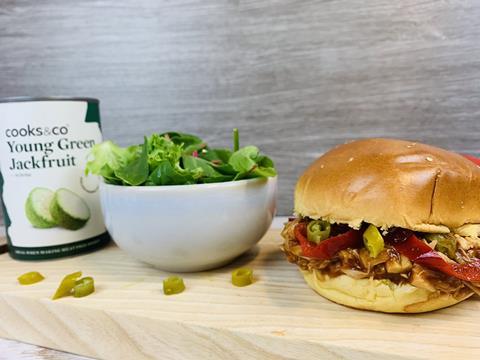 9. Jackfruit has increased its canned fruit market share by 86% in the last year
Jackfruit is the 11th biggest canned fruit in the UK with a 1.3% value share (MAT) compared with just 0.7% a year ago (Nielsen MAT 52 w/e 06.09.20). Cooks&Co Jackfruit is clocking up sales of £1.66m growing at +131% (+£964,000) year-on-year. "Jackfruit is an incredibly versatile ingredient as a meat replacement and we have found that our own young Jackfruit is the perfect addition to a variety of dishes, in particular thanks to its ability to absorb flavour," explains Anne-Marie Cannon, senior brand manager for Cooks&Co at the brand's owner and distributor, RH Amar. "This makes shredded pieces of jackfruit perfect for creating meat-free fajitas and pulled Jackfruit burgers.
"It's important for brands and retailers to educate consumers on the usability of these products, which we are doing through our digital and social channels, which include dozens of recipe suggestions."
Budgens Broadstairs stocks jackfruit. "It doesn't fly out, but it does sell well," says Chris.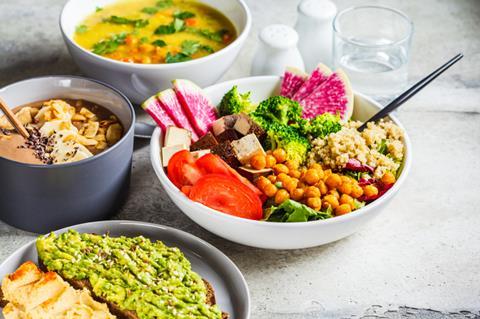 10. The number of people consuming plant-based meals grew 85% in lockdown
"We're seeing demand for vegan-friendly products skyrocket, with those following vegan diets growing by the day [Attest consumer survey for The Vegan Society] as consumers aim to cut down on their meat intake and even save on their grocery shop," says Unilever's Woldegiorgis. "In fact, during lockdown, 65 million more people consumed plant-based main meals – an 85% increase compared to pre-lockdown [Kantar Usage panel, in home & carried out, lunch/teatime/evening meal occasions, 4 w/e 19 April 2020 vs. 5Yr. 4w/e average].
The meat-free category is currently worth £534m, up 30% compared to 2019 (IRI 52 w/e 01.11.20), states Kerry Foods. "This highlights a huge opportunity for convenience stores to tap into and drive sales, especially with Veganuary on the horizon," says Southern. Since launching in September 2019 the firm's meat-free Naked Glory brand has attracted 681,000 buyers and has a RSV of over £7.4m (IRI 52 w/e 04.10.20).
PETA claims that the pandemic has given people the opportunity to spend more time cooking at home and to experiment with healthier, animal-friendly, greener options. "A survey by Flora found that during the first lockdown, 17% of respondents ate less meat and 12% chose more plant-based alternatives," says Carr. "Mintel also found an increase in interest in vegan foods during the first lockdown. Its data showed that the pandemic made eating vegan more appealing to one in 10 Brits, rising to 25% of those aged 21 to 30."
Indeed, Quorn claims that more than 11.9 million households bought into meat free (Kantar Panel Data, Total Meat Free (in-fixture) 52 we 14-Jun-2020). Quorn Mince continues to be one of the brand's best-selling products, worth £25.2m and growing at 13.4% YoY (IRI & Kantar Combined Market, Frozen Quorn Mince, 52wks YoY, 15.08.20 & 09.08.20), and recently benefited from a three week TV campaign that highlighted how easy it could be for consumers to make the switch to Quorn Mince for family favourite evening meals, and the difference that this could make to their carbon footprint. Earlier this year, Quorn also became the first major meat-free brand to roll out carbon labelling on its packs, helping shoppers to make informed decisions at the point of purchase.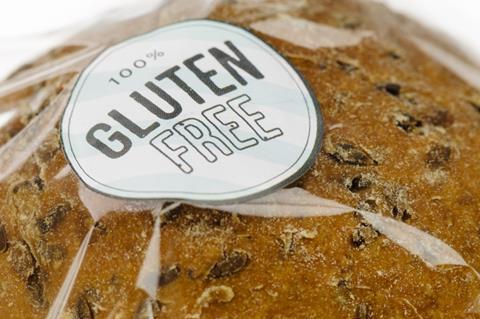 11. Over a fifth of new product launches in 2019 carried a gluten free claim
"Demand for gluten free has exploded in recent years as people become savvier about the link between gut health and overall wellbeing," says Judge. "The food and drink industry is responding to this, with 23% of new product launches in 2019 carrying the claim [Mintel January 2020]."
Old El Paso's Gluten Free range, which includes a Gluten Free Fajita Kit, Enchilada Kit and a soft tortilla pack, has grown 70% vs last year (WE 24/10/20 – Nielsen Scan track). The company plans to increase focus on this area in 2021.
Unilever agrees that manufacturers are taking free from seriously. "We've seen food and drink launches featuring low, no or reduced allergen claims increase from 12% in 2014 to 16% in 2019 [Mintel Global New Products Database (GNPD), 2019], proving that demand for free-from products are at all an all-time high," says Unilever's Woldegiorgis.