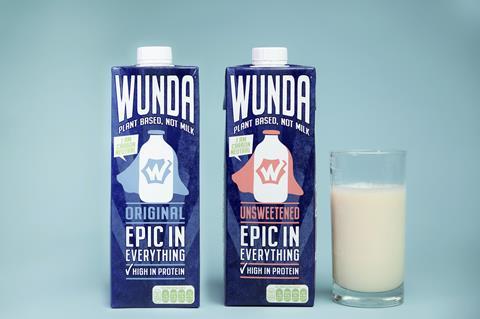 Wunda, Nestlé's new plant-based milk alternative, will be rolling out into UK and Irish stores, starting with Co-op and Tesco from 28th June, following its global launch last month.
The product is available in Original and Unsweetened variants (both rrp £1.90) and is made from yellow split peas. The firm claims that Wunda has a neutral taste that makes it a versatile choice for people who want a plant-based drink that tastes closer to dairy. It can be drunk on its own, poured on cereal, used in hot beverages, frothed and cooked.
The new product is a good source of protein and fibre, whilst being low in sugar and fat. In addition, it has been enriched with calcium and is a source of vitamins D, B2 and B12.
Wunda has been sustainably produced and certified as carbon neutral by the UK Carbon Trust. This is achieved through several measures along the supply chain, including using renewable energy in production and reducing emissions during distribution. For emissions that cannot be eliminated, the brand will invest in high-quality offsetting projects.
Honza Dusanek, managing director for food and dairy at Nestlé UK and Ireland said: "With plant-based diets growing in popularity more people are turning to alternatives to milk for their daily cereal, latte, desserts, baking or cooking but it's very difficult to find one great plant-based milk alternative for every use.
"We want to offer a drink that tastes great and makes using a plant-based milk alternative a Wunda-full, tasty, positive, no-compromise experience that is good for you and good for the planet.
"We want Wunda to disrupt the market, to stand out and offer something different to what's already on the shelves."
Wunda was initially developed as part of Nestlé's Research & Development Accelerator initiative. Working with a start-up mind-set, Nestlé's cross-functional innovation team was created and scaled-up this versatile drink in only six months. Consumers were put at the heart of the process with their feedback being used at critical stages to ensure that an optimum taste, texture and appearance was achieved.