While food to go has suffered during lockdown, slushes and desserts to go have thrived, with consumers looking for a cool pick-me-up.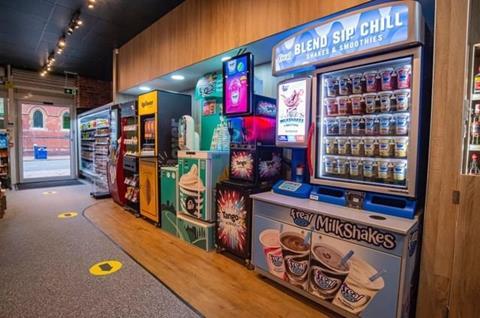 1. While food to go has struggled in lockdown, dairy drinks to go have bucked the trend
Drinks [to go] performed well last year, compared to the rest of food to go, according to Rich Products, which owns the F'real milkshake and smoothie brand. "A number of convenience stores, including big chains, have seen declining footfall for that food to go mission," says sales, marketing and R&D director John Want. "So sandwiches and salads have seen heavy decline, but drinks are in growth. People have been having food at home, but they are still going out for a drink."
As far as F'real is concerned, this has been a major opportunity for new consumers to try the product. "It's been really positive for us," says the firm's senior marketing manager Isla Owen. "We've seen great rate of sale, footfall has obviously driven that. It's given consumers the opportunity to get a product they would potentially normally have ordered in a restaurant or on the high street. It's opened their eyes to products that are available just down the road.
"During 2020 we saw a 12% uptake in the rate of sale of our milkshakes and smoothies, both driven by more people in the stores and more consumers looking for that treat." The firm now has up to 900 machines installed, 250 of which were rolled out last year and has its sights set on doubling both its machine installations and cup sales every year. The group has announced plans to introduce a marketing support package and incentivise retailers to drive cup sales.
Arjan Mehr has been impressed with the brand's performance at Londis Bracknell in Berkshire. "In the summer it really astounded me how successful that was," he says. "We were looking at 70-80 cups a day - phenomenal. We were selling it at the lower end of the price tag at £3. It's a slightly lower margin, but we'd rather do that as once you hit £3.50 you're excluding a lot of younger people."
The milkshakes are a big seller at Top Shop Convenience in Jarrow, South Tyneside. "I sell a loads of the F'real milkshakes," says owner Tahir Ali, aka Nico. "The rep in our area says I'm the busiest. We sell about £120 worth a week."
Jersey Dairy agrees that dairy drinks to go have been popular in c-stores. "With the hospitality sector being so restricted over the last year, consumers have been looking elsewhere for that treat outside the home," says David Ashton, UK sales and marketing manager. "Convenience stores have stepped into the void with sweet treats like takeaway milkshakes, ice creams and slushes bringing a little joy." The firm recently launched a Vanilla Thickshake Mix made with milk from Jersey cows.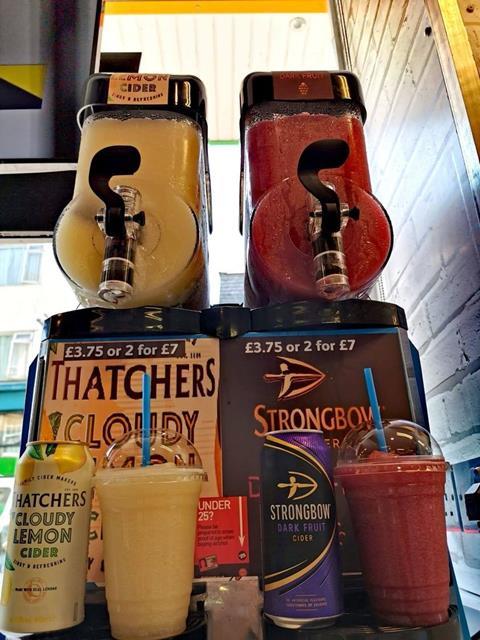 2. Cider slush was a summer smash for savvy retailers
Weymouth-based retailer Dave Hiscutt ventured into cider slush last year, claiming that he found the lower alcohol content more appealing than spirit-based alcoholic slush. "I branded up a machine and tested the product - I put tins of strongbow dark fruit and thatchers lemon straight into the hoppers. The flavour is there, it's very consistent and we serve responsibly," he says. "We sold it at £3.75 or two for £7. It went absolutely mental! In the week ending 28 June I sold 712 units! No one in Weymouth had seen it before. We ended up plateauing and up until September we were selling 250-300 a week." He ended up buying a new machine dedicated to cider slush and added Kopparberg strawberry and lime to the mix. "The margin is incredible - 67%," he grins.
Cider slushies were big business for Sid Sidhu of St John's Budgens in Kenilworth last year too. "People wanted to replicate what they're serving in bars," he says. "We offered Kopparberg and Thatchers cloudy lemon. This was the first time we'd done it. We started in April and we sold it for £5 a pint. You're doubling and more your profit - 60% POR on top of the original price. It's a highly profitable product."
Alcoholic slush will be in big demand when the covid restrictions lift, predicts Jestic Foodservice Solutions. "From refreshing iced cider, to iced rosé and cocktail mixes an alcoholic slush menu can be varied and tailored to suit local demand," says Steve Morris sales director. "With the government outlining a roadmap out of the Coronavirus lockdown many consumers will be ready to celebrate once normal life can resume and so retailers should consider offering alcoholic slush this summer to seize this opportunity." The firm has recently added an environmentally friendly Green range to its Elemco portfolio, which uses propane, reducing overall energy costs by up to 42% and helping the machine to freeze 28% faster.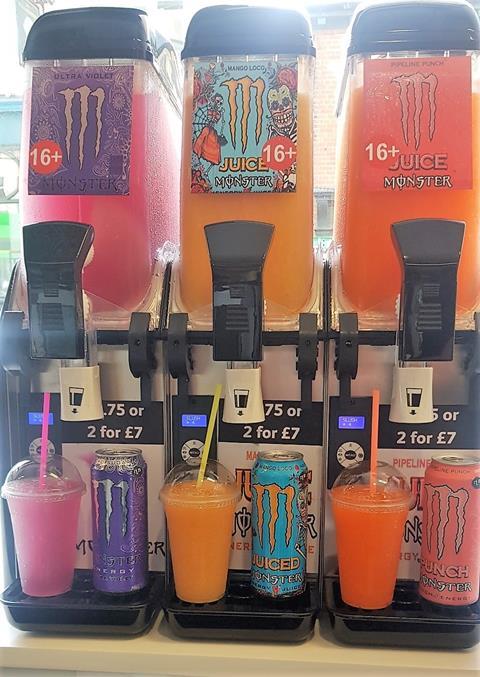 3. Mixing slush with soft drinks brands could be a Monster opportunity
Following on from his success with cider slush (see above), Dave began thinking of other brands that could be mixed with slush and decided to trial Monster Energy. "Monster has cool, different flavours and it's got the following," he says. "I bought another slush machine and tipped cans of monster into it," he says. He designed and printed out Monster branding for the machines and posted a pic of the new offer on Facebook, selling them at the same price as cider slushes (£3.75 or two for £7) to over 16s.
The drinks were an instant hit. "The Monster post has a 15.2 million reach, totally organic," he says. "We were doing consistently through the summer 300-400 a week on Monster Slush in 3 different flavours. It shows there is a massive market for that." He claims that energy slush is a great opportunity, but it has to be executed properly. "I have seen people trying to replicate what we've done, but you need to get the branding right on the machine. We got the dimensions of the machine and planned where the stickers would go and designed it."
Dave claims that he could have sold 50 Monster slush machines to other retailers based on the number of phone calls he had from interested peers. Even the brand itself has been in touch to hear how well his slush creations have sold … watch this space!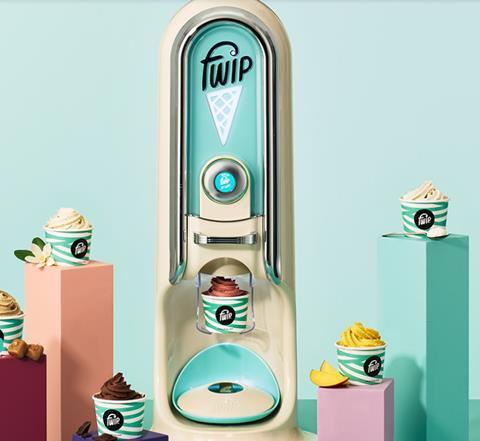 4. Make your own ice cream has driven food to go sales
"While ice cream parlours have faced the impact of seasonality, lockdowns and a severe reduction in footfall amidst all the uncertainty, there are a swathe of convenience outlets that have introduced premium ice cream solutions this last year and business is booming," says Fwip chief executive Paul Kali. "Often seen amidst other food to go offerings that include coffee and slush, the introduction of 'make your own' ice creams with the launch of Fwip has helped the food to go category in these locations grow by up to 30%."
He claims that the brand brings in more gross sales than slush. "Compared to slush across a national chain customer in the UK, Fwip has been generating on average 80% more revenue than Slush in all the retailers' locations. In 90% of these same stores, fwip outsells all 39 other ice cream brands on offer, giving credit to the idea that taste and experience matter when it comes to ice cream."
The brand's sales have increased by just over 100% year on year. "We've added over 350 locations to our portfolio of customers over what was a very short window of opportunity due to all the stops and starts over the last year," he says. "While there's no doubt that covid has had an impact on almost everyone out there, business has been strong mainly because of our premium product positioning, in line with what consumers are looking for, and it's one that is offered through a covid-proof solution when it comes to the overall ice cream or dessert experience."
Nico installed a Fwip machine in the latter half of last year. "The ice cream is going ok, it's good quality," he says. "It was busy at the start, but then winter came." He is hopeful that sales will pick up when the sun comes out.
Arjan has taken a keen interest in Fwip. "We'll almost certainly bring it in when our revamp takes place so that we're ready for the summer," he says. "I know a lot of people have done the same thing, but others need to move away from old fashioned grocer to eat now and instant gratification. We need a new direction from the mults."
Fwip is about to launch its new Compact and Premium Retail Stations for 2021 which include a host of new features, including digital screens with video animation, 360 degree branding, changeable menu boards, topping solutions and individually wrapped spoon options.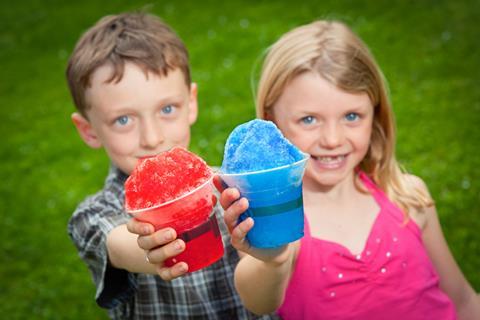 5. During lockdown slush and desserts to go have become a family affair
F'real's Owen claims that lockdown has broadened the brand's customer base. "The awareness amongst adults is much greater than it used to be," she says. "Typically, we used to get the afterschool rush when the kids would get a F'real on the way home. That's not happened at all [while schools were closed], but we're still getting good sales so we think there's more awareness amongst that slightly older demographic so we're not so dependent on school students."
Want adds that families are buying several products to treat the family. "Some people will travel quite a few miles in the car with their families for a F'real, it's becoming a bit of a family occasion," he says.
Dave has seen parents come into the store and buy more than one product at once. "Sometimes a parent will come in and pick up an Ice Blast for one kid and a F'real for the other," he says.
Nico has seen plenty of pester power coming into play at his store. "The kids are asking the parents to come in for Tango Ice Blast and F'real," he says.
Ashton suggests that retailers can increase the appeal of certain lines by flagging up their health credentials. "Modern consumers like to know what goes into their food and drink, particularly when it comes to children," he says. "Retailers can maximise sales by advertising the high quality and sustainable credentials of the dairy products used to create their shakes and ice-creams. This strategy will attract both health conscious customers and parents who want to ensure their children are enjoying a healthy treat rather than a sugary drink."
While "premium and indulgent" trump health when it comes to ice cream, Fwip claims that achieving great flavour doesn't have to "break the calorie bank". On average, Fwip's premium gelato range has 60% less fat and 30% less sugar than that of Haagen Dazs, Magnum and Ben & Jerry's, states Kali.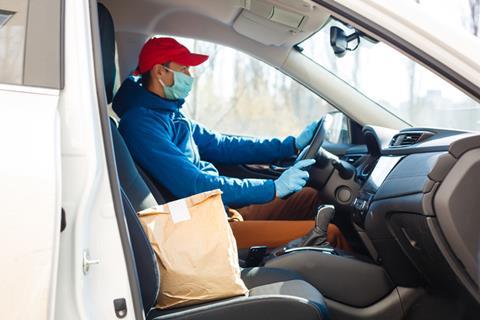 6. Home delivery has become key to slush and desserts to go
"We know that the delivery market, both grocery delivery and food for now delivery is up over 200% in a year and that is driven primarily by people that have never used that channel before," says Want. "One of the key changes we expect to see is for that to become a permanent shift. We think there will still be a large element of food to go that will still be delivered. We think it's really important that retailers consider this as a channel to serve their customers. Retailers that have F'Real as part of their delivery offer do really well with it." Owens adds that the shakes are well-suited to delivery as they can retain their thick texture and cool temperature for up to an hour.
Fwip claims that the pilot test of its Chill Box, which means that products can be kept cold while they are transported, has led to a 60% increase in sales at Fwip retail units. The compostable and reusable containers come with customisable sleeves to let customers write their own personalised message and "gift" a Chill Box to someone. "Creating a new occasion and way to serve, it has accounted for almost 80% of sales in the winter months," claims Kali.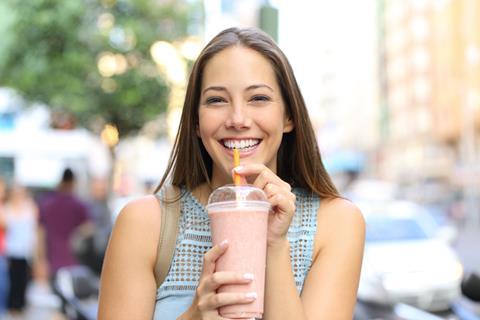 7. Slush & Desserts to go are benefitting from shoppers visiting c-stores more frequently
Shoppers are no longer heading to c-stores purely for essentials, claims F'real. "In the first lockdown everyone stayed at home," says Want. "They went from doing regular visits and top up shops to doing one shop a week with one visit to a convenience retailer." By contrast, he claims that as time has gone on, people are now visiting convenience stores more regularly. "People are more knowledgeable about how lockdown works, they have a particular routine in place, they might take a lunchtime walk, and go to a convenience store and get a drink," he says.
"The age groups that have had the vaccine feel more confident to go out and we are seeing a small rebound from those groups," he adds.
Diane Wehrle, marketing and insights director at Springboard says: "As we approach the 12-month mark since the start of the pandemic in the UK, lockdown fatigue is at its height and the increases in [retail] footfall over the last five weeks [to 26 Feb 2020] have indicated the pent up demand for a return to normality."

Sarah is Deputy Editor for conveniencestore.co.uk.