Larger eggs and premium baking lines are driving growth within the convenience channel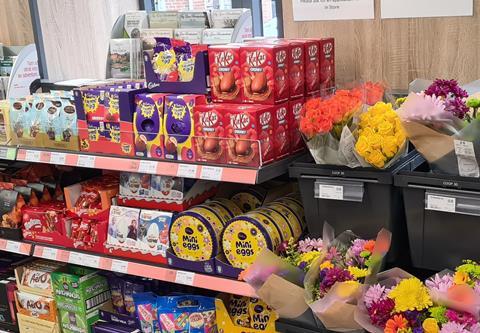 1. Easter sales grew 11% last year in independent and symbol stores
The convenience channel had plenty to celebrate last season, according to Mondelez International. "Easter sales grew 11% last year in Independent and Symbol stores [Snackchat, Understanding Easter Shopper Behaviour, April 2021], with more consumers shopping locally," says trade communications manager Susan Nash.
Mars Wrigley is eager to highlight the importance of the season. "Easter is an incredibly popular time for the off-trade, enough so that this period drives 30% of the category's total sales across the season [Kantar Worldpanel data 2016-2019]," says Sophia Padt, senior brand manager for Easter, Mars Wrigley.
Easter 2021 was a busy time for One Stop Northway in Dudley. "We had a big surge in sales over Easter," says owner Amarjit Singh. "More and more people are shopping local and we just made sure that the store was full for the public. It really helped to build our store reputation during the lockdowns."
Londis Caterways was 30% up last year. "I'm hoping to keep Easter sales at a similar level to last year, that would be a good target," says owner Amish Shingadia. "I think this Easter will be busy, people are allowed to socialise again. Last year was a bit ropey. The only thing from our side is confectionery sales are declining and it may impact chocolate egg sales. But it's about the other sales within the store too."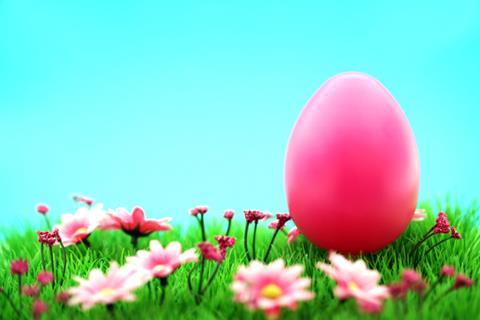 2. This Easter season is two weeks longer than last year
With Easter falling on 17 April this year, Spring 2022 confectionery is almost two weeks longer than the last, giving retailers more of a reason to get behind this key time for selling chocolate, says Donna Powell, wholesale category controller at Nisa.
"After two consecutive Easter holidays where Covid has been prevalent, this year could see shoppers making the most of the event with larger gatherings and fun days out with the family. Availability is really important, with the main reason for shoppers not buying shell eggs last season being of out of stocks."
Hancocks couldn't agree more. "We predict families will make up for the past couple of years by going all out with their Easter celebrations, placing more of a demand for gifting products from retailers," says Chris Smith, marketing communications manager at Hancocks.
He also predicts that egg hunts will be more egg-stravagant! "We expect to see a big evolution in the way that egg hunts are carried out," says Smith. "Popularised by celebrities throwing big Easter egg hunting events for their children and families, consumers will be looking to buy a large variety of chocolate eggs and go all out this year, in the aim to make the best hunt yet! Retailers should stock up ahead of the Easter rush, at Hancocks we are offering lots of egg options including mini Lindt and Cadbury wrapped eggs and small wrapped eggs from American brands such as Reese's and Hershey's."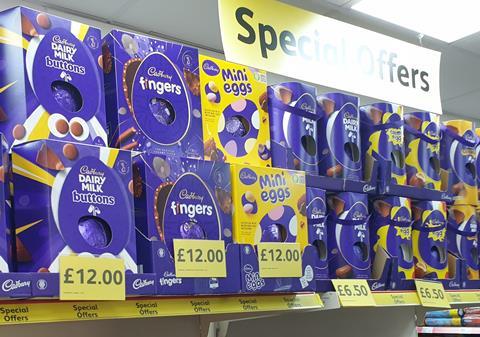 3. Medium and large formats helped drive shell egg growth in 2021
In 2021, sales of Easter Eggs grew by 10% (Nielsen and IRI) , driven by medium and large-sized eggs, as more shoppers chose to trade up, claims Mondelez. "Retailers can tap into this trend by ensuring they stock up on the best-selling large, medium and small eggs to create a range for every gifting occasion," says Nash.
Ferrero agrees that retailers should provide customers with an option to trade up their shell egg. "Compared to Christmas, shoppers were more likely to make a dedicated trip for chocolate at Easter 2021 (21% vs 9% at Christmas) [Kantar Worldpanel Easter 2021], showcasing the size of the opportunity for confectionery as we fast approach the occasion," says Levi Boorer, customer development director at Ferrero. He advises retailers to consider stocking larger eggs in order to encourage higher spending. "Our larger 220g Thorntons Classic Easter Egg can create trade-up opportunities in-store for those shoppers looking for something extra special before the big day, with these purchases often being planned in advance [ibid]."
Large eggs account for half of Easter confectionery sales [IRI Infoscan 2021 Total Market] and, along with seasonal impulse, are driving the seasonal confectionery category, states Nestlé. "Convenience retailers may only have a limited amount of shelf space to display larger eggs, so it's important to focus on a core range of big brands," says a spokesman, adding that the late season offered a "lucrative opportunity" to encourage shoppers to trade up to more premium Easter eggs at a higher price point, which are more profitable. The firm has just launched the KitKat Chunky Salted Caramel Popcorn Incredible Egg, which capitalises on the growing consumer trend for salted caramel products.
Amarjit ensures that he has a good range of eggs for consumers to choose from. "We do all the big eggs - Cadbury Dairy Milk is very popular. Our eggs range from 75p to £12."
Amish wonders whether the cost-of-living crisis will impact Easter spending. "Customers at the moment will be having their own cost increases," he says. "I'll be interested to see how that pans out over Easter. Are Easter eggs an essential purchase if you're struggling for money? People might buy cheaper eggs or less."
He has decided to stock less shell eggs this year. "I've dropped my shell eggs order by 7%, partly because we had a little bit of surplus left," he says. "I've ordered some more lower RRP lines".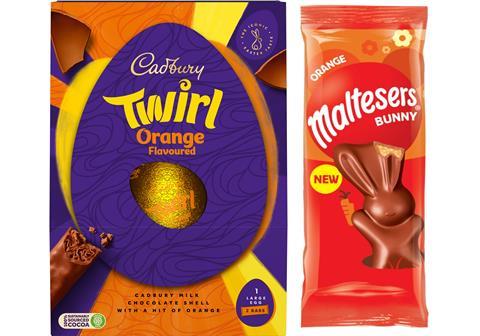 4. Easter sales of orange chocolate have grown by 59% since 2019
"Since 2019, sales of orange chocolate have grown by 59% [NielsenIQ Scantrack | Easter: data to w.e.03.04.21]," says Sophia Padt, Senior Brand manager for Easter, Mars Wrigley. Mars' Orange Maltesers Bunny, which made its debut last season, is returning in 2022.
The Cadbury Dairy Milk Bunny Orange Mousse is also bouncing back and new for 2022 is the Twirl Orange shell egg. Unlike the Cadbury Dairy Milk Orange Giant Buttons Egg the firm launched last year, which contained orange buttons and a milk chocolate shell egg, the Twirl egg is actually made of orange-flavoured chocolate.
The flavour is proving a hit at One Stop Northway. "We have the new Twirl Orange egg - it's already selling," says Amarjit. "The orange chocolate on its own has been so popular, so we expect eggs to do well."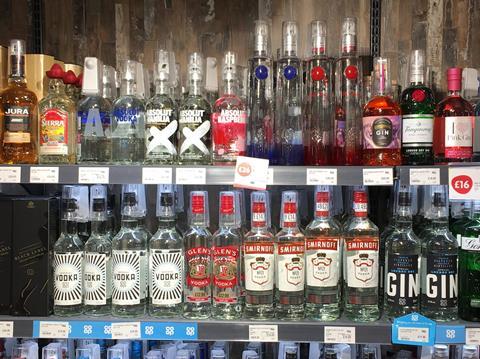 5. Within spirits, vodka saw the greatest share gains over Easter 2021
Diageo claims that shoppers are willing to spend more over Easter, which means a chance to increase alcohol sales.
"Within spirits, vodka tends to see the greatest share gains, taking a larger share over the 12 weeks of Easter [Kantar World Panel; 21.7% vs 20.4% in the 52wk]," says Lauren Priestley, head of category development Off Trade at Diageo. "There is also an increase in gin share within spirits over the 12-week period."
She adds that one in four spirits are bought as gifts, creating an additional sales opportunities, while others are simply looking to treat themselves. "Many people seek indulgent treats over Easter," she says. "Growing its share of cream liqueurs by 2% [Nielsen Scantrack / Easter 11.04.20 vs 20.04.19], Baileys is a perfect choice for dessert lovers as it can be enjoyed in a variety of ways – whether this be on its own with ice, poured over ice cream or even inside an Easter Egg for a 'wow factor' when entertaining at home."
Spirits sell well over Easter at One Stop Northway. "There are always increases in spirits sales over bank holidays," says Amarjit. "Gin and vodka are the big ones."
At Londis Caterways, wines and beers are the stronger performers over Easter. "There are family gatherings - alcohol sells well," he says. "We see an uplift in beer and wine, not so much spirits because it's more family orientated."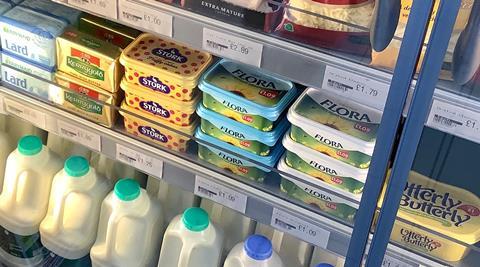 6. The BSM category was worth £13.2m last Easter
In 2021, the Butters, Spreads and Margarines (BSM) category totalled £13.2m during the Easter period within the convenience channel [Kantar, Total Convenience, 4w/e 18.04.2021]. "Whilst this saw a decline in penetration due to annualisation, the number of products bought per store visit increased (+5.6%) as did frequency (+0.4%) [ibid]," says Sam Thomas, head of category, Upfield UK&I.
He claims that Stork sees a large uplift in both sales and penetration in the four weeks leading up to Easter. "Last year sales increased +46% during this time and continued to grow due to the first lockdown [Kantar, Total market, 4w/e 19.04.2021]," says Thomas. "We expect sales to continue to grow this Easter as people still enjoy in-home occasions, even after lockdown restrictions have eased." He recommends retailers stock the Stork 250g baking block as the brand has a 78% share in the baking spreads category [Nielsen, Total Market, L52w 01.01.2022].
"Similarly for creams, in 2021, the category made £4.6m during the Easter period and Elmlea's sales accounted for 16% of this total (£749,000) [Kantar, Total Convenience, 4w/e 18.04.2021]," he adds.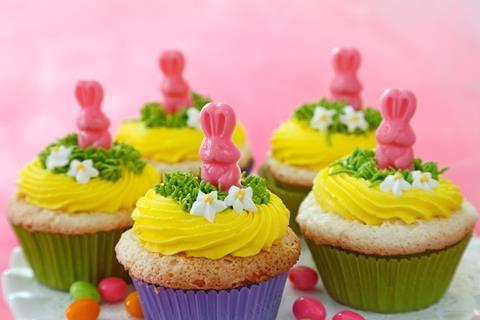 7. Premiumisation within home baking offers a seasonal opportunity
Areas of opportunity for premiumisation are around flavours such as vanilla pastes, extracts and pods, according to Dr Oetker. "Excluding the Covid year 2020 to give a fairer view, we saw pods and paste grow +50% in 2019 vs 2018 and extracts +45% over Easter," says Jen Brown, head of marketing – Cake, Dr. Oetker Baking.
"With Easter being a key event for baking we often see shoppers trading up for higher quality products as they bake for family and friends over the holidays. Retailers should start displaying Easter seasonal products such as decorations cases and mixes around two weeks before Easter. Grouping these products together on end or as a bundle deal online along with other categories such as cornflakes to make Easter nests will encourage shoppers to buy into the category."
Mars agrees that a spike in home baking is a chance to encourage incremental sales. "Since last year, many consumers have gotten more familiar with their kitchens, which made home baking even more popular in the UK," says Padt. "30% of consumers are cooking or baking more than they did before lockdown [Kantar Lifestyle and FMCG panel] and Easter often calls for baked goods." She claims that Galaxy Enchanted Eggs and Maltesers Mini Bunnies are popular cake decorations.

Sarah is Deputy Editor for conveniencestore.co.uk.