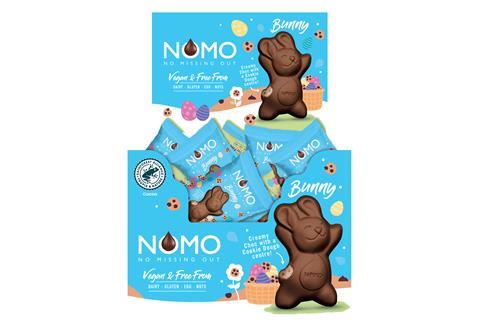 Vegan and free-from chocolate brand Nomo is bouncing on to the spring scene with a host of Easter treats. Taking centre stage is the Cookie Dough Bunny (rrp 80p), made with creamy choc and filled with cookie dough.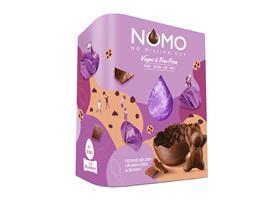 Also new for 2022 is the Cookie Dough Crunch Egg (rrp £6). The treat combines Nomo's choc with a vegan and free from cookie dough shell – it also includes a Cookie Dough Bunny to mirror the Easter Egg offerings that are available in mainstream confectionery. 
A Creamy Choc Egg and Monster Lolly (rrp £3) is the latest iteration of its Kids Nomster offering, which launched in 2021.  There will be three eggs on offer in the range: Mo, Jo and Flo, with each including the matching creamy choc lolly. Six activities will also hide within each box which will feature colouring-in, puzzles and jokes.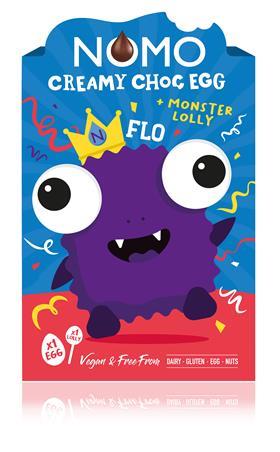 The brand's Caramel, Caramel & Sea Salt, Fruit & Crunch and Creamy Choc eggs (rrp £6) will also return for another year, featuring a brand-new redesigned mould. All eggs will follow the mainstream Easter format by featuring their respective flavoured chocolate bars.
Jacqueline Tyrell, brand manager at Nomo says: "Vegans and allergy sufferers have been crying out for new products, especially for Easter, and so we are delighted to launch our new range alongside our familiar favourites.
"We offer all the flavours and formats that are available in mainstream confectionery, so it is also easier than ever to make direct swaps for those wanting to trial a vegan diet".
Last year, the brand sold a mammoth 297.9 tonnes of chocolate, the equivalent weight of 24 double decker busses to help it record 52.8% growth in sales since 2020, according to brand owner Kinnerton.     
Products are available to order from:
Albert Harrison & Co

The Health Store Wholesale

AF Blakemore

House of Sarunds

Rayburn Trading

Brand Factory

Bramble Foods

Monmore Confectionery

Sherriffs Foods