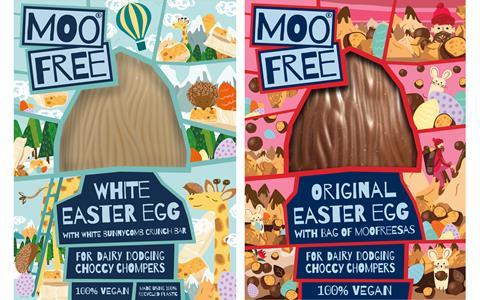 Moo Free, the free from, vegan chocolate brand, has expanded its Easter collection with the launch of two new shell eggs, including its very first, all-white hollow Easter egg.
The White Bunnycomb Crunch Easter Egg (rrp £5.99) comes with a white bunnycomb crunch bar. It comes in sustainable packaging made from recycled materials and is fully recyclable.
The range also includes Moofreesas Organic Easter Egg (rrp £5.99), containing a "milk" chocolate Easter Egg and a bag of Moofreesas malt balls. Both the Easter Egg and Moofreesas are made using single origin organic cocoa from the Dominican Republic and are free from dairy, gluten, soya and palm oil, as well as being suitable for vegans.
Andrea Jessop, Moo Free CEO said: "Easter can be a frustrating time of year if you suffer with allergies or follow a plant-based diet. We have set to change that frustration! Without compromising on taste or product quality we sourced the highest quality cocoa to create our chocolate and crafted a range of eleven products that will bring excitement to everyone's Easter!"
The new eggs are available at the following wholesalers:
Hancocks
Harrisons
Green City Wholefoods
Holleys Fine Foods
House of Sarunds Ltd
Suma Wholefoods
The Health Store