Find out how to make your category rise and shine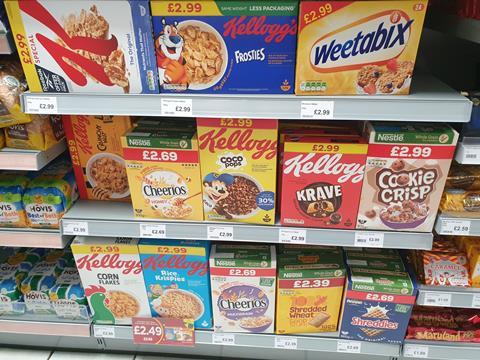 1. The cereal category is worth more than £70m within impulse
Cereal increased its dominance during lockdowns, according to Weetabix. "Last year saw a once in a generation shift in the significance of breakfast, and breakfast at home clearly became the norm," says head of sales Darryl Burgess. "While there was more time to prepare breakfast for some, many found the mornings just as busy, especially for those home schooling. Convenience was therefore key and as a result cereal was the real winner, firmly re-establishing itself as the breakfast product of choice, while other categories remained flat. "The cereal category is worth more than £70m in the total impulse category."
Big cereal brands still dominate in the category, drawing shoppers to the aisle, and Weetabix remains the UK's number one breakfast cereal brand [Nielsen 52 we 11/09/21]. The Weetabix Portfolio is worth £181m and present in a third of all UK households, with Weetabix Original remaining the biggest brand in the category with a retail sales value of £112m [Kantar 52 we 05/09/21].
Breakfast cereal put in a strong performance during lockdowns at Costcutter Fernhill Heath in Worcestershire. "Cereal tripled over lockdown," says owner Alan Kasch. "Now it's just ticking over - when someone does an online order they'll get some, or they buy it when they run out," he says. "They're all pricemarked £2.99. The pricemark is important, especially at the moment. We have an older customer base. Our best sellers are Kellogg Fruit 'n Fibre and Weetabix 24s."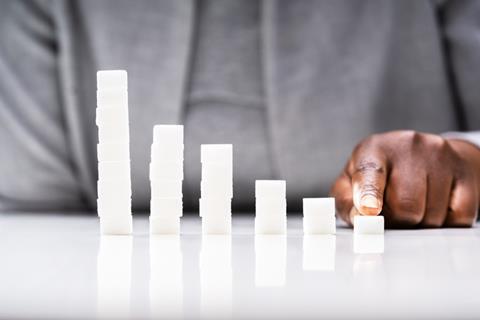 2. Cereals are improving their nutritional profiles ahead of the HFSS legislation
With new legislation this October barring High fat, salt and sugar (HFSS) foods from price-volume promotions and secondary promotional locations in affected stores, a number of big brand cereals have received an overhaul to ensure they are not impacted.
Last October, Cereal Partners UK (CPUK), the maker of Nestlé breakfast cereals, announced it was removing an estimated 59 million teaspoons of sugar and 3 million teaspoons of salt from its products, as it continues this year its staggered 'salami slice' reformulation approach to improve the nutritional profile of its cereals.
By the end of the year, this means there will be up to 16% less sugar and 50% less salt across Coco Shreddies, Frosted Shreddies, Honey Cheerios, Nesquik, Cookie Crisp and Golden Nuggets. CPUK claims that the small and gradual reductions have allowed the products to maintain taste, while improving nutritional content, including the addition of more wholegrain. This means that the product will be classed as non-HFSS according to the UK Government's nutrient profiling model.
Meanwhile, Kellogg's is removing 10% of sugar from its kids' cereal range making them all non-HFSS by the end of 2022. Sugar will also be reduced in Krave, a favourite cereal for young adults. Salt in its cereals will be cut by at least 20% by the end of 2022. The changes mean that four out of the top five selling Kellogg's cereals will now be non-HFSS. Thanks to a reduction in salt on Special K it will now join Coco Pops, Corn Flakes and Rice Krispies which are already non-HFSS.
Burgess claims that the HFSS legislation has made health even more of a focus at Weetabix where all products are HFSS-compliant. "With a ban on HFSS promotions on the horizon, it's important retailers are confident in offering healthy options to shoppers that can still deliver growth for their store," he says.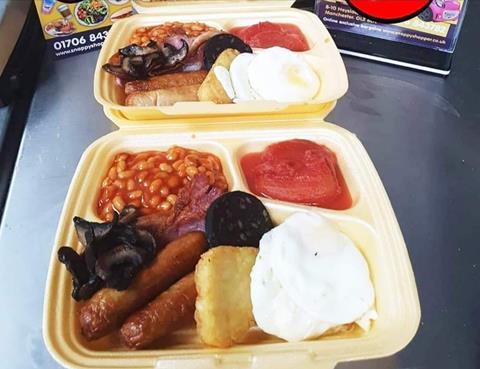 3. Consumers have higher expectations of breakfast to go
"When at home, consumers are likely to indulge in their breakfast habits, using the time saved from their previous commute to treat themselves," says Gary Thacker, director of national accounts at Fri-Jado UK, which supplies food display units. "On the days when they're working from the office, the opposite exists. Having got used to the extra time in the morning, suddenly, life has returned to normal, the family need to be prepared for their day at work and school, and the dreaded commute is back with a vengeance. This means time is once again precious, but having got used to indulgent breakfast, a compromise on quality is not something many are prepared to take – in 2021 breakfast on-the-go is about three elements, speed, convenience and quality.
"This change in mindset means breakfast on-the-go is no longer about stale pastries and lukewarm porridge, but freshly made breakfast sandwiches and beautiful light, fluffy pastries.
"I think it's true [that customers expect more now]," says Alan, who believes his breakfast offer has the edge over the neighbouring Spar. "We do hot food and the Spar near us has a Subway. We do bacon baps and sausage baps - ours is fresh and theirs is microwaved."
Mos Patel, who owns two stores in greater Manchester, has been doing a roaring trade in breakfast to go thanks to a winning combination of quality ingredients and enticing price points. He offers bacon, egg, sausage and spam sandwiches for £2.50 as well as a 'half' English breakfast at £2.50, and a 'full' English at £5.50 or two for £10. Vegetarian options are also available, at £5 each or two for £9. "In a week, £5,000 of sales comes from businesses, for example this morning we had 90 breakfasts. They know us personally and they know it's freshly made," he says.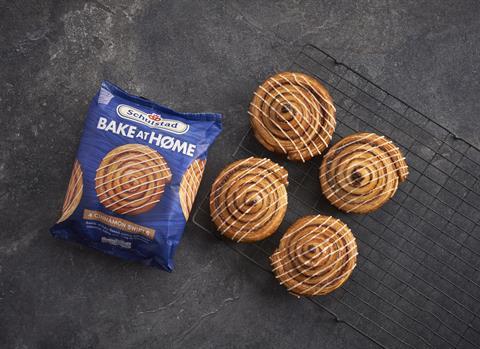 4. Frozen bakery could generate more breakfast sales
Frozen breakfast products could be another way to score sales, particularly if further lockdowns threaten food to go sales. "When lockdown hit and shoppers were advised to stay at home, impulse missions fundamentally came to a halt, which had a significant impact on the bakery market," states Lantmännen Unibake UK. "Over the last 22 months, reduced food-to-go and impulse missions have fundamentally changed the way in which consumers explore in-store bakery," says marketing manager Kate Sykes. "Throughout the pandemic the main shift in shopper behaviour has been frequency, with consumers turning to a 'one big shop' mentality. With fewer opportunities for on-the-go or top-up missions this has had the biggest impact on in-store bakery, as a fresh category which is best consumed on the day of purchase.
"However, whilst the appetite for in-store bakery has returned, consumers are feeling increasingly comfortable with the idea of spending time at home which has led to a significant rise in home-baking. And with consumers choosing to make less trips to the shops, the longer-life benefits of frozen have emerged." To meet this demand, the firm has launched the Schulstad 'Bake at Høme' range, which comprises two classic Danish Pastry products, Cinnamon Swirls and Maple Pecan Plaits, provided in a frozen format for shoppers to bake fresh at home.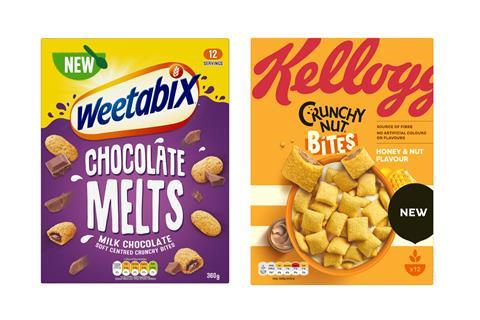 5. NPD is vital as over one in three cereal purchases are decided in store
Innovation is key to growth within the cereal category because over one in three cereal purchases are decided in store (or online) and two thirds of shoppers are open to something catching their eye for purchase (Green Shoots shopper research June 2021), claims Weetabix. "Stocking cereal NPD can introduce new shoppers to the category and encourage increased basket spend," says Burgess. "Since launching in March, Weetabix Melts is already worth £1.3m [Nielsen 11/09/21] and can be found in 378,000 house-holds [Kantar 05/09/21]." The soft centred crunchy bites were designed to meet the growing demand for indulgent yet nutritious cereals.
Kellogg's has also been busy on the NPD front with Crunchy Nut Bites. The product, which launched in c-stores last September, was developed in response to the rise in popularity of nut flavoured cereal, which grew 14% in 2020 (IRI 52we Dec 2020).