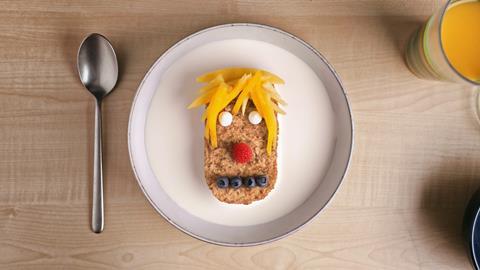 Weetabix returns to TV screens this autumn with a £2m+ creative campaign targeting kids and adults as they head back to school and work. The firm claims that the back to school period is the second biggest sales period for cereals and the campaign is running across August and September on TV and video-on-demand.
The light-hearted advert shows various topical serving suggestions making reference to the easing of lockdown restrictions, including 'goodbye rule of six a-bix' and 'festival moshing a-bix'.
The advert is the latest in Weetabix's recent creative campaigns, which aim to inspire consumers with new, exciting recipes by pairing Weetabix with a variety of different toppings.
Weetabix has invested £14m in marketing spend in the past 12 months (up 40% year-on-year), supporting growth for the cereal category.
Gareth Turner, head of brand at Weetabix, said: "This latest investment reaffirms our ongoing commitment to driving category sales and brand awareness at what is always a key period for cereals. Here at Weetabix, we're passionate about providing our consumers with the 'Weetabix Advantage' every morning when they sit down for breakfast. Weetabix Original is a low sugar cereal, and our entire Weetabix-branded portfolio is non-HFSS – so retailers can be confident we'll continue to fully get behind our brands in the years to come.
"Landing ahead of the new school year, the campaign will present retailers with a golden opportunity to drive sales of Weetabix Original and other fun recipe ingredients and help the nation's school kids, and their parents, get the healthiest start to the day possible."
Weetabix Original's strong nutritional credentials are complemented by the current on-pack football promotion in partnership with The national Football Associations, which runs until October, encouraging kids to get active and help the nation to embrace healthy breakfast choices. Weetabix is also the headline partner of The Football Associations girl's participation programme, the 'Weetabix Wildcats', which helps girls aged 5-11 who want to get involved with football.