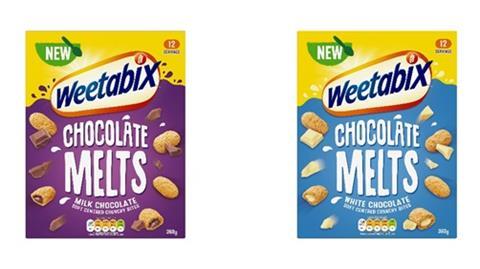 Weetabix has launched new Weetabix Melts. The soft centred crunchy bites come in two flavours - milk and white chocolate - and will be available from late March (rrp £2.99).
The launch of Weetabix Melts will be supported by a £2.5m investment over 12 months, including a new TV advert set to air in the summer, as well as social media and influencer campaigns. In-store and online shopper activations are also planned.
Head of brand at Weetabix Food Company Gareth Turner said: "Taste is without a doubt the number one driver of purchase within cereals. Weetabix Melts allow us to appeal to shoppers looking for a more indulgent option at breakfast or for a snack, with the added reassurance of health and quality that consumers know and expect from the Weetabix brand.
"As Melts are classified as non-HFSS*, we intend to support the launch with a significant through-the-line campaign, driving footfall and bringing much wanted excitement to the cereal aisle.
"We're sure that shoppers will love Weetabix Melts - in fact it's been our best-ever performing product concept within consumer research panels. A significant 8 out of 10 of those asked stated that they would definitely purchase, with taste and appeal scores higher than our competitors in the sector."