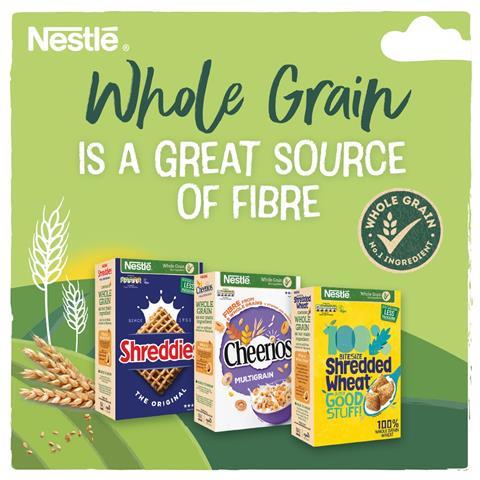 Cereal Partners UK is teaming up with cholesterol charity HEART UK to promote the consumption of whole grain for International Whole Grain Day on 16 November.
As part of the month-long collaboration, Cereal Partners UK will be running a competition on the HEART UK website during November, offering three families the chance to win a year's supply of Nestlé whole grain cereals.
The charity will share whole grain cereal recipes featuring Nestlé's newest non-HFSS (non-high in fat, sugar and salt) product – Cheerios Vanilla O's - as well as Shredded Wheat Bitesize, Shredded Wheat Big Biscuit and Shreddies The Simple One. HEART UK will also focus its November newsletter on whole grain and promote the benefits of a high fibre diet across its social channels throughout the month.
Regional Marketing Director – Cereal Partners Worldwide Toby Baker said: "At Cereal Partners UK, we have always believed in the power of whole grain and are delighted to be working with HEART UK to help increase awareness of its nutritional value in the run up to International Whole Grain Day. Breakfast cereal consumption is a really simple and affordable way to increase whole grain in your diet, and we are proud to be raising awareness of this fact through our online competition and delicious whole grain cereal recipes throughout November."
Dietetic adviser at HEART UK Lynne Garton added: "We are excited to team up with Cereal Partners UK to promote the benefits of whole grain as part of a balanced diet. People that consume higher levels of whole grain have a lower risk of cardiovascular disease and a reduced risk of health problems such as stroke and type 2 diabetes than those that eat less whole grain
"We want to raise awareness of the simple dietary and lifestyle changes that people can make to keep their cholesterol levels and heart healthier, and working with Cereal Partners UK has given us the perfect opportunity to share nutritious high-fibre recipes that can help make a positive difference to people's lives."