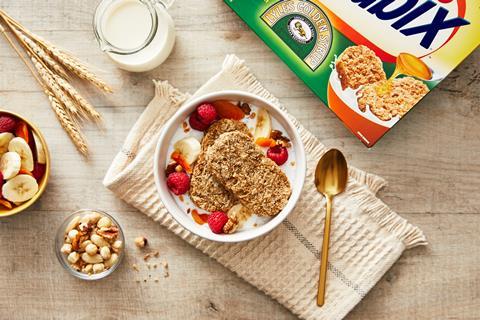 Best-selling cereal Weetabix has teamed up with Lyle's Golden Syrup to create an HFSS-compliant cereal.
Weetabix baked with Lyle's Golden Syrup is high in fibre, low in fat and salt, and uses 100% British wholegrain wheat. A 24 biscuit pack has an rrp of £3.29. Available from 24th May, the partnership aims to tap into the ongoing demand for tasty, yet nutritious cereals.
The 'tasty cereal' sub-category has grown by 11% in the last two years (Nielsen data to 1st January 2022), with taste now the number one purchase driver, claims the firm. Weetabix's existing 'Flavours' range (Chocolate and Banana) has benefitted from the consumer desire for taste, seeing double digit growth in the last 12 months (Nielsen 52w/e 26th February 2022).
The launch will be supported with instore and online shopper activity, digital video adverts and via social media and influencer amplification, as part of a quarter of a million-pound marketing investment.
Gareth Turner, head of marketing at Weetabix, said: "Consumers are looking for products that hit the mark taste-wise, but also offer nutritional benefits. On top of this, brand partnerships are on the rise with shoppers seeking authentic flavours and new experiences.
"So, it's the perfect time to bring two huge British kitchen cupboard staples together to launch this new cereal, which offers a unique flavour combination, two exciting brands and a strong nutritional profile.
"Innovation is key to driving cereal sales and introducing people to the category. We expect that the combination of both iconic logos on pack will capture attention in store, whilst as an HFSS-compliant range, we'll be able to support the launch as usual in the months ahead."