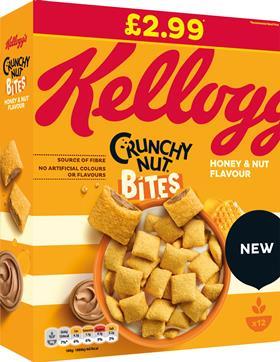 The cereal giant has expanded its Crunchy Nut offering with the introduction of 'Crunchy Nut Bites', with each piece comprising a nutty honey flavoured creamy filling encased in a crunchy shell.
Available in c-stores from September, Crunchy Nut Bites has an rrp of £2.99 (per 375g) and comes in plain and pricemarked packs.
The new line comes in response to the rise in popularity of nut flavoured cereal, which grew 14% in 2020 [IRI 52we Dec 2020].
Susann Heinz, senior brand activation manager from Kellogg's UKI said: "Crunchy Nut Bites are the newest addition to the range, following on from the launch of the granola last year and Nut Butter Bars earlier this month. We understand the cereal has a huge fan base, so we're continuously looking for ways to expand our offering and to meet our consumers' needs. We are sure Crunchy Nut lovers will enjoy our latest innovation.''