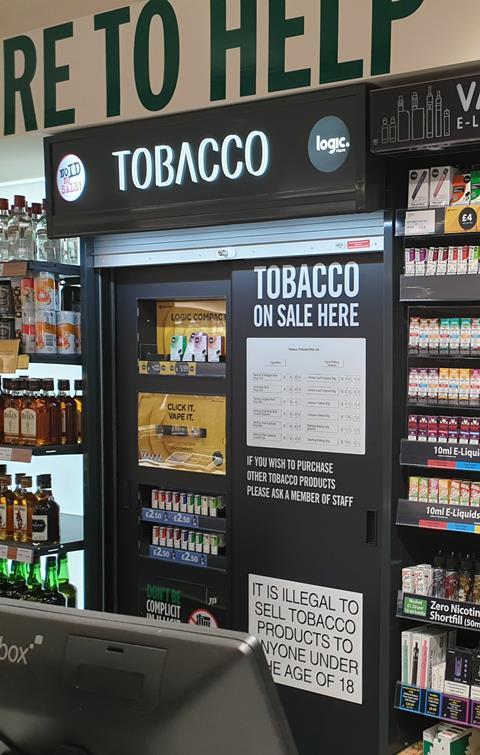 1. Tobacco sales increased over lockdown
Consumers appear to have allocated more of their spend to tobacco, according to Imperial Tobacco, which posted a rise in annual sales and profits earlier this month.
JTI, which has a combined market share of 45.2%, agrees that the category has fared well. "Even with everything that has happened this year, the tobacco market continues to be one of the biggest and most resilient FMCG categories in the UK and a category that drives footfall and revenue for retailers and convenience stores nationwide," says sales vice president Ross Hennessy.
Alastair Williams, country director at Scandinavian Tobacco Group UK (STG UK) adds:"I think the tobacco category as a whole and certainly the cigar category within it, has proved to be pretty resilient so far."
Much of the growth in tobacco is due to lockdown stifling the illicit trade, claim convenience retailers. "Tobacco sales are strong and they're going up," says Alan Carr of Nisa Newport in Essex. "Stuff was getting traded within the pubs, but all that dried up in the last lockdown and there's hardly anything about."
Sam Coldbeck of Wharfedale Premier in Hull echoes his concerns. "Tobacco is ridiculously strong," she says. "Our tobacco sales are 48% up on last year. That screams of everything that is wrong. The government needs to take a very close look at how much illicit stock is on the streets at any one time in a normal year. It indicates completely how much comes back from Europe in people's suitcases; how much comes back coming back on the ferries when people go on Dutch dashes; and how much is sold in the workplaces when people are at work normally. The amount of money that is going through the backdoor on tobacco is absolutely scandalous."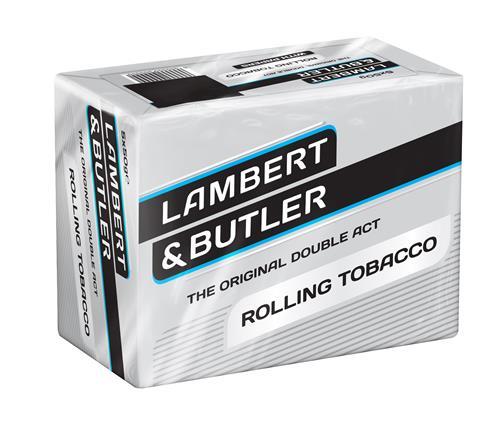 2. Roll Your Own sales are up 30% as consumers seek value
"As a result of the continuing shift into RYO, the segment has expanded its market share and now accounts for 45% of tobacco sales, with recent data showing volume sales are growing by an impressive 30% as consumers seek out greater value for money," says Duncan Cunningham, UK Corporate Affairs Director at Imperial Tobacco.
"In line with this growing demand for value, sales in the economy RYO segment are also rising and Imperial is well positioned to help retailers tap into this trend with more brands in the economy segment than any other tobacco manufacturer. Since its launch in November 2019, Lambert & Butler RYO has been growing its share and, in July 2020, it accounted for 4.7% of all sales within the economy RYO segment making it a must stock."
Customers continue to seek good quality tobacco at an affordable price, concurs JTI. "With 7.6 million kilograms of rolling tobacco sold in the UK each year [IRi Market Place, Volume Sales, Total RYO/MYO, Total UK, MAT To 13/09/20], this category offers a significant opportunity to maximise sales," says Hennessy. "Retailers should stock up on Value RYO products, such as JTI's Sterling Rolling Tobacco, which is currently the UK's fastest growing tobacco brand [IRI Market Place]."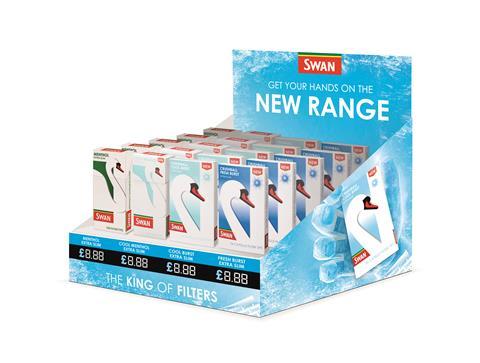 3. Filter sales are up 9.7% in convenience
Around three quarters of all tobacco accessories' sales are in the convenience channel, equating to over £229m annually, up 3.4% year-on-year [IRI 52 w/e 04/10/2020], according to Republic Technologies (UK). Within this, filters are leading the way. "Filter sales are worth almost £74m and are growing at 9.7% year-on-year in convenience [IRI 52 w/e 04/10/2020], more than double that of the total accessories market and six times more than the next best sector (papers which are up 1.6% [ibid])," say general sales manager Gavin Anderson.
The menthol ban has inspired a host of NPD within RYO and accessories. "We know that former menthol cigarette smokers have been looking for suitable alternatives with a similar flavour profile since May," says Anderson. The firm undertook its biggest NPD launch ever earlier this year, rolling out three Swan menthol filters, including two crushball filters; a carbon paper filter for enhanced filtration; a long extra slim filter and the most environmentally friendly filter in the UK market.
MJ's Local in Sheffield has seen demand for accessories increase. "We have seen some people switch to Roll Your Own because of the whole menthol side of things and the crushball stuff," says owner Jai Singh.
Premier Wharfedale has also witnessed a boost in filter sales. "We do a lot of filters with the menthol coming in, like Swan Filter tips, and Rizla cards," says owner Sam Coldbeck. "People who used to smoke menthol cigarettes are buying RYO."
Imperial claims that its Rizla Flavour Infusions range, which launched at the end of last year, has been extremely well received. "Latest figures show they are flying off the shelves and currently selling around 900,000 packs per week as consumers look to recreate the menthol experience," says Cunningham.
Republic Technologies (UK) adds that its premium and paper formats are also performing well, with the sub-category now worth over £13m and growing at 82% year-on-year [IRI 52 w/e 04/10/2020]. "Demand for OCB products is such that it is currently the fastest-growing paper brand in the market," says Anderson.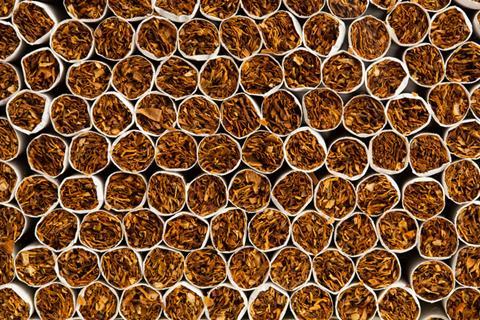 4. Bulk buying has increased due to the pandemic
As we prepare for a Christmas like no other, retailers may be in a strong position to benefit, claims Imperial. "As a result of the pandemic, we've seen more consumers choosing to shop locally in convenience stores and in some instances, bulk buying tobacco," says Cunningham. "This is a trend that is likely to continue throughout the traditional festive season. In order to prepare for the increased demand, retailers must maintain stock levels at all times, especially of best-selling lines, to avoid disappointing customers and missing out on sales."
Sam agrees that availability is key as she has a number of customers who are either shielding or limiting their store visits. "Some don't want to come out more than once or twice a week," she says. "We've got quite a lot of older people that'll buy probably 100 cigarettes on each visit. They're probably only smoking 20 or 40 a day, but they don't want to come out as often."
Further fuelling bulk sales are the restrictions on travel due to Covid-19, which have reduced the amount of tobacco purchased abroad for consumption in the UK. This in turn has led to increased domestic sales, allowing retailers to benefit from additional purchases, states Imperial, which claims that volume sales of Golden Virginia Original sold to consumers in July 2020 were almost 50% higher than before the pandemic. "We expect this trend to remain as consumers continue to buy in bulk, especially for RYO given the demand for value currently being seen across the tobacco market," says Cunningham.
Alan can relate: "A lot of Roll Your Own used to be imported in, but it's not coming in now," he notes. He claims Amber Leaf is his bestseller.
JTI states that Amber Leaf has been the number one RYO brand in the UK since March 2011 (Nielsen Market Track March 2011 to June 2016 & IRi Market Place, Volume Share, Total RYO/MYO Category, Total UK, July 2016 to Aug 2020).
ADVERTISEMENT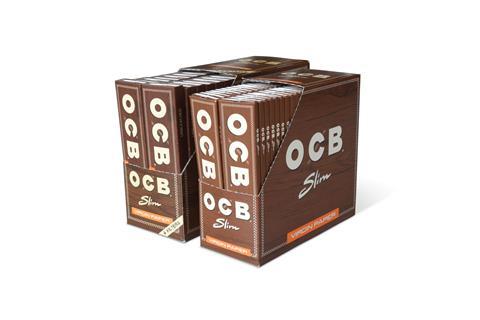 OCB becomes fastest growing paper brand after high shopper demand
With demand for more natural products at record levels, Republic Technologies UK has been educating retailers on its OCB Virgin Slim and OCB Virgin Slim & Tips products. Unbleached papers with OCB natural gum, sustainably sourced from African acacia trees, which are 100% natural, vegan and GM free.
"Demand for OCB products is such that it is currently the fastest-growing paper brand in the market. We're also seeing increased interest in premium Paper & Tips formats, with the sub-category now growing at +82% YoY [IRI 52 w/e 04/10/2020]," says Gavin Anderson, general sales manager at Republic Technologies UK.
Both OCB Virgin Slim and Slim & Tips come in slim vertical packs, helping retailers manage shelf space effectively. For more information on stocking the range, call 01494 492230 or email enquiries@republictechnologies.co.uk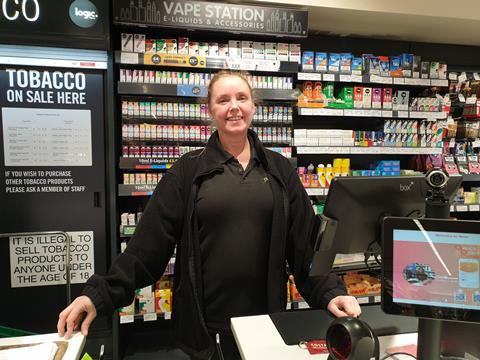 5. Ensuring staff are educated and intuitive has never been more important
Given the in-store restrictions in place as part of the Covid-19 pandemic, combined with many consumers' hunger for information regarding new alternative menthol lines, ensuring that staff are clued up and forthcoming with information is vital, highlights Imperial. The company claims that 60% of consumers are now sticking to a particular product [ITUK Commissioned Research for Menthol Ban May-June 2020], having already experimented to find the best product suited to them. But that of course leaves a further 40% who are still weighing up their options.
"Many consumers won't wish to handle products, such as lighters, flavour cards or other accessories, in order to look at them before they buy and may also be inclined not to ask questions at the till point to avoid queues building up behind them, which can be intimidating," says Cunningham. "With this in mind, retailers need to be prepared to proactively offer them advice at the till point and help shoppers feel at ease by providing knowledgeable answers to their questions that really showcase their understanding of the category."
Category know-how is vital, agrees Sam, particularly when it comes to explaining the menthol alternatives. "We're trying to get customers through as quickly as possible so staff are under instruction not to talk at the counter," she says. "We've always made sure from the start that we've got the Rizla cards in and the crushball filters. It's having that availability, then if someone comes in and asks about them, straight away the staff know what to give them. Staff have to be on the ball, they have to know what they're talking about and they have to know the range."
6. Total cigar sales are down, but c-store sales are up
"With annual sales worth around £195m [IRI MarketPlace, w/e 09/08/2020] cigars are a hugely profitable category, which typically offer margins three times greater than cigarettes, so it's worth spending a bit of time to ensure you have the right range to get your tills ringing!" says STG UK's Williams. "Although the bulk of cigar sales tend to go through the multiple grocers, a significant chunk does go through the independent convenience channel and our latest data shows that sales in this channel are actually up by 1.1% versus the same time last year [ibid] which is encouraging." This compares favourably with the total market which saw a decline of 3.5% [ibid]. STG claims responsibility for 55% of total sales, with its best-selling Signature brand behind one of every three cigars sold.
Miniature cigars account for very nearly three quarters (74%) of all cigar sales [ibid], claims STG UK, while JTI states that cigarillos are the fastest growing cigar sub-segment, with a current market share of 32.2% [IRI Market Place, Volume Share, Total Cigar Category, Total UK, Aug 2020]. "The Cigarillo category has seen strong growth this year and is now worth circa £5m a month [IRi Market Place, Value Sales, Cigarillo Category, Total UK, Aug 2020]", says Hennessy.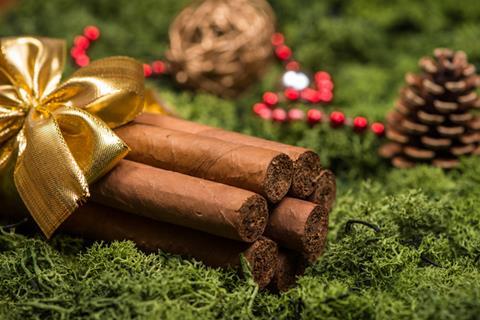 7. Larger cigars are in growth and Christmas will drive further demand
Medium and large cigars are currently enjoying something of a renaissance, growing by over 3% in volume terms versus the same time last year [IRI MarketPlace, Value and Volume sales, w/e 09-08-2020], states STG UK. "Probably because people have been at home more, coupled with some nice weather, we've seen strong sales from our larger format cigars," says Williams. "In fact, sales out from our warehouse of our Henri Wintermans Half Corona were up 40% in June, compared to the same time last year."
Larger formats are expected to be in demand over the coming weeks as consumers gear up for Christmas. "As we approach the festive period it tends to be larger cigars that people will gravitate towards as a bit of a Christmas treat when they are in celebratory mood and typically have more time to enjoy it," says Williams. "To satisfy consumers who are looking to 'trade up', he recommends stocking Henri Wintermans Half Corona, which he claims is the UK's best-selling medium / large cigar.
JTI believes that its larger cigarellos will also see a boost. The firm claims that cigar sales grew 6.9% last Christmas [IRI Market Place, Volume Sales, Total Cigar Category, Total UK, December 2019 vs. November 2019] and Hennessy urges retailers to stock up on its king size cigarillo Sterling Dual Capsule Leaf Wrapped, which he says has a 92.3% share of the UK cigarillo market [IRI Market Place, Aug 2020].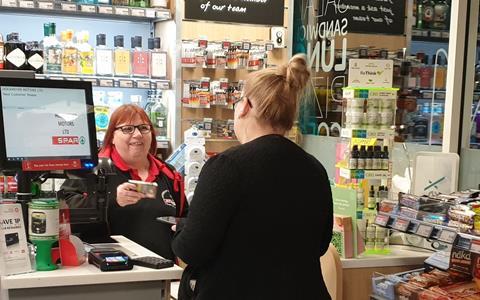 8. Factory Made Cigarettes saw 4% volume growth
Imperial claims that Factory Made Cigarettes, which account for the majority of tobacco sales with a 55% share of the market, are experiencing volume growth of 4% YOY [ITUK Internal Estimates (Report on Trade, July 2020)].
"As in the wider category, interest in value for money remains a leading trend, with many consumers seeking products that offer the lowest out of pocket spend," says Cunningham.
The group has repositioned L&B Blue and Embassy into the sub-economy sector as a result.
Price remains a key factor for existing adult smokers when choosing where to shop for tobacco, so retailers should look to remain competitive by selling at the RRP or below to help drive sales, advises JTI, which owns number one cigarette brand B&H Blue (IRi Market Place, Volume Share, Total RMC, Total UK, Aug 2020). "With research showing that nearly a third of smokers will choose to buy elsewhere if their preferred brand is unavailable, maintaining a full range and availability of tobacco brands across the pricing scale is important if retailers are to maximise the profit opportunity [Kantar W1 2019 JTI One Tracker online data]," says Hennessy.
Economy lines are driving sales, claims Alan. "Our bestselling cigarette is still Marlboro Gold, but years ago we used to have 80 or 90 packs of Marlboro Gold, the same of Benson & Hedges Gold and then a few cheap ones like Lambert & Butler, Mayfair, Sovereign, Sterling," he says. "Now we do more of the cheaper brands. One of the things I get asked the most is: 'What is your cheapest cigarette'. They're not so brand conscious these days, but price conscious."