Energy drinks sales are on the rise while sports drinks are on the comeback trail. Find out how to power up your functional drinks sales to make the most of these trends.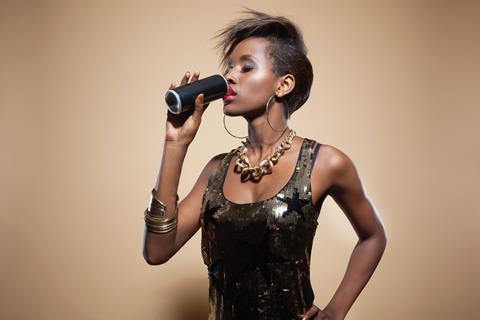 1. Total energy drink sales are up 12% YOY
Energy drinks got off to a strong start in 2021, with sales having grown by 12% in the last year [EXT IRI MarketPlace, Total Soft Drinks, Energy, Value, Latest 52-week data ending 27.06.21], claims Suntory Beverage and Food (SBF) GB&I.
This will come as no surprise to Harj Gill, owner of The Windmill Select & Save in Birmingham. "Energy drinks are very strong within the soft drinks category - they've overtaken Coca-Cola," he says. "Our number one selling brand is Monster, number two is Red Bull, and number three is Lucozade."
The sub-category is also a big deal at Premier Lower Darwen in Lancashire. "Energy drinks are a very good seller for us," says store manager Zoe Wood. "We have three shelves, each with 18 facings. We sell Red Bull by the bucketload. Monster goes very well too and Rockstar."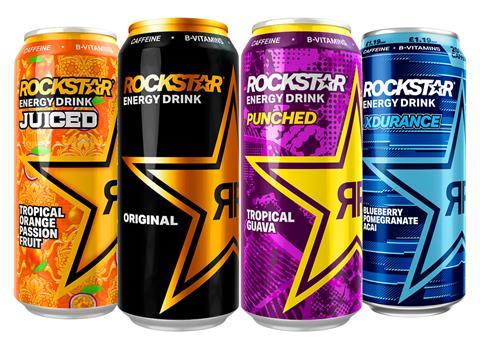 2. Stimulants added £57.2m to the convenience channel in 2020
Stimulants are the number one growth segment within convenience [IRI, Total Convenience, Value Sales, 52 weeks to 28.03.21], states Britvic, which has just relaunched its Rockstar range.
"Stimulants grew 11.6%, adding £57.2m to the convenience channel [IRI Marketplace, Stimulants, Total Convenience, Value, 52 weeks to 27th December 2020 vs YA], outgrowing all other soft drinks combined, attracting shoppers to buy more volume per trip at a higher price [Kantar Worldpanel]," says out of home commercial director Phil Sanders. "They did especially well in symbols and forecourts, which provided 90% of category growth [ IRI Marketplace]."
Coca-Cola Europacific Partners (CCEP) has also benefited. "Monster is up 42% year to date and is the no.1 contributor to value growth across the whole soft drinks category this year [Nielsen Total Coverage YTD Value w/e 22.05.21]," says Amy Burgess, senior trade communications manager, noting that the Juiced range alone is up 55%.
Meanwhile, Red Bull is up +18.8% YTD [Nielsen Value Sales YTD vs. YA weeks ending 27/032021]. "Shoppers are putting more Red Bull in their baskets, more frequently, growing +26% vs. YA [Kantar combined panel / frequency / WE 21 Feb 2021 vs YA]," added a spokesman.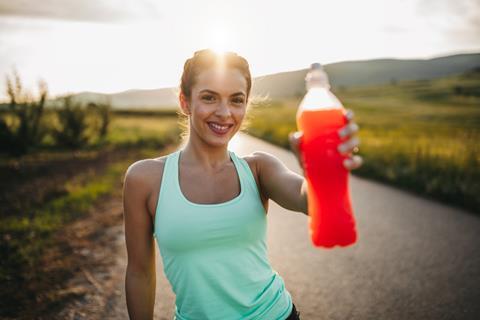 3. Sports drinks are making a comeback, up 13.2% YOY
Both Sports and Glucose drinks slumped during the national lockdowns, which saw value sales drop over 10% in convenience in 2020 [IRI Britvic Convenience, 52 weeks to 27.12.20], but the category is on the road to recovery in 2021. "As lockdown restrictions have lifted and we've entered summer, we've seen a renewed thirst for sports drinks among shoppers as they look to emulate their sporting heroes they've seen on TV," says Matt Gouldsmith, channel director, wholesale, Suntory Beverage & Food (SBF) GB&I.
The total sports drinks segment has grown by 13.2% this year [EXT IRI MarketPlace, Total Soft Drinks, Value, YTD data ending 23.05.21], and Lucozade Sport sales having increased by 11.9% [ibid]. Lucozade Sport Cherry Kick, which launched last year, has amassed over £3.6m sales [ibid].
Sports drinks sales have seen an uplift at Premier Lower Darwen. "Sales of sports drinks went down during lockdown, but now people are back playing football and going to the gym, they've returned to pre-covid levels," says Zoe.
It's a similar story at The Windmill. "Our energy drinks dipped for a while in the first main lockdown, it was across all soft drinks to go because schools were closed and there were no days out," says Harj. "It had an impact on Lucozade Sport because no one was playing football or going to the gym, but in our store it's definitely bounced back now that everyone is back to sport. A lot of kids take it with them."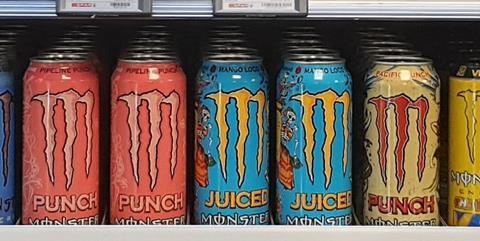 4. Flavoured energy grew £21m last year
Total flavoured energy grew £21m last year [IRI Marketplace, Value Sales, Energy Drinks, MAT to 01.11.20, Total Marketplace], states Barr Soft Drinks. "Flavoured energy now accounts for 34% of the mainstream energy market and is growing faster than original energy [ibid].
"Energy should be given its fair share of space on the fixture to offer the choice of flavours that shoppers are looking for," says marketing director Adrian Troy.
SBF GB&I concurs. "New flavours are crucial for retailers looking to drive excitement and incremental shoppers to the category," says Gouldsmith. The Lucozade Energy flavours range contributed £60.7m worth of sales to the category last year [IRI Marketplace GB, Lucozade Energy Flavours (excluding Original and Orange), value sales, 52 w/e 22.11.20]. Newcomer Raspberry Ripple has already brought £700,000 to the segment since its launch in March [EXT IRI MarketPlace, Value, Latest 52-week data ending 27.06.21].
Red Bull Editions are also off to a good start in 2021, with value sales 83.7% higher in the first three months of 2021 than the same period last year [Nielsen, Value Sales, Total UK 12 weeks ending 27/03/2021]. What's more, average buying frequency is double its rate a year ago [Kantar Combined Panel, Red Bull Editions, Total UK, Frequency 12 weeks ending 27/12/20]. New for 2021 is Summer Edition Cactus Fruit flavour.
Premier Lower Darwen is keen to stay abreast of new flavours. "Energy drinks are advertised all over the place so stocking new flavours gets people in to try them," says Zoe. "The one that goes the fastest for us at the moment is the Monster Pipeline Punch. We seem to sell as many of that as the original."
Harj claims his top-selling flavoured energy lines are Monster Pacific Punch and Mango Loco Juiced.
ADVERTISEMENT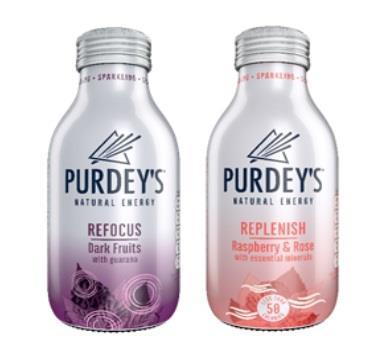 Refocus and Replenish with Purdey's
This year Purdey's ignited its natural energy range by adding two new products to the wellness segment – Refocus and Replenish. The brand also underwent a complete redesign with the functional benefits and great flavour further highlighted to help make wellness more accessible for consumers.
Refocus is a blend of dark fruits, naturally caffeinated and contains guarana and b-vitamins - inspired by people wanting to stay mentally sharp
Replenish is a lighter blend of sparkling raspberry juice with rose extract. It is under 50 calories per bottle, enriched with b-vitamins and magnesium to help restore natural balance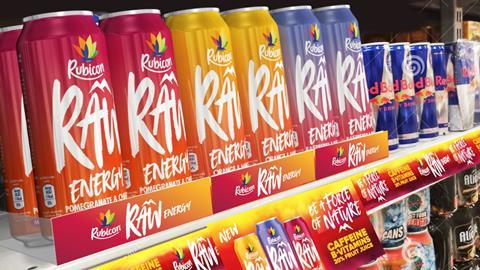 5. The top 20 energy products are split equally between big and small cans
"Consumers are increasingly opting for flavoured energy drinks and the top 20 energy products are split equally between big and small cans [IRI Marketplace, Value Sales, MAT to 18.04.21, Total Coverage], with 60% of shoppers consistently buying the same size [Kantar Cross Shop Analysis, Value Sales, Energy Format, NAT to 14.06.20, Total Coverage], so it's important that retailers offer a varied choice in flavour and format to drive sales in the category," says Troy.
The firm launched big can Rubicon Raw in February and within 12 weeks Barr claims it had become the 6th largest Big Can Energy brand in the market in both volume and value [IRI Marketplace, Value Sales, Energy Drinks, 22.02.21 to 18.04.21, Total Marketplace]. The group also rolled out Irn-Bru Energy in a 500ml can format earlier this year.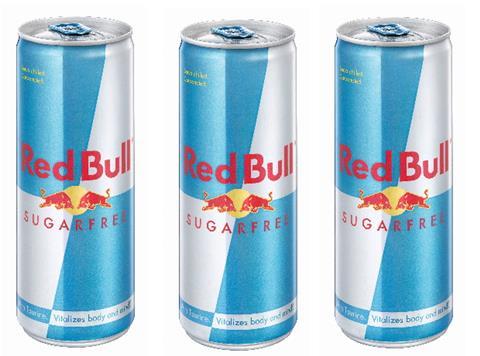 6. 27% of people are actively reducing their sugar intake
Low calorie variants have been growing ahead of sugar versions, especially in the stimulants segment [Nielsen Scantrack, Total Coverage, Low Calorie Stimulants, Value L3yrs MAT 05.01.19 to 02.01.21], and with 27% of people actively reducing their sugar in-take [IGD ShopperVista, January 2021], no sugar is a key area of growth for the stimulants category, states Britvic. This summer, Rockstar has expanded its line-up with the launch of Rockstar Original No Sugar for the convenience channel.
Red Bull Zero has sold more than 1.4m cans since its 2020 re-launch (Nielsen / Units / MAT 2020 w/e 26.12.20 vs YA), adding almost £1.9m in value sales. The firm followed this up with a Red Bull Zero 250ml four-pack and claims to have sold 33.3% more sugar free volume through multipacks (Nielsen latest 12 weeks volume to 27/03/2021) – with these variants also growing penetration by 31.9% (Kantar combined panel / penetration / 24 WE N 21 Feb 2021 vs YA).
"We have seen a long-term trend towards drinks with lower sugar as consumers become more aware of their health and wellbeing," says SB GB&I's Gouldsmith. "Diet continues to outperform regular soft drinks, with a 63% volume share of total soft drinks [Diet and Regular Soft Drinks (BSDA Definition) | % Volume Share of Total Soft Drinks | Take Home GB shopping baskets | 52 we 21.03.21] ]."
At CCEP, Monster Ultra ranges continue to perform well, up 27% [Nielsen MAT Val Total GB WE 27.03.21]. "Health is now an even bigger motivator for consumers to improve their diet in the wake of COVID-19 [IGD Appetite for Change Report 2020]," says Burgess. This summer saw the introduction of Monster Ultra Fiesta.
Zoe claims that zero sugar energy drinks are popular. "We sell a lot of sugar free - Monster has a good sugar free range, the Ultra White goes very well," she says. "We also sell Red Bull Sugarfree in all the sizes, which does ok, but the original is the stronger seller."
Harj concurs: "The sugar free Monster and Red Bull sell well," he says. "The only sugar free energy drink that didn't do well was Lucozade. The brand with the closest sales to the original version is Monster. Monster Green [Ultra Paradise] is a really good seller and the Ultra White."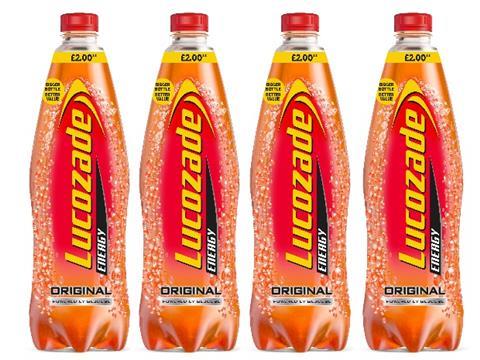 7. Total sales of take home energy drinks have grown almost 17% YOY
Take home energy drinks are still proving popular with shoppers, according to SFB GB&I. "Sales of larger format drinks have increased by almost 17% [IRI MarketPlace, Total Soft Drinks, Energy, Value, Drink Later, Latest 52-week data ending 23.05.21] over the last year, as Covid-19 lockdowns have continued and shoppers have sought energy while working and relaxing in their homes," says Gouldsmith. Sales of Lucozade Energy's drink-later formats have grown by 1.5% [IRI MarketPlace, Value, Drink Later, Latest 52-week data ending 23.05.21], and the brand has tapped into this trend with the launch of a new 1.45L pack.
With the reduction of organic on-the-go sales during 2020 and early 2021, multipacks and larger formats have been crucial in bolstering the category, claims Red Bull. "Average sales price per unit shifts have been driven by increased shopper demand for multipacks due to a change in purchase behaviour over the last year, along with more demand for different sizes in the Red Bull portfolio," says a spokesman.
CCEP also recognises that bigger packs are in demand. "68% of the energy sector's value growth in 2020 came from sharing packs, 41% of which was delivered by Monster [Nielsen Total GB MAT VAL week ending 26.12.2020], as consumers stocked up on supplies in fewer, bigger shopping trips," says Burgess. "We expect home-based consumption and multi-pack sales to continue, as part of people's new, more flexible way of life and to cater for at-home occasions like working out or gaming."
In 2021, Monster will introduce multipacks of Mule, Juiced Monarch, Ultra Fiesta, Pacific Punch, Ultra Paradise and Ultra Black.
Premier Lower Darwen stocks 4-packs of Red Bull and Monster Original. "Sales have definitely increased since everyone's been at home and they're still up now," says Zoe.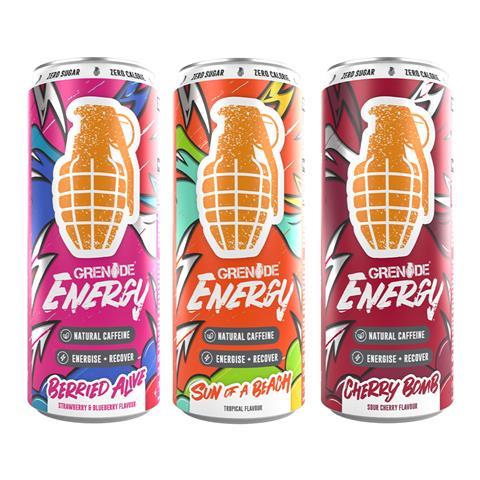 8. Functional wellness drinks are in demand as consumers seek extra benefits
The pandemic has put enhanced health front of mind with an additional one in five people having begun to take vitamins since the start of the first lockdown, claims Britvic. The firm believes this means that there is an opportunity for functional wellness drinks.
"Being a relatively new segment, convenience stores have headroom to attract more shoppers as they are only converting 10% of take-home shoppers [Kantar Worldpanel Take Home], and 26% of on the go [Kantar Worldpanel OOH Panel] shoppers into the wellness category, despite a greater proportion of shoppers wanting premium drinks with added benefits [Mintel]," says Britvic's Sanders.
"What's more,This trend looks set to continue, driving demand for 'natural' energy that also offers additional functional benefits to meet different needs."
The firm claims Purdey's has added £3.5m of additional value to the soft drinks category (Kantar Worldpanel, Total Take Home Soft Drinks, 52w data to 27.12.2020). The brand introduced two new flavours in March.
Harj recently started stocking Purdey's. "It started off really well," he says. "It's slowed down now, but we've still made it a permanent line."
Not wanting to miss out on the wellness action, in March 2021 Grenade entered the market with three flavours of functional Grenade Energy.
"We're now seeing consumers actively seeking products that contain natural ingredients," says head of convenience & high street Rachel Austerberry. "The demand for wellness drinks will gather momentum."
Grenade Energy has secured listings in Spar, Tesco and Amazon and sales of the range have grown 24% in the last 12 weeks, claims the firm.

Sarah is Deputy Editor for conveniencestore.co.uk.