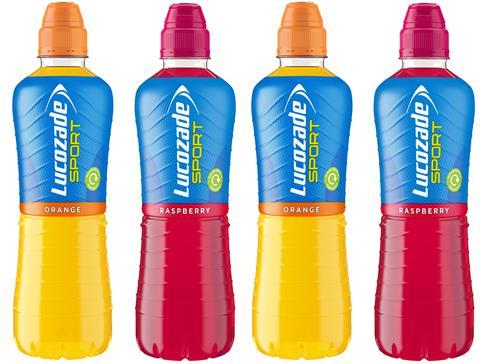 Lucozade Sport has unveiled a new kit with a reduced plastic sleeve on its bottles as part of its continued focus to become more sustainable and which is now being rolled out across the Lucozade Sport portfolio.
The new-look sleeve follows Suntory Beverage & Food GB&I (SBF GB&I)'s £7.8M investment to make its packaging more sustainable, as part of the company's Growing For Good vision that focuses on positive change for businesses, people and the planet.
The reduced sleeve alone will save 101t of virgin plastic being produced annually and allows the bottle to be more easily identified and sorted into the correct waste stream, helping ensure more Lucozade Sport bottles are turned back into bottles within the current UK recycling infrastructure.
The Lucozade Sport sleeve redesign follows a major packaging update on the Ribena brand last year, including launching paper straws for Ribena cartons, as well as a move to 50% transparent sleeves across the Lucozade Energy range to allow them to be recycled more easily back into bottles. Lucozade Sport's new kit will help bring SBF GB&I closer to its goal of making all of its plastic packaging sustainable by 2030 and is also a key step toward the company's ambition of reaching net zero emissions by 2050.
Tom Bell, head of marketing for Lucozade Sport at SBF GB&I, said: "This is a key move for the Lucozade Sport brand and, more broadly, for SBF GB&I as part of our Growing For Good vision. The new sleeve not only makes Lucozade Sport bottles easier to recycle – and therefore turned more easily back into bottles – but equally benefits retailers by being more eye-catching and striking on shelf, helping shoppers to find their favourite isotonic drink more easily.