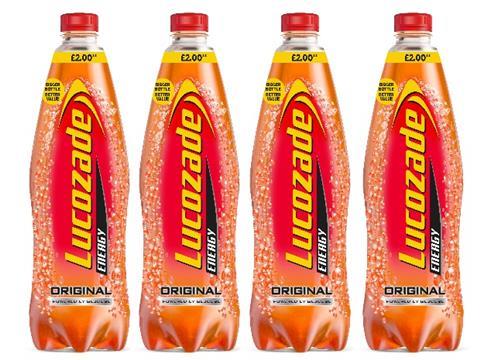 Lucozade has launched new pack formats to help retailers capitalise on the take-home market.
The number of in-home occasions for carbonates and energy drinks has risen with one in four shoppers now consuming more soft drinks and to help retailers take advantage of this, Lucozade Energy has unveiled a new 1.45L bottle, price-marked at £2. This new format launch will also be joined by a Lucozade Energy 12x330ml cans pack (£6).
Head of Lucozade Energy at Suntory Beverage & Food GB&I (SBF GB&I) Zoe Trimble said: "It's important for us to constantly review and update our format offering to make sure we are helping retailers cater for their shoppers by offering the right packs, in the right place, for the right occasion.
"We know 60% of shoppers want specific drinks that meet specific occasions, and that 64% of consumers would buy a larger serve pack if it were available - making our new 1.45L bottles perfectly placed to help retailers meet the increased shopper demand for take-home formats."
According to IRI data, multipacks have added more than £350M to the category since the start of lockdown, with bulk pack sales in carbonates and energy growing by 30%, and multipack can sales growing by 32%.
"By introducing this new 12x330ml cans pack alongside the 1.45L bottle, we are playing a key part in expanding purchase occasions of both new and existing shoppers," added Trimble. "Choice is a key driver for consumers selecting a shop to visit so retailers should offer larger formats and multipack options to help drive footfall in their stores.
"But simply launching our drinks in the format consumers want isn't enough for us. We want to make sure our drinkers hear about these formats through creative advertising too. We're putting just over half a million pounds behind these launches with out-of-home advertising and social media promotion to make them unmissable – in fact, 37% of all adults will have five opportunities to see our marketing."