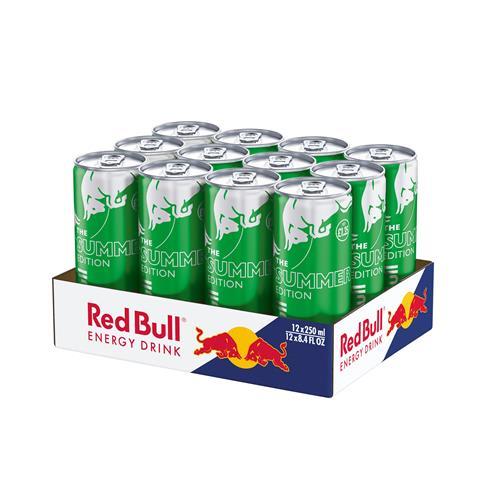 Red Bull's latest Summer Edition, first launched in March 2021, will be made a permanent SKU, extending the existing Editions range with the "Green Edition". The 250ml can has an rrp of £1.35 and will be available to order from December.
Due to the success of Cactus Fruit in other markets across Europe and worldwide, consumer demand took the Cactus Fruit Edition from a limited edition to a permanent part of the Red Bull portfolio to meet this increased demand. Delivering a refreshing take on the taste of the classic Red Bull Energy Drink, the latest fruit sensation delivers all of the functional benefits of Red Bull Energy Drink, along with an invigorating burst of berry that blooms into an exotic fruit and violet flower taste.
Cactus Fruit Summer Edition 2021 drove category growth within Sports & Energy throughout the Summer, with over 1.5 million cans sold (Nielsen Value Sales and Unit Sales MAT vs YA weeks ending 25/09/2021). Consumers refreshed and revitalised themselves with the new Cactus Fruit Edition all Summer, and this latest fixture amongst the editions range promises to continue satisfying energy drink consumers who desire a more exotic fruit flavour and wish to hold on to that Summer feeling all year round.
Cactus Fruit accounts for 29% of Red Bull Edition's £7.3m value growth and is the 2nd best-selling Edition behind the Red Edition, claims the firm.
Red Bull is currently worth over £147m to the Sports & Energy category (Nielsen Value Sales MAT vs YA weeks ending 28/08/2021), and with Editions growing +167% in value last year (Nielsen, Red Bull Editions, Value Sales, Total UK 12 weeks ending 28.08.2021), shoppers are buying more flavours as a take home purchase than ever before. As well as this, tropical and exotic flavours have grown at a rate of +37% vs all other mainstream flavours on offer (Nielsen Value Sales MAT vs YA weeks ending 28/08/2021). As a result, the Green Edition will now appear alongside other permanent SKUs in the Editions portfolio, including Coconut Berry, Tropical and last year's Red Edition.