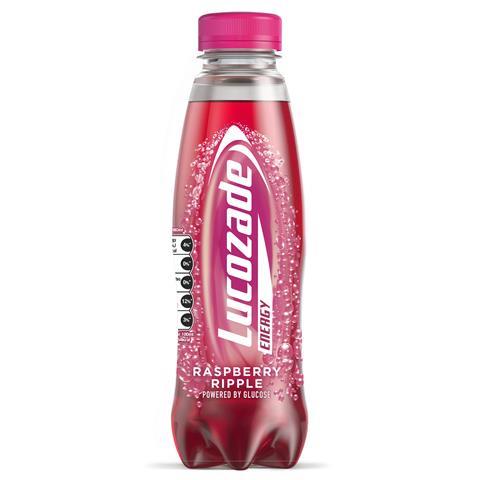 Suntory Beverage & Food (SBF) GB&I is in the pink this summer with Lucozade Energy Raspberry Ripple (380ml, rrp £1.25). Available in plain and pricemarked packs, Raspberry Ripple is the latest addition to the Lucozade Energy flavours range, which has contributed a significant £60.7m worth of sales to the energy category (IRI Marketplace GB, Lucozade Energy Flavours (excluding Original and Orange), value sales, 52 w/e 22.11.20).
The launch builds on the success of Lucozade Energy Citrus Chill, which launched last February and added £1.73m in category sales (EXT IRI, MarketPlace, GB, latest 52 week data ending 22.11.20).
Zoe Trimble, head of Lucozade Energy at SBF GB&I, said: "The Raspberry Ripple name is iconic and nostalgic for British consumers, and we're confident that the combination of such a great-tasting flavour and the Lucozade Energy brand will be a hit. In fact, in planning for this launch, 63% of shoppers told us that they would buy a new raspberry flavour if one were available [Research partners study of 500 retailers for SBF GB&I, 2020].
"We're proud of our track record with NPD across the Lucozade Energy range. Lucozade Energy Raspberry Ripple should join recent Lucozade Energy flavour launches Citrus Chill and Watermelon & Strawberry Cooler on shelf to help retailers offer something for every shopper."
The launch of the new flavour will be supported by a bespoke social media marketing campaign as well as total brand activity throughout the year.
Suntory claims that Lucozade is the UK's biggest energy & sport drink brand (EXT IRI, MarketPlace GB, latest 52 week data ending 22.11.20, Litres Sold).