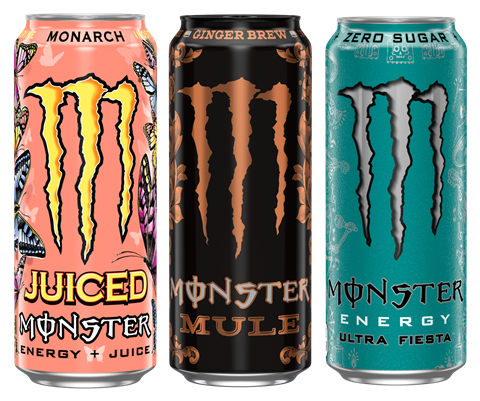 The Monster energy drinks offer is even bigger thanks to three new 500ml additions. Monster Mule and Monster Ultra Fiesta (both rrp £1.39/ PMP £1.35) are available now, while Monster Juiced Monarch (rrp £1.54/ PMP £1.45) will be available from next month. CCEP's energy multipacks grew a whopping 46% in 2020 (ibid) and four-packs of all the new lines will be rolled out later in the year.
Inspired by the Moscow Mule cocktail, Monster Mule is the first ginger-flavoured energy drink in GB, containing 32mg of caffeine per 100ml.
Monster Ultra Fiesta is mango flavoured and has zero sugar, while Monster Juiced Monarch is flavoured with peach and nectarine and contains real fruit juice. The Monster Juiced range is worth £92m and is in 44% growth (Nielsen Home MAT Total Coverage inclu. discounters w.e. 05.09.20).
Simon Harrison, vice president, commercial development at CCEP GB, said: "72% of energy sector growth over the last year has come from new products [Nielsen Home MAT Total coverage value MAT: w/e 03.10.20]. Much of this is thanks to the huge success of Monster's new variants which contributed to over half of this [ibid].
"We know there's big demand in the market for new and exciting flavours, including in the low calorie energy segment. We're confident that our latest launches, supported by impactful marketing campaigns that the Monster brand is known for, will appeal to new and existing energy drinkers and will drive sustained growth throughout this year."
The range expansion follows a record 12 months which saw Monster add over £45m to its retail value [Nielsen Home MAT Total Coverage inclu discounters w.e. 05.09.20]. Now worth £287m, Monster has delivered more than half of the sector's £135.4m growth over the last two years in GB [ibid].
Monster recently launched a category advice website to offer retailers top tips on ranging and merchandising.