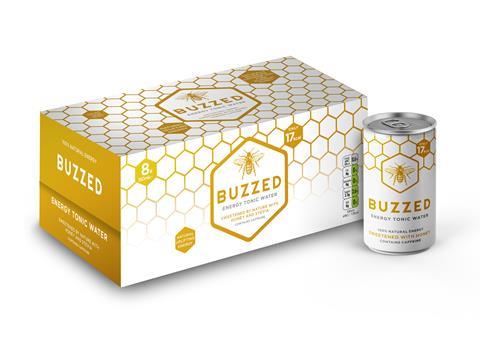 Tonic water Buzzed is appealing to consumers' interest in health and wellness with a natural approach to energy drinks. Claiming to be "the world's first energy tonic water", Buzzed's caffeine source is extracted from natural plant sources, but it still boasts more caffeine per 100ml than the UK's leading energy brand.
The British-made drink is sweetened with pure Blossom Honey and Stevia and uses 100% recyclable packaging. The 17 kcal cans are available in cases of eight units with an rrp of £5.50.
Tonic water is one of the biggest growth drivers in adult soft drinks (Kantar 52 w/e 3 October 2021) and research shows 70% of consumers have become more attentive to natural ingredient claims over the last 12 months (FMCG Gurus Beverage Trends in 2021.
Buzzed founder, Louise Lloyd, says: "There is a well-established consumer occasion for spirits and an energy drink, but there is no premium brand in this space offering a clean, natural solution which doesn't compromise on flavour. Our research has shown that many people choose this kind of drink combination despite the taste, not because of it, simply to get a pick me up. Buzzed was created to quite simply lift your spirit – not overpower it."
The brand is being supported with a six-figure marketing spend and will have a significant presence at key summer events to drive awareness.
Buzzed is suitable as a standalone drink, or as a mixer for spirits and low/no alcohol alternatives.