With the on-trade open once again and the economic hangover of Covid squeezing household budgets tight, how is the market changing?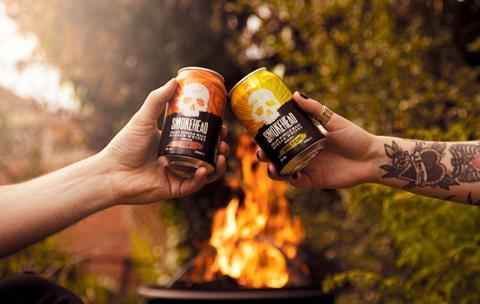 1. Whisky-based drinks account for 31% of c-store RTD sales
Gin has had plenty of time in the limelight of late, but whisky is still Britain's biggest spirits category [Kantar]. And, when it comes to RTDs, it's whisky-based products that rule the roost in terms of value in the convenience channel.
That doesn't mean gin is no longer in, of course. "It's worth noting that gin and whisky RTD brands added £4m of value growth to the category in 2021," says Neil Boyd, UK MD at Ian Macleod Distillers, citing IRI numbers.
"An area of growth we are seeing within the RTD category is the desire for more premium and sophisticated serves from consumers. Convenience outlets can benefit from giving focus and space to a category which is showing an increase in average price of 8%."
To tap this, Ian Macleod Distillers launched a duo of Smokehead Single Malt Whisky RTDs into convenience last year. This month, the company unveiled two new Edinburgh Gin RTDs (Negroni Spritz and Lemon Spritz).
"Outlets should stock gin and whisky based RTDs because 55% of Convenience RTD sales (£31.1m) have a base of either gin (24%) or Whisky (31%)," adds Boyd. "Brands in these segments remain at the forefront of flavour innovation, pack formats and alcohol content."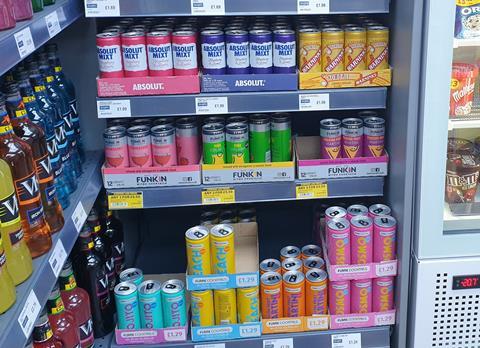 2. Canned cocktails are shaking up RTDs, +27.5% YOY in convenience
RTDs are going far beyond a bog-standard whisky & cola or G&T, as Edinburgh Gin's latest lines show. "We're seeing a lot of growth in premixed cocktails in cans," confirms Mos Patel, owner of Family Shopper Broadoak and Premier Heyside in Greater Manchester.
"People seem to be far more adventurous than they once were, maybe because they haven't been going out to pubs and bars so much but still want to discover new flavours and treat themselves."
Indeed, IRI data for the year ending 14 April 2022, shows 27.5% value growth for RTD cocktails in the convenience sector. Clark McIlroy, managing director of Red Star Brands, distributor of the Four Loko RTD brand in the UK, expects that growth to continue.
"With zoom cocktail classes in lockdown now a distant memory, consumers no longer having spare time to follow a recipe guide at home," she says. "We believe growth in the category will continue as consumers look for experimental solutions in cocktails on-the-go."
Becky Davies, head of commercial at drinks distributor Ten Locks, agrees. "It's no secret that RTDs are enjoying the attention of the trade and the consumer – but cracking the right offering is key," says Davies.
"In terms of liquid, there's appetite for exceptional quality, craft cocktails which have a clear, sustainable brand proposition. Buyers should assess if their RTD offering meets the needs of their customers, especially at the younger end where purpose and quality are key."
She points to Ace+Freak's range of RTDs as a line to consider. The range comprises Ginger & Lemongrass Mule (5.5% abv), Watermelon & Cucumber Sangria (4% abv) and Mint & Elderflower Spritz (5.5% abv) – available in packs of six, 12 and 24 250ml cans.
Quirky rum brand Dead Man's Fingers is also venturing into RTDs with three new launches – Spiced Rum & Cola, Spiced Rum & Ginger Beer and Passion Fruit Rum & Lemonade. .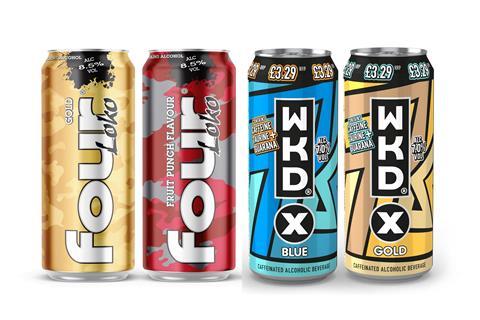 3. Higher alcohol RTDs are in double digit growth
The 2021 UK launch of US brand Four Loko reflects another trend that's shaping RTDs: the growth of stronger ABV levels. "While traditional RTDs still account for a significant share of the category, the major growth is being fuelled by premiumisation and higher ABV brands," says Mcllroy.
In fact, higher ABV brands are worth £56m, growing ahead of the total category at 17.2% [IRI]. The total category has seen value growth across the market, with value and units seeing growth in both supers and convenience stores."
Four Loko is a four-strong range of 8.5% ABV vodka-based RTDs – available in Blue, Fruit Punch, Gold and Sour Apple variants, which are all packaged in 440ml cans. Mcllroy points to IRI data that shows Four Loko's lines are among the fastest growing SKUs in the sector.
Another brand that has seen success with a higher ABV is Dragon Soop, which contains 7.5% ABV per 500ml can, as well as high levels of caffeine (35mg per 100ml), blended with taurine, guarana. The brand has just dropped a Blue Pineapple & Kiwi flavour in time for summer.
SHS refers to alcoholic energy drinks as "enhanced RTDs", which it claims account for 15% of total RTD category sales in the impulse channel (Nielsen). WKD recently entered the market with its 500ml WKD X cans, which have an ABV of 7%, in addition to caffeine, guarana and taurine.
Interestingly, Four Loko would also have fallen into the enhanced RTD category in its original format, but reformulated back in 2010, removing caffeine, guarana and taurine from its ingredients list, which it claims are "potential health dangers".
ADVERTISEMENT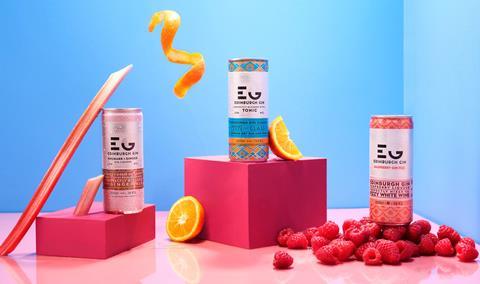 Sophisticated serves from Edinburgh Gin
Convenience outlets can capitalise on the RTD category as demand continues to increase for easily accessible, pre-made - but high quality - cocktails. Forecasts from IWSR Drinks Market Analysis estimate that the RTD category is expected to increase its market share to 8% of the total alcohol sector by 2025. We are also seeing the RTD category become more premium, with the desire for more sophisticated serves from the buyer. Edinburgh Gin is the No.1 premium Gin RTD by volume. This stems from a combination of quality of serve, strength of range and early market entry as one of the first premium gin RTD brands in the UK. We were also one of the first to bring a flavoured gin to the RTD category with our Rhubarb & Ginger and Ginger Ale, which continues to be the number 1 performing premium flavoured RTD gin SKU. An exciting new addition to the range is our reformulated Edinburgh Gin Classic Gin & Tonic with a revised packaging design to improve stand out on shelf. The reformulated G&T has a higher ABV at 7.3% to deliver an optimum serve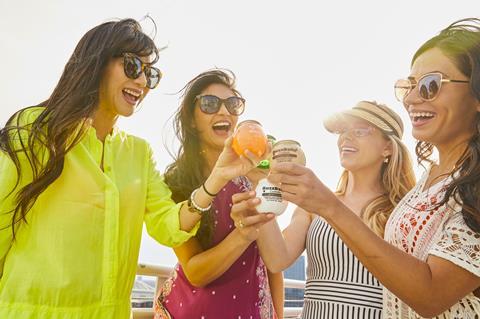 4. Smaller format RTDs are taking off
The June launch of BuzzBallz is another example of a US brand that packs a hefty punch in terms of alcohol content staking a claim on the UK market. The launch reflects another category trend: growth in products packaged in smaller formats.
The six-strong BuzzBallz six-strong range comes in 200ml spheres made of recycled plastic containing 13.5% abv cocktails such as Espresso Martini, Chili Mango and Tequila 'Rita.
According to UK distributor Hammonds, cocktails and long drinks will account for 60% of RTD sales by 2024, up from 25% in 2014. "The UK RTD market is a fast-growing category, yet it is crying out for more innovation, and we believe BuzzBallz can deliver this," says Tim Dunlop, brand director at Hammonds.
"As the number one selling pre-mixed cocktail brand in the US convenience channel, BuzzBallz can help c-stores drive sales for both planned and impulse purchases. The on-the-go opportunity is definitely back. consumers want products that are ready-to-drink, highly portable and convenient while still meeting their flavour and taste expectations."
Dan Brown, who owns Nisa Local Pinkie Farm in Musselburgh near Edinburgh, has seen this playing out in store. "Cocktails are doing really well for us, particularly the more premium and artisan brands," he says. "We're doing really well with a brand called White Box, which makes these bar quality cocktails in little pocket shot cans."
The White Box pocket range of 100ml cans comprises 21.8% abv Negroni, 32.2% abv Old Fashioned and 34.4% abv Freezer Martini. The brand also has a range of lighter mixed drinks in 250ml cans, including 4.8% abv Disco Baby Vodka Soda and 5.7% abv Happy Fizz.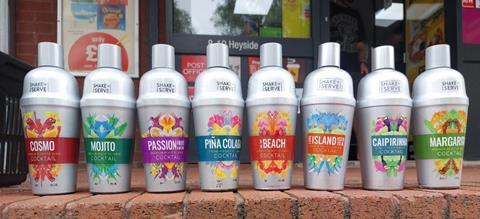 5. Multi-serve cocktails are coming home
It's not just single-serve pre-mixed cocktails that are causing a stir in the RTD market, however. "We've been seeing really good sales of Shake n Serve Cocktails, which come in these multi-serve cocktail shakers that you can share at home," says Dan at Pinkie Farm.
"I think there was probably demand for this sort of thing before the pandemic but it took the pubs closing and lockdown for us to get a bit more adventurous and experimental with what we stocked. They've proved a real hit."
Over in Manchester, Mos has been enjoying similar successes with Shake N Serve. "We started selling them as a way of differentiating ourselves from the competition and now other stores have started selling them," he says. "The range of flavours is excellent."
The nine-strong Shake n Serve range includes serves that no self-respecting cocktail bar would be without, from Mojitos and Margheritas to Caipirinhas and Cosmos, all weighing in at 10% ABV and packaged in eye-catching 70cl shakers.
"Retailers can buy any mix of 24 [from us]," says Bjorn Johannson, md of Buoyant F&B Ltd, which owns Shake N Serve Cocktails. "We don't, at the moment, go through a wholesaler because we try to offer the convenience shops good POR, most of them operate at 30% POR." He recommends stocking five or six different lines, three of which should be topsellers, such as Strawberry Daquiri, On the Beach and Passionfruit Martini, but also experimenting with the other lines to see whether you have fans of any particular cocktails and also to give the opportunity to increase basket spend.
Meanwhile, Funkin Cocktails, which has seen value sales rocket 134% in the past year (Nielsen), urges retailers not to get carried away stocking too many unusual flavours. "Consumers tend to gravitate towards classic cocktails for at home consumption, despite this, it can be easy to be drawn to the latest trend of flavours with exotic names and ingredients in the RTD space; but it's important to keep in mind that these niche offerings can often polarise opinion and confuse shoppers," says marketing director, Ben Anderson. He claims that the top five cocktails are Passionfruit/Pornstar Martini, Mojito, Sex on the Beach, Long Island Iced Tea and Daquiri (CGA).
With the cocktail market now worth £10m MAT (+27%) in impulse (Nielsen), Anderson advises retailers to capitalise with clever merchandising. "Creating cross merchandising opportunities in impulse channels will allow consumers to make the natural link between the food and drink categories and treat themselves to both for occasions that combine cocktail drinking and snacking," he says, noting that Pina Colada pairs well with Caribbean food, while Passion Fruit Martini is well matched with desserts.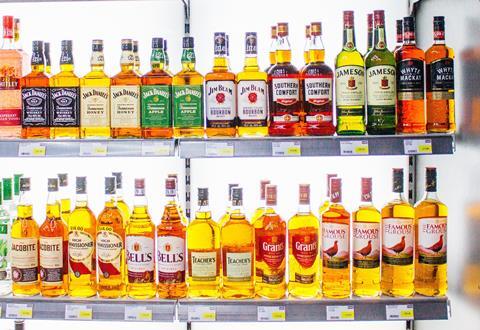 6. The future's bright for dark spirits
Convenience retailers also report racing sales of dark spirits such as whisky and rum, sectors which Kantar says saw respective overall growth of 11.1% and 12.9% in the year ending 5 September 2021.
"We've seen a dramatic increase in spirits sales over the past two years, but it has slowed down more recently as life has gone back to normal," says Mos. "However, sales of dark spirits, particularly flavoured rums, continue to sell very well and grow strongly."
He points to flavoured-rum brand Dead Man's Fingers as a particularly strong performer, adding: "The main problem we have is getting hold of Dead Man's Fingers so sometimes we have to replace it with another brand."
There's no shortage of interesting alternatives out there. For example, in June, Zymurgorium Group launched a trio of rums – named Super Massive Black Spiced, Khanage Wars Indian Spiced and Ruby Eyes Chocolate Rum – to meet demand for more adventurous rums.
"Consumers, in particular younger drinkers, are attracted to spiced and dark rums because of their versatility with a variety of mixers and their pleasing flavour and sweet notes," says Davies at Ten Locks, pointing to Guyanese Diablesse Clementine Rum as another example.
"The popularity of spiced and dark rum is set to pave the way for a renewed appetite in other dark spirits, such as cognac and brandy so there's longer term potential for other products in the category too.
"We see dark spirits as a growing consumer trend and over the last few years whiskey and dark rums have really upped their game – and consumers have become more curious about dark spirits."
This growing adventurousness applies to whisky too. Even in Scotland, the spiritual home of whisky, drinkers are flirting with a wider range of drams from around the world, says Dan at Pinkie Farm. "Of course, we do a lot of Scotch whiskies because of where we are and we have a big display on the shopfloors with just the whisky boxes to avoid theft – we've seen good sales of Japanese whisky through this display too," he says.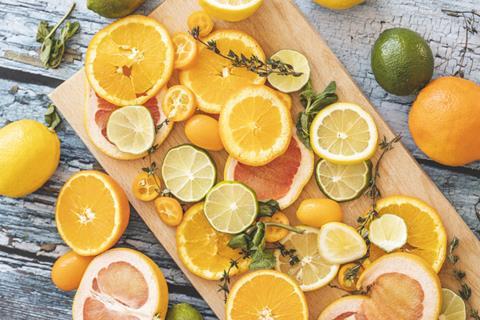 7. It's going to be a citrussy summer
One flavour trend stands out above the rest: citrus and orange flavours. In recent months, Hooch has brought back its orange RTD, Bombay Sapphire has unveiled Bombay Citron Pressé and Diageo has added Summer Citrus as a permanent fixture to the Cîroc vodka line-up.
"Cîroc Summer Citrus was a hit when it launched for the first-time last year, so it made sense to relaunch this year during what is set to be an exciting season of celebration, as well as make it a permanent fixture in the existing portfolio," says category marketing director Samantha Newby.
"Cîroc leads the way in providing on-trend and high-quality vodka options and this variant is no different. Adding Cîroc Summer Citrus as a permanent flavour is reflective of our commitment to providing high-quality flavoured vodkas to adult drinkers."
Johnny Dennys, head of brand and trade marketing at Mast-Jägermeister UK, points to the the Jägermeister Mule as another way drinkers can get a citrussy hit. "The Jägermeister Mule is a twist on a classic cocktail, which can be made easily at home with just three ingredients, 50ml Jägermeister, 25ml fresh lime, topped with ginger beer," he says.
"At-home cocktails has seen a surge in popularity, becoming a trend that is here to stay, and a key occasion retailers should target to drive sales. Whilst Jägermeister is best served as an ice cold shot, served at -18C straight from the freezer, it can also be used to make simple and great-tasting cocktails."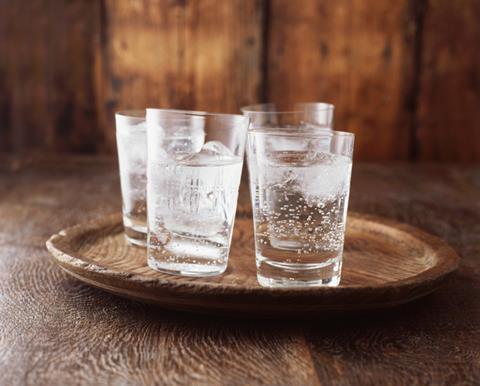 8. Hard seltzers are going soft, down 10% YOY
For all the hype that's surrounded the launch of hard seltzer brands such as White Claw, Mike's Hard Sparkling Water and Bodega Bay, sales of such products seem to be going soft in the convenience sector.
"According to IRI data hard seltzers are down around 10%, suggesting the category may be experiencing a slowdown in consumer demand," says Mcllroy at Red Star Brands
"Although still unproven, it's unlikely that British consumers will adopt hard seltzers to the same level in the US in the long term, with data suggesting consumers here prefer a fuller flavour and sweeter taste."
According to IRI's numbers, hard seltzers only represent about £15m or around 3% share of the total RTDs category. It seems that brands will need to up their marketing spend and product range if they are to live up to the hype that surrounded their launches.