Retailers have the opportunity to sleigh soft drinks sales over the festive season as shoppers splash out more and buy bigger packs.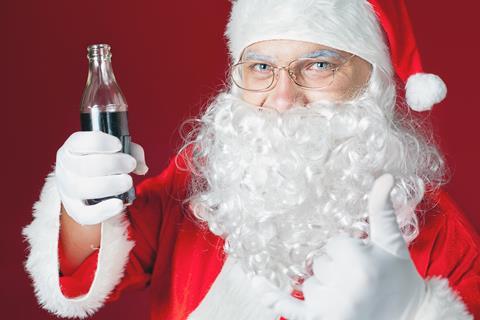 The festive season has always been a time for merrymaking, but today there are plenty of people just as likely to celebrate by raising a glass of the soft stuff as they are a couple of pints or a few glasses of wine.
"With an estimated 6.1 million people now choosing not to consume alcohol (Diageo Drinks Report 2019), it's vital for convenience retailers to stock up with a range of soft drinks options at Christmastime," says Amy Burgess, senior trade communications manager at Coca-Cola European Partners (CCEP).
Adrian Troy, marketing director at Barr Soft Drinks, notes that soft drinks is a key category for c-store retailers to get right during this year's festivities, given its sheer size and its growth.
"Soft drinks are increasingly important to retailers in the run-up to and during Christmas, showing continuous year-on-year growth for the past three years and adding a huge £150m to the [Christmas] category (IRI Marketplace & Kantar WPO data to Christmas 2018 vs 2016/17)," he says.
"It's crucial to get your range right and stock up on those bestselling brands that shoppers will be looking for, in both multipack and larger pack formats, to cater to those preparing for family get-togethers and parties."
Daniall Nadeem, owner of Nisa Motherwell Road in Bellshill, Scotland, says soft drinks always do well for him at Christmas, thanks to demand from those catering for a crowd.
"Soft drinks are good for us at Christmas and we sell a lot of the take-home family packs on impulse – and even though they are large, the big bottles of soft drinks are still something that people also buy at the last minute."
People are drawn to the drinks that come in family formats, he says, "but some buy in advance whereas others leave it until the day itself so we have to have everything in stock."
Daniall started doing his buying for Christmas drinks early in September and October, tailoring his range to suit his frugal customer base. "We try to stay away from too many of the premium lines, because the people that come to our store are often on a budget and looking for an offer that gives them a lot of product for a good price.
"We find that introducing two for £2 promotions on pricemarked packs is a good way to let people know that Christmas is coming and encourage them to stock up."
Much of Daniall's Christmas range comes from Barr "because this is a brand that people know well here in Scotland".
"We make good margins on Barr lines and when priced at two for £1.50 for a 2ltr bottle they offer really good value for customers."
For Harj Gill, owner of The Windmill Select & Save in Birmingham, it is the traditional branded lines, including those from Coca-Cola and Pepsi, that work best for him.
"People tend to buy the value or own-label versions throughout the year, but once Christmas comes around most shoppers are prepared to spend that bit more on one of the big brands of soft drinks," he asserts.
Whether it's premium or value, what all retailers need to ensure is that their soft drinks are in stock when shoppers do decide to buy.
"Christmas is no longer limited to just one day, with the celebrations continuing for more than a month," says Boost Drinks founder and managing director Simon Gray. "This means retailers should make sure their shelves are well stocked with drinks from mid-November.
"Retailers can ensure they boost sales by keeping their shelves well stocked, making product easy to find, and ensuring staff are on hand to assist consumers with their shopping," he adds.
A traditional Coca-Cola Christmas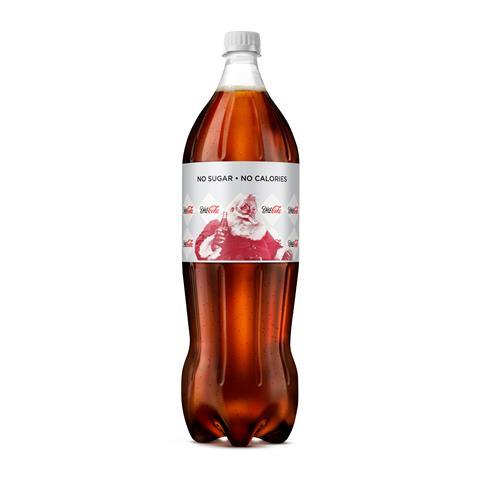 Cola was the largest contributor to soft drinks growth in Christmas 2018, adding £34m in value.
Sales of the Coca-Cola brand grew by 14% during the same period, delivering more than double the sales of the nearest branded cola competitor (Nielsen Value Total Coverage inc. Discounters, eight w/e 29 December 2018).
This Christmas Coca-Cola will once again be helping retailers to drive excitement in store with festive on-pack graphics featuring a nostalgic image of a jolly faced Father Christmas enjoying a bottle of Coca-Cola.
This limited-edition packaging will run across large PET bottles and canned multipacks of Coca-Cola original taste, Coca-Cola zero sugar and Diet Coke.
Designed for at-home sharing occasions, the festive packs will be supported by a multi-million pound consumer marketing campaign that includes advertising, experiential, digital and PR activity as well as the return of Coca-Cola's 'Holidays are Coming' advert.
Mixers
Large formats and multipacks may be must-stocks this Christmas, but mixers also provide plenty of scope to super-size sales.
Burgess includes mixers in her list of 'special' drinks that capture the excitement of the Christmas holidays, alongside cocktails and non-alcoholic mocktails.
"Mixers are growing in popularity as more people look to recreate their favourite mixed drinks at home," she points out, "and retailers should consider the importance of mixers alongside alcohol ranges to help them cater for customers stocking up for their festive celebrations."
For Daniall, an area that is continuing to grow is tonic water, especially those from the Fever Tree brand. "A real standout among mixers is Fever Tree, because we can get that from Nisa at £1 per bottle," he says.
Harj has noticed that his customers are prepared to splash out on higher-value tonic waters over the festive holidays. He says: "People trade up to treat themselves at Christmas to more premium mixer brands, which is why Fever Tree's tonic waters have done so well for almost every retailer.
"I think the success of the products goes hand in hand with the boom in premium spirits as people are happy to spend more on the drinks they mix with them."
Daniall experimented with the Co-op's range of tonic waters earlier this year, but found that customers opted for higher-value brands instead. However, he is looking forward to seeing how the rest of Co-op's own-brand soft drinks perform in the run-up to the festive break.
"This Christmas is the first year we will have access to Co-op's full range of own-label soft drinks so we need to decide which ones are best to stock," Daniall continues.
"Most of the lines, like the colas and sparkling waters, we can shift in high numbers because of the branding and how they fit in with the party season. People need lots of drinks to have with family and friends so we are going to try out the Co-op Irresistible range to appeal to them," he adds.
Irn-Bru goes back to its roots for the festive season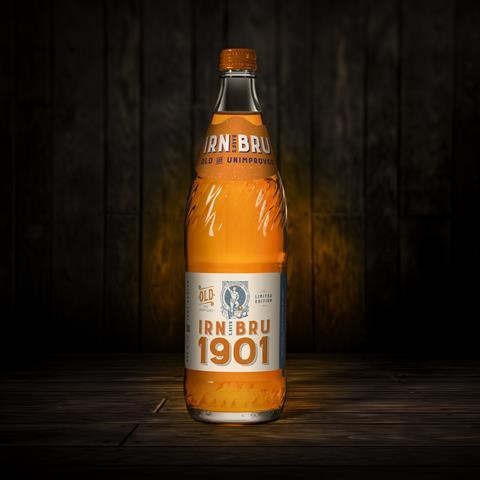 Scottish retailers looking for something a bit different to stock this Christmas might consider Irn-Bru's 1901 bottle.
Hitting shelves in December, the limited-edition product is made using an 'old and unimproved' Irn-Bru recipe, created when the drink was first launched nearly 120 years ago.
Given its age, it is thought that nobody in the world has tasted this early version of Irn-Bru. The recipe was found in a handwritten book stored in the company's archives.
The Scotland-only product still boasts a gingery fizz, but contains no caffeine and is sweetened with sugar instead of sweeteners.
Former Irn-Bru chairman Robin Barr, who unearthed the recipe, says: "The 1901 recipe has aged beautifully over the past 118 years. For a limited time, we'll be producing a premium 'old and unimproved' Irn-Bru 1901 just as it was enjoyed by our first fans.
"This is Irn-Bru as you've never tasted it. It's a chance to enjoy a unique and authentic piece of Scottish history – but don't hang about, we don't think it will be around for long."
When Irn-Bru first launched, it was produced using the name 'Iron Brew' with the slogan 'A refreshing and invigorating tonic beverage'.
The limited-edition packaging of the 1901 bottle pays homage to this Victorian heritage, featuring the Irn-Bru strongman and authentication from inventor Andrew Greig Barr.
Available to c-stores in Scotland, Irn-Bru 1901 will launch in 75cl glass bottles (rrp £2).
Merchandising
Consumers may be happy to spend a little more at Christmas, but that doesn't mean they will turn down a great deal or buy more soft drinks than they intended if they are merchandised well. Spar retailer Raj Aggarwal, owner of stores in Leicestershire and Yorkshire, positions his strategically throughout a store so time-poor customers are reminded to stock up over the festive holidays.
"The time to maximise sales at Christmas goes pretty quickly so all retailers need to commit to their displays so they get the best outcome from shoppers," he says.
Daniall says he does lots of promotions online at Christmas through his store's Facebook page and focuses on bringing in POS to signpost the range in store. "We stack all the multipacks on pallets and bring in big displays for our gondola ends so people can't miss them," he explains.
Raj has found that cross-merchandising soft drinks with other categories helps to drive sales further. "Wherever possible, we try to pair soft drinks with other categories at Christmas," he explains. "Our Hackenthorpe store is quite big so we can afford to create themed displays and link lines together."
James Logan, commercial director of Refresco UK, believes that wherever you place them, soft drinks will be a winner this season. "The beauty of Christmas is that soft drinks appeal to a broad range of shoppers," he says, "from those looking to stock up for family -at-home breakfasts, to those seeking drinks and mixers for entertaining, the teetotaller, designated driver and the health conscious."
So those stores that embrace seasonal demand and add some excitement to their soft drinks displays should find their tills ringing like Santa's sleigh bells.