With the right strategy you can encourage early seasonal sales and become a destination store for premium alcohol this Christmas.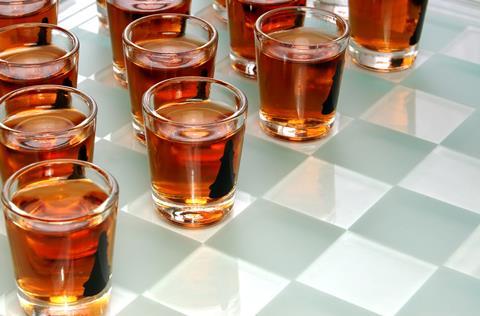 Let's face it: 2019 has been a divisive year. Major public disagreements about B****t, Boris and the new season of Bake-Off have divided public opinion and split communities and families right across the UK.
But, thankfully, a little help from Santa is now on the way. As the weather turns chillier c-stores start to sell more of the product always guaranteed to bring together our divided nation: alcohol.
There's every reason to believe that this season promises to be a cracker. For one thing, Christmastime trips to c-stores are on the rise (Nielsen Homescan Total Coverage 12 w/e 29 December 2018) as people pop in for extra food, drink, wrapping paper and other December essentials.
On top of this, there's loads retailers can do to make sure sales of booze light up the December gloom like baubles on the proverbial Christmas tree.
One retailer hoping to maximise sales is Leanne Dixon from Londis Yealmpton in Devon. "Alcohol for Christmas is a massive part of our business," she explains.
"It was only four years ago that we stocked no alcohol at all. Now it's a huge area for us, so we start early, looking ahead to December in at least September. It's all about doing a bit of everything to plan ahead, really: looking at trends, what's in, good offers and stocking up on the products that we know sell."
By early October, Leanne had a keen eye on the price of Baileys (which she says is always a Christmas winner) and was busy fine-tuning her pricing.
"We've got a Morrisons supermarket about a 10- or 15-minute drive away from our store," she says, "so we've really got to be as competitive as we can, because they can obviously do things at silly prices. But if we get the price-point right customers won't feel they have to go the extra mile to get what they want – they'll just come to us."
Despite Londis Yealmpton's rural location, Leanne's shoppers are on the same December missions as their big-city counterparts, with a couple of exceptions.
"It's really all about being spontaneous at Christmas," says Leanne. "People come in when they're about to go round to someone's house, or go to a big Christmas party. And then you catch people on the way back, too. So they'll head home, realise they don't want to finish the night quite yet, and then pop in for a bottle of wine from us."
A rare opportunity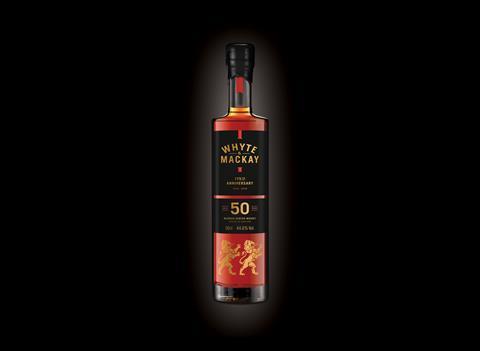 Whyte & Mackay is celebrating its 175th birthday with an on-pack promotion giving away rare 50-year-old blended Scotch, estimated to be worth £5,000. Consumers of 70cl and 1ltr Whyte and Mackay can enter a monthly draw to be in with a chance of winning.
Wider reach
It's not just locals she caters for, either. The store attracts attention from the well-heeled holiday-makers staying nearby who've forgotten to do an Ocado shop.
"We've got a lot of second homes around here," she says. "People will come down from London, and other parts of the country. They haven't yet got a supermarket shop in, or their alcohol for a Christmas break, so they'll get wine and spirits from us."
Leanne says she sees interest in premium wines peak over Christmas. "In wine, I think better quality is just the way the market's going – and you see the effect particularly over Christmas," she says.
"Okay, so you do get a few customers who don't really care what they're drinking, they just want the cheapest price. But, round here at least, people know all about their pinot grigio, their merlots and sauvignon blancs. They're connoisseurs so they don't mind paying for quality."
Clearly, people who own second homes are likely to have a higher disposable income, and perhaps a taste for the finer things in life.
The theory is backed up by shopper insight experts HIM. "ABC1 shoppers are more likely to purchase alcoholic drinks for the Christmas holidays than C2DE shoppers," confirms Alice Dolling, strategist at HIM. "Therefore, in higher affluence areas stores should implement an extended range of alcohol."
But beyond demographics, evidence confirms that there's something about the season that opens customers' wallets as well as their hearts. HIM claims that customers are actually buying fewer products on Christmas shopping missions, but spending more, and that includes alcohol.
This means there's plenty of opportunity to capture the Christmas spending of customers going premium on the booze to impress their friends and family.
"Shoppers are looking to trade up over the Christmas period," confirms Dolling. "Alcohol is a category where we have seen a trend towards more premium consumption and hence the category is rife to start exploiting consumers' more premium tendencies during the Christmas period."
Heineken points out that Christmas is a big driver of premium lager, and claims there is a major chance for retailers to grow sales of its Sol and Birra Moretti lager brands over the festive party season.
"The festive period naturally presents a huge opportunity for retailers to boost their profits through the premium lager category," claims category and shopper marketing director for Heineken UK Toby Lancaster.
"Retailers should stock up on premium options sooner rather than later, to ensure they have a strong range that caters for consumers looking to purchase more regularly, and at a higher price point."
Make it a Hoppy Christmas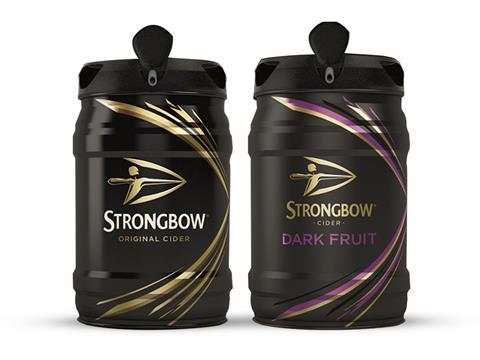 Spirits and wine always get a look-in at Christmas, but many consumers are just here for the beer (and cider). In fact, according to Nielsen, more than half of beer and cider value sales happen over the festive period, which means it's essential to get your range right.
It's important to start with the basics and then build your offer, explains Toby Lancaster, category and shopper marketing director for Heineken UK.
"With classic and mainstream beer and cider still accounting for 65% of the category (Nielsen 52 week rolling MAT value sales), getting the basics right by stocking a staple range such as Foster's, Strongbow Original and Strongbow Dark Fruit is key," he says.
Making sure your beer offer is cold is also a good idea, as is aping the mults by carefully positioning your premium products to help increase basket spend.
"Displaying more premium products in standout places such as at the end of an aisle or as part of larger displays is a great way to catch a shopper's eye and encourage them to trade up," says Lancaster.
He adds: "Retailers must also not underestimate the power of their website and social media channels. Ensuring they post regularly to remind customers about upcoming events and must-stocks is key to maximising sales."
Premium spirits
HIM research shows that during Christmas shopping trips to convenience stores, the leading premiumising product bought by those looking to trade up is spirits. But Pernod Ricard feels that there is more work to do to really make the spirits sales figures sparkle as much as the tonic water in the latest botanicals gin.
In order to really maximise sales Pernod Ricard UK believes that c-stores need to push premium early in the season.
The company is urging convenience retailers to give earlier and stronger visibility to premium wine and spirit brands in order to win back share from grocery, rather than waiting for the end-of-December flurry. By doing so, they can capitalise on what it claims is a £15.5m opportunity.
It reports that as excitement builds over the festive period, so too does the average spend on premium spirits. However, growth happens later in the month of December for convenience, as opposed to grocery and the on trade – meaning that c-store retailers could be missing out. It states that the convenience channel increased its value share of premium spirits by just 3% in the last quarter of 2018, versus grocery at 8%, and even lost 1% versus the previous year, widening the gap and losing valuable share during a crucial sales period (Nielsen 15 June 2019 – Premium % share rest of year vs Premium % share 12 weeks to Christmas).
Chris Shead, off-trade channel director for Pernod Ricard UK, says: "It was a good Christmas for the convenience channel last year. However, it continued to fall behind grocery as retailers failed to maximise the premium spirits opportunity."
Get ginspired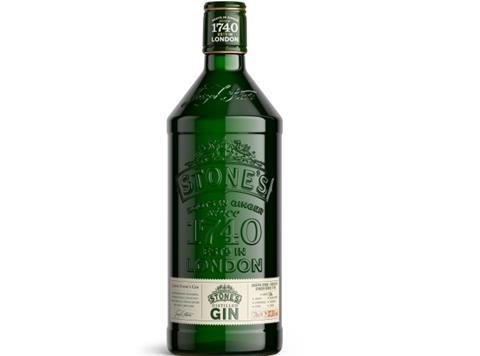 When the mercury plummets the Whisky Mac is a stone cold winter classic – and there's pretty much one brand that customers will seek out to make it: Stone's Ginger Wine.
"Stone's is the largest ginger wine brand in the UK market and is seeing growth of 10.8% (Nielsen 52 w/e 7 September 2019)," says Paul Hillier, head of trade marketing at Accolade Wines.
This season the wine is joined by a new stablemate: Stone's Gin. It's infused with ginger, and traditional botanicals, for an upmarket modern take on gin and ginger ale.
With premium gin sales showing no sign of flagging in c-stores, the brand has high hopes for Stone's Gin. "We are excited about the potential for Stone's Gin over Christmas," says Hillier.
The company is promoting the spirit using necktags on Stone's Ginger Wine to encourage consumers to try it.
Accolade's Echo Falls brand has also been working to respond to the popularity of gin. Its Summer Berries Pink Gin aims to bring a bit of strawberry action to the winter months, spiked with juniper for a traditional gin feel.
What's more, as part of its seasonal 'It's Treating Season' campaign, Echo Falls is hitting the dance floor. Customers who go for its Pink Gin, ProsEcho Falls and Echo Falls Summer Berry Vodka get a free disco ball key ring.
The right choice
Although it's pretty much guaranteed that the Christmas period will drive footfall wherever you are, how exactly do you make sure your alcohol selection really chimes with customers' needs and get them spending more earlier in the season?
Knowing which products to hone in on is a good start. Within premium spirits Pernod Ricard UK recommends retailers focus on gin, Irish whiskey, blended Scotch and vodka.
The firm is pouring £5m into the Christmas occasion this year, nearly 70% more than last year.
According to Donna Morgan from Brownlies of Biggar, near Edinburgh, gin and whisky are the way forward. "I think if we look at it we maybe sell a couple of bottles more rum than normal. But we're still finding that gin and whisky are the real big-sellers. I think that our customers are getting a real nose for whisky and we do a great selection at a range of different price points."
If you want a prolonged sales period for premium lines then a longer-term strategy is required. Unlike cheaper counterparts, premium spirits can take a bit more effort to shift. Donna knows this, and so has a variety of different methods to raise the spirits in her store.
"Basically my husband and I were selling whisky in the store and didn't think we were doing it as well as we should," she says. "We knew there was a lot to it and so looked at learning more and training the staff so they could educate customers on our premium offer.
"We've got tasting notes on the whiskys so we can talk about products from different regions and what they'll be like.
"Every month we do a 'gin or whisky of the month' which is a great way to get sales going, especially as we get nearer to Christmas. We're also hoping to get our website up and running by December so we can sell direct to customers online as well."
A rosy future for Greenall's pricemarked pink gin

Quintessential Brands has released a pricemarked pack (PMP) of Greenall's Wild Berry Pink Gin (rrp £15.99) in a bid to build consumer trust and drive repeat purchase. The launch will be supported by a competition exclusive to c-store owners and employees.
Route to market business unit director Simone Thomas says: "Value for money plays a big role in consumers' shopping decisions and PMPs ensure that consumers know they are getting a good deal. This is increasingly important for Greenall's, particularly in the crowded flavoured gin category, as it allows the brand to stand out from other competitors on shelf.
"Following on from Greenall's recent zero-sugar campaign, which highlighted the brand's USP as one of the only flavoured gins to contain zero sugar, we're confident that Greenall's Wild Berry Pink Gin will be in demand across the UK this Christmas."
To celebrate the gin's launch, Quintessential is giving retailers and their staff the chance to win £1,000-worth of Love2Shop vouchers. To win, entrants have to follow @Greenallsgin on Instagram and post an image of the Greenall's Wild Berry Gin pricemarked display in-store using the hashtag #greenallspink. The competition will run from 22 November until 31 January 2020.
Pours for thought
Last year 44% of all FMCG Christmas shopping baskets featured alcohol
(Source: Nielsen 29 December 2018)
Premium wine volume peaks at Christmas, as consumers buy slightly more and look to trade up
(Source: Nielsen/Pernod Ricard 15 June 2019)
62% of c-store customers are either 'very likely' or 'likely' to switch to a more premium or expensive food or drink product when buying groceries over the Christmas holidays
(Source: HIM)
A taste of success
Donna is also whetting customers' appetites for premium wine, while spreading a little Christmas cheer, by doing some in-store sampling. Every November she gets guests and suppliers together to help work out the Christmas wine trends for her store.
"We have suppliers come down to a local hotel where we do free wine sampling for some selected guests," she says.
"Our intention is to get people to try specifically Christmas lines – especially the higher end of things. It's quite hard if you're just selecting them for yourself: you need to know what your customers think. We've done it for a few years now and it's a big thing for us."
As well as generating feedback, sampling also gets customers excited about their potential premium wine buys for the Christmas period. These are often selections that customers find hard to resist before the big day.
"What we often find is that people will get inspired by the tasting and go ahead and buy a few cases, then drink them all before Christmas and come back for more," says Donna.
Getting customers to return as often as possible in the key Christmas period sounds great. And, as Donna alludes to, it's even better if they're moved to splash a bit more cash than usual on some upmarket vino.
Chris Taylor, owner of Taylors of Tickhill, South Yorkshire, has developed a similar model, using sampling to not only spread the word about his Christmas selection but work out which products hit the spot with his customers.
"We do a lot of sampling of alcohol in the run-up to Christmas," he says. "Last year, we had 150 people in the store trying all the different types of wine that we had shortlisted for our festive range. Shoppers could choose from about 50 different varieties that we tried ourselves. These kinds of events are a really good way to get feedback and we give everyone a little note that they can complete to give their verdict on the wine."
After Chris has reviewed all the customer notes, he announces the official 'Tickhill's choice for Christmas'. Then he plucks a note out of the hat and gives the lucky customer a free bottle of the vino in question.
"Most of our range is priced at between £10 and £15 so it is a nice prize and helps us to engage with local people," he adds.
"The sampling also gives us confidence in our festive range and knowing that people will be happy with our offer. We promote these kind of days on social media and we get a lot of engagement from locals. We've been running these types of wine events since 2014."
Grape festive gift ideas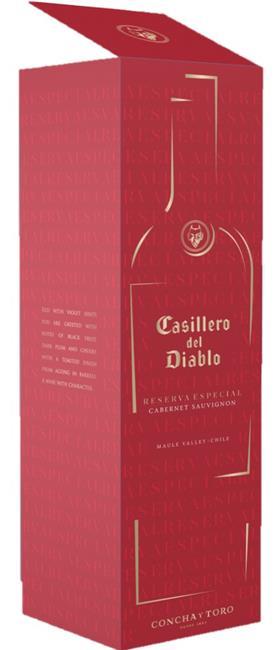 When it comes to customers getting a last-minute Christmas gift for their hard-to-buy-for Uncle Harold, wine often hits the spot. And this season more brands are bringing out gift packs for convenience.
"Gifting is the obvious area [for Christmas shoppers]," says Ben Smith, brand manager at Concha Y Toro UK. "This is especially true for convenience, where many shoppers are on their way to visit friends and family. We're launching gift packs for both Chilean brand Casillero del Diablo (the Reserva Especial Cabernet Sauvignon), and number one UK Malbec brand Trivento into convenience this year. We're expecting them to really help drive sales at this crucial period."
Smith adds that when it comes to presents, premium is the way to go. After all, the aforementioned Uncle Harold isn't going to be happy with a 'two-for-a-tenner' offer. Plus, getting away from offers can benefit retailers' margins, and be a driver for the 30% of wine missions on which shoppers are out to treat themselves rather than someone else.
"The key is to get the shopper's focus away from deep promotions, and appreciating strongly branded offerings which are perceived to offer more value," he says.
It helps if the rest of your wine offer backs up an overall feeling of quality as well. Smith says that it pays to invest in an offer that's a cut above the standard 'local shop' selection.
"In general, convenience retailers should ensure they have sufficient variety in their wine range, and that they refresh their offering," he says.
"This is one area where the multiple grocers usually take the lead. For example, the sweeter styles of rosé particularly from the US are in long-term decline, but this isn't always reflected on shelf in convenience."
It's a gift
It's worth remembering that booze isn't just there to fuel festive merry-making. It comes in useful as a present for hard-to-please friends and relatives, too.
"Nearly a quarter of consumers are planning on purchasing wine as a gift over the Christmas holidays," says Dolling, "so make sure gift-friendly wine and spirit options are available."
According to Pernod Ricard, 44% of UK consumers gave gin as a gift last year. To capitalise on this growing trend, Plymouth – which is growing 6.1% (Nielsen Gin, Total Coverage, w/e 23 March 2019) – has been given a premium gift box (rrp £26.99) suitable for gin lovers looking for a British-made craft gift.
Gifting is certainly a key area for Donna. In her store she devotes an entire stand to Christmas gift packs – often centred around alcohol. She'll offer premium gin alongside tonic and other botanicals. Customers can get a box from the shelf, or order them bespoke.
She says that customers love them, especially those that have failed to get anything on the big day itself.
"At Christmas people trade up – and we also see them panic buy," she says. "Customers suddenly think 'Sugar, I've still got so-and-so to buy for' and that's when they'll come in and pick up a bottle. We're actually open for four hours on Christmas Day, and that's when we see people come in for last-minute buys. I think that whisky is always a good present."
Plus, it's not all about thinking big with alcoholic gifts. Donna explains that having a good range of festive miniatures on sale can have an outsized sales impact.
"At Christmas we really do have a massive amount of spirits miniatures," she says. "They do really well because people buy them as stocking fillers. So over Christmas we try to do an extensive range including everything from premium gins through to spirits for cooking.
"We're looking at about 40 to 50 different products," she says.
Donna may offer an extensive range, yet she says that it wouldn't sell well without one crucial ingredient in the Christmas cocktail: trust. She says that over the years her customers have come to trust her staff's recommendations for products, and so therefore spend more with the store.
"It's essential to speak to your customers regularly about what they're buying and so gain their trust," she says.
"Don't get me wrong – it doesn't happen overnight. For instance, a customer came in today and said that he needed me to put together a gift box made up of wine with a £400 budget. So I spoke to them and found out a little more about the customer and what they liked. It actually came in a bit less, because I told them that it was a bit much for what they were wanting.
"It's so good that customers can trust us to do that."