Chocolate remains big business and embracing consumer demand for sharing formats is resulting in strong sales for savvy retailers.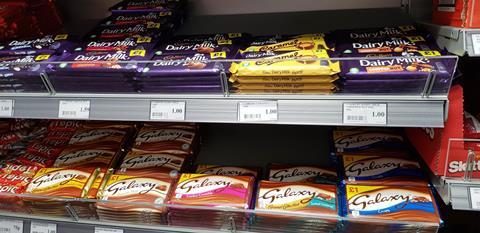 With the government coming down hard on sugar, you may think that chocolate's days are numbered, but against the odds chocolate sales continue to thrive.
Overall the UK chocolate market is performing very well in that it is growing 2.6% in value and 1.6% in volume (Nielsen Total Coverage 52 weeks to 29 December 2018).
Mondelez trade communications manager Susan Nash claims that sharing formats are growing, driven by the "cocooning" trend. "We're spending more time having special moments at home entertaining friends and family," she explains.
Ferrero concurs. "The key trend we have seen regarding new formats is the move towards sharing bags, which continue to be a strong proposition at almost £1.1bn," says Levi Boorer, customer development director at Ferrero UK & Ireland. "Bag and pouch formats enable people to enjoy chocolate as part of a shared experience and are tapping into the growth of the Big Night In occasion."
Mars Wrigley Confectionery UK puts the success of large blocks and pouches down to consumers' demand for better value. The company owns four out of the top 10 sharing lines according to value sales (value sales 12 weeks to 30 December 2017 Nielsen Scantrack total coverage). "For retailers, maximising sales of these products is crucial to sales," says a spokesperson.
The company says M&Ms Crispy large choc bag saw a 16.1% increase in value sales year on year (Channel Ranking List), while in large blocks the biggest boost in sales has come from the Galaxy Caramel milk block, seeing a 29.1% increase in value sales compared with a year ago (Independents ranking).
Bay Bashir, who owns five Go Local stores in Middlesbrough, sells plenty of sharing formats. "Chocolate is a really good category for us. We go for a lot of the pricemarked stuff now and that seems to sell the best. The blocks are really strong sellers." So much so, in fact, that he has recently expanded his offering.
"We have 25 different varieties of £1 bars at our Belle Vue store and they all do well. Last year when we had our refit we raised the chocolate shelving by a couple of inches and then added another shelf. I think we had 12 or 13 different lines before. Since we've gone to 25 the whole £1 bar sub-category has gone up 25% in sales and it hasn't decreased anywhere else so it's extra volume sales."
Treat bags are going well, too. "The margin on them is good," he says. "We try to buy them at a good price and give them a good amount of space. We make 30-35% margin. If there's a two for £1.50 promotion we just double our sales over that period and then I buy extra at the end of the promotion to try to increase the margin for a few more weeks. I might buy 10-15 cases of a product if I know it's going to sell quickly."
Kim Patel of Capel News in Ipswich, Suffolk, raves about pricemarked sharing formats. "Chocolate is a very big category in my store," he says. "Sales are up 20% year on year."
Both bags and blocks are big business. "In bags, we stock the whole of the Cadbury range. The bags pricemarked at £1, such as Twirl or Buttons, do very well.
"The pricemarked £1 blocks are our biggest seller – Cadbury Dairy Milk [CDM], CDM Fruit & Nut, Galaxy bars – they fly out. Selling pricemarked products is important because people have confidence in them. I know the margin is fairly small, but when the promotions at the cash & carries come up I buy extra stock to maintain that margin. I make 20-25% on chocolate."
Nisa Southend Victoria Railway in Essex is also something of a blockbuster. "Our chocolate sales are doing well. The pricemarked blocks do really well at £1 – it's the magic number," says Mitul Patel. He adds that bags are popular, too, but he doesn't sell them pricemarked. "We have to make some margins. On the blocks we make 20% margin and on the bags we'll make 35%."
While big is best for a lot of retailers, Susan Nash points out we are eating less chocolate and that the big trend shaping the future is health. "What we see overall is that if you look at the five-year trend, we are eating less chocolate per person than we were five years ago. We also see a slight decline in chocolate contribution to children's daily intake of sugar, down from 8% to 7% for 11- to 18-year-olds (2014/15 data compared to 2015/16 NDNS)."
She claims that consumers' desire to be healthier is opening up opportunities for reduced sugar variants in chocolate confectionery.
NPD aimed at an older audience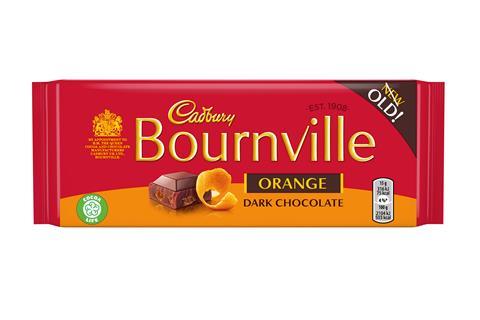 Mondelez claims that there is an opportunity for retailers to target older consumers who have adventurous tastes.
"We have a group of second-lifers (+45s) – mature consumers who love the iconic heritage brands, but they're also looking at other taste experiences," says trade communications manager Susan Nash.
The company's new Cadbury Darkmilk is well-suited to this audience. Following the successful launch of original and almond blocks last year, January saw the launch of 35g single bars, supplied in outers of 24 with an rrp of 65p. A 55p pricemarked version is also available to retailers.
In addition, the firm released an 85g Darkmilk salted caramel variant (rrp £1.49).
"As we grow older tastebuds change, consumers look for richer-tasting chocolate, but may not want a really dark characteristic taste," Nash adds. "Cadbury Dark Milk has 40% cocoa and a more grown-up taste. It has already notched up £1m-worth of sales since its launch in August."
The firm also expects its Bournville Orange block (rp £1.49) to appeal to second-lifers. The flavour was originally launched in 1927 and contains real orange pieces. The brand is worth just over £13m and growing at 2.8%.
Last March Nestlé restructured sugar to create Wowsomes, which contain white chocolate with 30% less sugar than Milkybar. And Mondelez is due to launch a 30% less sugar CDM bar this summer. The lower-sugar bar took a team of 20 experts almost two years to develop, the company claims. The recipe does not contain artificial sweeteners, colours or preservatives, and boasts more fibre.
Mitul believes the bar will be well received. "People will definitely be interested in reduced sugar chocolate. You do sometimes see people come in and look at the calories on pack and take the smaller bar. They don't want to go over 200 calories."
Bay is equally confident. "I think there will be interest in the reduced sugar chocolate bar. Times have to change, people have to change, and suppliers have to change."
Ferrero thinks smaller portions may well be the way to go. Says Boorer: "The best way we can help play our role is by offering small portions, which we have done since the start. That is why our products have always been available as single-wrapped portions; more than 95% of our products are less than 150kcal."
Bay has seen first-hand consumers looking to cut back their chocolate intake. "We've found that Kinder Buenos and the lighter chocolates are really popular now," he reports.
A 'less is more' approach has also created an opportunity for premium options.
"Chocolate is a treat and when consumers decide to indulge in a treat they want something that really delivers on taste, which is reflected in the growth of premiumisation in the market and added value," says Nash.
Last August Mondelez introduced two singles to the Green & Blacks range. "There are very few premium single products out there so that's a nice opportunity for retailers to take advantage of," she points out.
Also hoping to crack the premium market is Kit Kat Senses bars, which have returned to the impulse market. The bar originally launched with a bang back in 2008, backed by girl band Girls Aloud. But proving it is every bit as good at re-inventing itself as Cheryl Cole, the bar has returned to the singles market with a new look for 2019. Available in salted caramel and hazelnut variants (both rrp 85p), the bars follow on from the successful launch of Kit Kat Senses boxed chocolates last February.
Singles give retailers the opportunity to trade up their shoppers' breaks, claims Nestlé. As a category, premium singles are growing in value, up 26% year on year (IRI Singles Confectionery £RSV value sales, data to 8 September 2018). It says this growth is coming from millennial shoppers and the rise of the 'treat yourself' mentality.
Mitul is eagerly awaiting the arrival of the new Kit Kat lines. "It's very important to have new products," he says. "Once they are on the counter they will start selling because people know the brand. It's not extra spending, but people prefer to go to a store where you can get new stuff."
His current best-selling countlines are the new Twix White and Snickers White. "They are selling exceptionally well," he says. "Customers always want something new. As soon as a new product comes in, I'll stock it."
Like Mitul, Bay is also finding that Snickers and Twix White Chocolate are winning lines. However, he feels let down by Mars. "They have gone well, but the supplier can't keep up with the demand, so it's been poor really. We've had it on promotion for the past three weeks and we haven't been able to get any for the past two. There's nothing worse than advertising a product as on promotion and not having it in."
He states that supplier support is critical to a successful new product launch. "With NPD you want the right display packaging to drive sales and give you some help to sell it. Instead of just putting it on the shelf and it blending in, you need a display box that's going to make it stand out, something that you can put near the counter without taking up too much space. Suppliers that do that are more likely to get the sales ratio and make it more likely for me to take it on board."
Nash agrees that new lines are vital in helping to create a buzz around the category, but warns retailers mustn't prioritise NPD over best-sellers. "If we look at tablets, the total market is worth £722m (3 November 2018 Nielsen Scantrack), but NPD of that is £4.6m. The growth in tablets was £27m, so NPD was a small contribution to that."