Ferrero is rolling out its first combined license products for its Kinder Surprise and Kinder Chocolates, with the introduction of limited edition Secret Life of Pets 2 packs.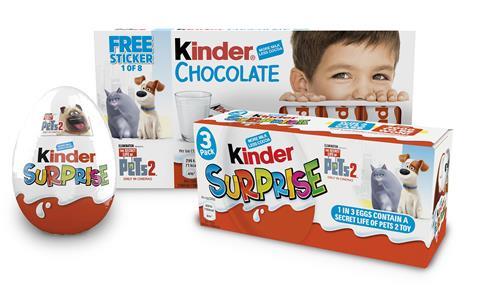 Kinder Surprise eggs will contain one of eight toys, including some related to the kid's movie, while Kinder Chocolate will include matching colourful stickers. The new license will be supported with a £1.3m marketing investment.
Levi Boorer, customer development director for Ferrero UK & Ireland, said: "We proudly celebrated Kinder's 50th birthday last year and we are thrilled to share more exciting news. With our first combined license, we are offering products with appeal to a broader range of shoppers, helping to drive sales for our retail partners. Our previous family movie licences, such as Minions and Despicable Me, have been very successful so we are expecting the Secret Life of Pets 2 range to generate a lot of excitement for the Kinder range."
The Secret Life of Pets 2 collaboration will also be supported by a new consumer competition. Promotional packs of Kinder Surprise or Kinder Chocolate will give shoppers a chance to win a Secret Life of Pets 2 toy storage case.
Once purchased, parents simply need to log on to the Kinder website and enter the on-pack code to receive a free activity sheet for their children, as well as a chance to win one of 3,000 toy storage cases.
"We'd encourage retailers to get behind the limited edition products in-store," Boorer continues. "We'll be offering bespoke display solutions on our retailer hub, www.yourperfectstore.com to support retailers further."
Price List
Kinder Surprise T1 – rrp 99p
Kinder Surprise T3 – rrp £2.56
Kinder Chocolate T8 – rrp £1.67
Kinder Chocolate T16 – rrp £2.37