Mars Wrigley Confectionery UK is extending its Galaxy range with the launch of Darker Milk and Darker Milk with Roasted Hazelnuts.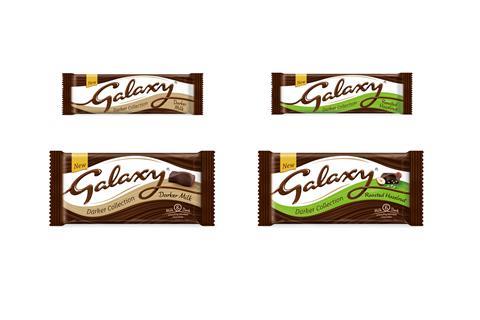 The new chocolate bars are designed to appeal to milk and dark chocolate lovers, as well as welcome new consumers to the brand.
Both variants features a 70/30 milk-dark blend and will be available in large blocks (rrp £1.39) and singles (rrp 66p). A large block price-marked pack will also be made available to c-stores.
Laura Milne, senior brand manager for Galaxy, said: "We are extremely excited to be launching Galaxy Darker Milk and Galaxy Darker Milk Roasted Hazelnut in the UK this year. The demand for options in the dark chocolate category is growing and the Galaxy team have been working hard for well over a year to bring something new to the market that meets the high standards of our existing portfolio. We know that block is the biggest segment in chocolate that has rapidly grown to £864m in the past year [Nielsen Scantrack, 52w to 24.02.2018] and we're confident that the new Darker Milk variants will fuel this huge category growth even further."
Hitting store shelves from April Mars Wrigley Confectionery UK is investing £1.5m in a digital and social campaign to support the launch, giving shoppers the chance to win prizes.
These include an array of nocturnal experiences such as a five-night trip to Iceland for two to see the Northern Lights, a weekend trip for two to Paris and a helicopter flight over a UK location of your choice.