Mars Chocolate Drinks & Treats (MCDT) has added a new Twix milk drink to its range which offers consumers the taste of the popular confectionery brand in a drinkable format.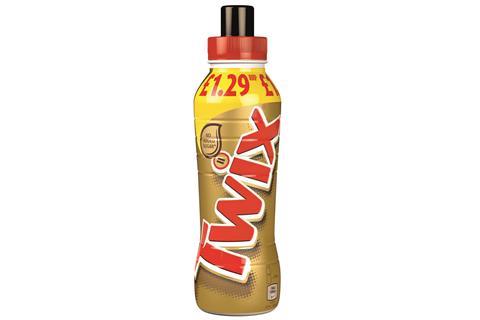 The new milk drink comes in 350ml price-marked on-the-go bottles (£1.29), featuring a combination of the biscuit, caramel and milk chocolate flavours found in a Twix bar.
MCDT's range of milk drinks now includes flavours from the following chocolate brands: Mars, Galaxy, Mars Caramel, Milky Way, Bounty, Maltesers, Snickers and Twix.
Michelle Frost, general manager at MCDT, said: "The introduction of the new Twix milk drink will enliven the category by attracting Twix fans to the chiller."
Flavoured milk continues to deliver strong year on year sales for retailers with the category growing by 13.4% and worth £374m (IRI 52 w/e 20 April 2019 Total Market). With 11 million households buying into the category, household penetration is at a record high (Kantar Worldpanel 52 w/e 24 Feb 2019).
MCDT is advising retailers to store the new Twix milk drink in the chiller but the product can also be stored outside of the refrigerator, allowing for additional storage and an extended shelf life.