After weeks of speculation, Cadbury has officially released a limited edition orange variant Twirl single bar into the convenience channel.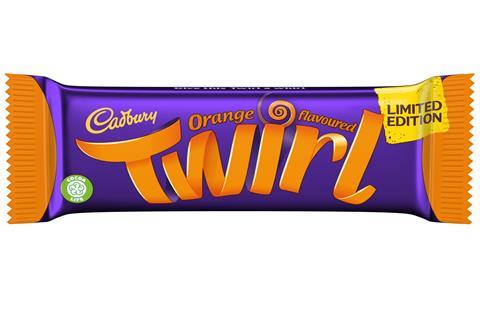 Available from today (September 23), Cadbury Twirl Orange brings together the nation's favourite chocolate bar (IRI, One System, Value Sales, MAT Value Data to 15.06.2019) and one of the nation's most popular chocolate flavours (Nielsen | Tablets | Total Coverage inc. Discounters | MAT Value Sales w/e 16.06.2018).
The product is available in 43g bars (rrp 65p each) and sold to retailers in cases of 48. The launch is aimed at consumers who are seeking new flavours and experiences from their chocolate.
The limited edition orange flavoured Twirl bar has already received a positive response from retailers and shoppers after many c-stores shared pictures of the product on their social media pages earlier this month.
Radhika Pai, brand manager for Cadbury Twirl at Mondelēz International, said: "We are excited to introduce the UK's first-ever Twirl flavour variant. We have worked hard to get the perfect blend of delicious Cadbury chocolate and orange. The trade response to the product has been overwhelmingly positive, and we are confident that consumers will love it too."
The UK rollout of Cadbury Twirl Orange follows the bar's success in Australia and New Zealand and of the back of the brand's £2m 'What makes it so twirly?' marketing campaign, which ran from July and finishes this month.
POS material is available for c-stores to maximise demand for the limited edition bar and retailers can find out more by visiting www.deliciousdisplay.co.uk.