Encona hot pepper sauce has unveiled a new look for the brand and launched two new internationally-inspired flavours.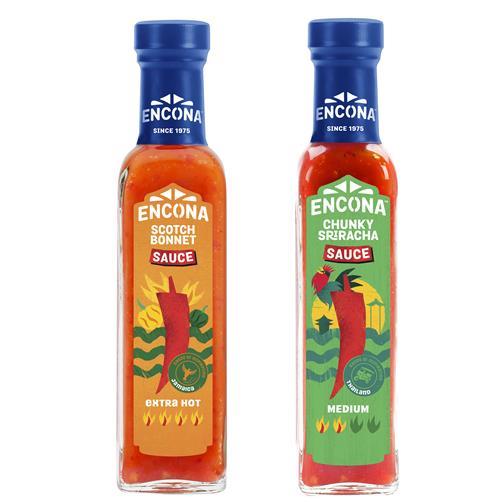 The new flavours, launching this summer, are Thai-inspired chunky sriracha sauce and an intensely hot West African-inspired scotch bonnet hot pepper sauce. Scotch bonnet is available in 220ml bottles, while chunky sriracha is supplied in 142ml and 220ml bottles.
Rrps are £1.50 for 142ml bottles (price promo £1), and £1.55 for 220ml bottles.
The new flavours are part of Encona's rebrand, with a new label design, encouraging consumers to be fearless in the kitchen, challenging themselves with a new strapline 'Own It. Encona It.'
The rebrand has come after research showed that despite shoppers loyalty to Encona, the brand recall was low. The aim is for the brand to stand out, with bolder branding and greater clarity, in a format that will also connect better with a growing younger audience.
Encona's range of hot sauces will now include 12 flavours, each inspired by global influences and ingredients from across the Caribbean, Far East, Americas, Africa, and Asia.