The Mr Porky range of pork snacks has been refreshed with new pack designs and brand names, plus the addition of a new product.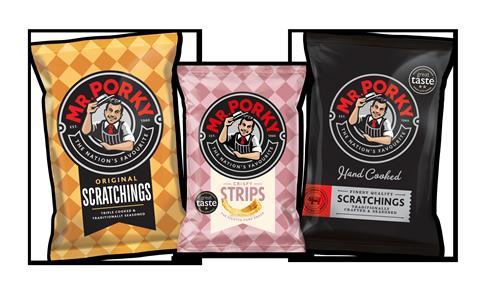 The new range comprises three snack products:
Firstly, Mr Porky Hand Cooked Scratchings is a new product using a premium recipe to create what is described as "the ultimate pork scratching". This product scored highly in taste tests.
The rrp is £1.49 for a 65g bag, and £1 for the 40g bag.
Secondly, Mr Porky Crackles has been renamed as Original Scratchings, made to the same recipe but in new packs which retain the gold look associated with the brand.
Rrps are £1 for a 65g bag, or £2 for the 6 x 16.5g multipack.
Finally, the established Crispy Strips product, designed to be a lighter snack, has been given updated packaging in line with the rest of the brand family.
Crispy Strips have an rrp of £1 for a 35g bag.
All products also carry the image of a new, younger Mr Porky character.
The new range launches first in Sainsbury's in mid-July before rolling out to the convenience sector over the following weeks.