Pladis has expanded the Flipz sweet pretzels brand with a strawberry cheesecake variety.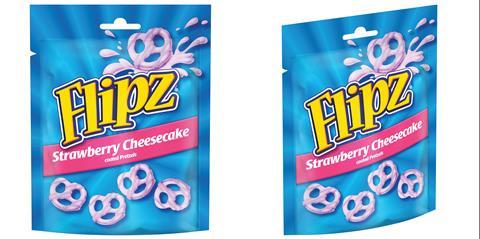 The new line retains the sweet and salty flavour combination of the parent brand, but sees the pretzels enrobed in a sweet strawberry cheesecake glaze instead of chocolate.
The 90g sharing pack has an rrp of £1.50.
Jonathan Bull, head of McVitie's commercial & seasonal brands at pladis UK&I, said: "Since introducing Flipz to UK consumers back in 2018, our shopper base has remained incredibly loyal and we can attribute the brand's success to the uniqueness of its 'swavoury' flavour.
"Flipz has heavily contributed to growth in 'Everyday Treats' accounting for 30% of total growth over the past year (Nielsen) and we can attribute part of this to an exciting pipeline of innovation.
"We chose strawberry cheesecake as Flipz's next endeavour because it's a popular flavour in the UK which appeals to shoppers across all sorts of categories, from ice cream to yoghurt-based desserts. In combining the quintessentially British strawberry flavour with the brand's American roots, we're confident that the latest product in the Flipz range will be a hit with British shoppers."