KP Snacks has announced a further £1m marketing push for McCoy's Muchos, the feisty American-inspired tortilla range, in addition to £1 PMP promotions.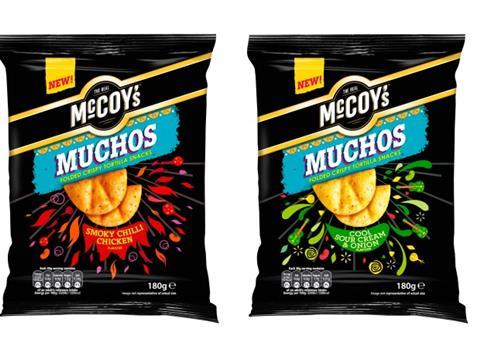 Responding to the growing popularity of Mexican flavours, KP Snacks launched the half-moon shaped McCoy's Muchos in January 2019.
The range has been ranked as one of the top 10 FMCG product launches of 2019, with sales reaching £13m RSV in the first 13 months since launch, according to KP Snacks.
Launching on 2 March, the Muchos advert returns to TV and VOD, with the strapline "McCoy's Muchos. When Mexican Flavour Calls".
The advert features animated characters including Mexican wrestlers, a mariachi band and DJ Burro, the superstar DJ donkey.
The campaign will also be supported by in-store activity with £1 PMP promotions available until March.
McCoy's Muchos can be purchased in three Mexican flavours; Cool Sour Cream & Onion, Tangy Nacho Cheese and Smokey Chilli Chicken. All three flavours are available in 180g packs with an RRP of £1.99, with Tangy Nacho Cheese and Smokey Chilli Chicken also in 80g £1 PMPs.