McCoy's has launched a Fiery Steak variant to mark 35 years of McCoy's Flame Grilled Steak.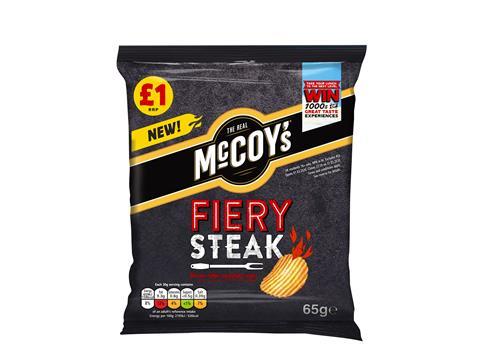 In stores from 2 March, the new Fiery Steak variant will be available in grab bag and PMP formats. From May 2020 it will be available in the McCoy's Strong & Spicy Variety Multipack.
McCoy's marketing manager Claire Cooper said: "This year marks 35 years for our iconic McCoy's Flame Grilled Steak.
"As one of the most popular crisps in the CSN category, we saw an opportunity to tap into consumer trends and launch a new NPD which offers a bold and delicious twist to the market. We are very pleased to introduce this exciting new flavour to consumers and add to our growing portfolio of delicious snacks here at KP Snacks".
McCoy's Fiery Steak are available at an RRP of £0.89 for grab bag, in £1 PMP pack and an RRP of £1.70 for Multipacks.