Doritos has moved into the canister snacks segment with the launch of Doritos Stax.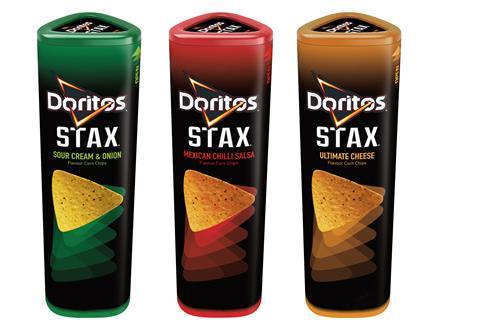 Packaged in recyclable triangular tubes, Stax is described as the biggest ever launch for the Doritos brand.
Three flavours will be available from late April - sour cream & onion, Mexican chilli salsa and ultimate cheese – with an rrp of £2.50 per 170g tube.
Clafoutie Sintive, marketing director on sharing snacks, commented: "This marks a landmark diversification for the Doritos brand. Historically, canister snacks is a segment that is shopped by the over 45s, but we want to extend that by targeting a younger audience. We know that Doritos appeals to generation Z, a generation that notoriously looks for brands that challenge the status quo, so we're confident that the launch of Doritos STAX, coupled with our bold flavour choices and the innovative packaging, will bring younger shoppers to this segment."
The launch will be supported with TV, poster and digital advertising plus influencer partnerships on social media.