Healthy snacking supplier The Skinny Food Co has announced an expansion of its low sugar jam range with the launch of two new varieities.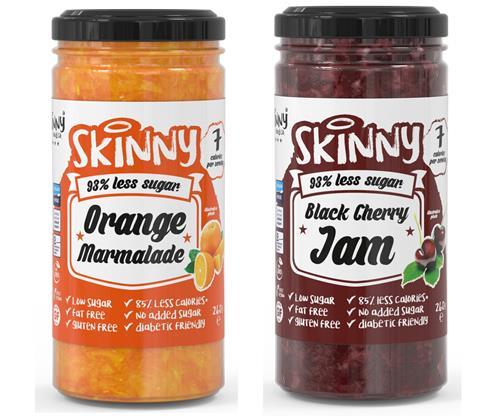 The two new flavours - orange marmalade (260g, £3.99) and black cherry (260g, £3.99) - contain 85% fewer calories and 93% less sugar than other jam products available on the market, the company claims. The two new jams are also zero fat, gluten-free, high in fibre, vegan, diabetic friendly and made with real fruit.
Wayne Starkey, ceo and co-founder of The Skinny Food Co, said: "We're delighted to announce the launch of our two new jams and these mark just the start of our overall business strategy to grow and expand our product range to ensure healthier alternatives are always available. We have an exciting year planned with plenty of new product lines in the pipeline."
The full range of low sugar jams from The Skinny Food Co also includes strawberry (260g, £3.99), raspberry (260g, £3.99), blackcurrant (260g, £3.99) and apricot (260g, £3.99).
Stockists include Spar wholesalers and the Co-op. For further information on the full Jam range from The Skinny Food Co visit www.theskinnyfoodco.com.