Biotiful Dairy has created a Kefir Cheese to join its portfolio of gut-friendly kefir drinks and snacks.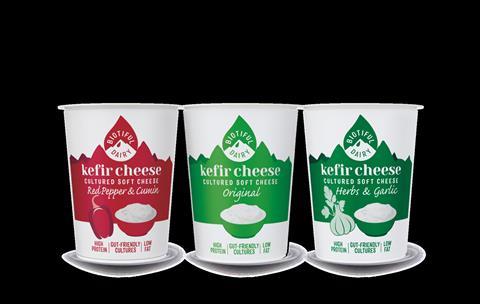 Said to be the first innovation of its kind to launch in the UK, the range comes in three savoury flavours: Original, herb & garlic and red pepper & cumin (rrp £1.50/150g).
Positioned as a healthier and tastier alternative to cottage or cream cheese, Biotiful Kefir Cheese is a cultured soft cheese made with British milk and authentic Kefir cultures which contain billions of gut-friendly bacteria. The products is high in protein and calcium, and low in calories (30 calories per 30g serving) and fat (0.3g or less per serving).
Biotiful is targeting the lunchtime occasion when people are often looking for something convenient, healthy and tasty. The spreadable Kefir Cheese can also be enjoyed as an accompaniment to salads and crudites, or as a topper for toast, crackers and jacket potatoes.
Biotiful Dairy founder Natasha Bowes said: "The soft cheese category has been crying out for innovation, and we have the right product range to bring excitement to shoppers, who are looking for better nutrition, coupled with great flavour in a convenient format. All this will ensure we are bringing new consumers into natural gut health."
The range is available through SUMA, CLF and Wholegood.