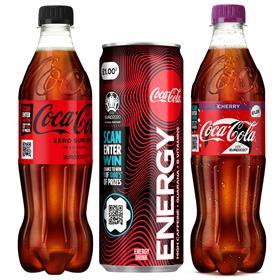 CCEP is helping retailers to tap into the excitement surrounding this summer's UEFA EURO 2020, by giving shoppers the chance to win a host of football-themed prizes in the run-up to the tournament.
As UEFA EURO 2020's official soft drinks sponsor, Coca-Cola, the biggest cola brand in GB (Nielsen (Home Channel) Value MAT total GB to 26.12.20), is launching two new on-pack promotions to engage consumers whilst on-the-go and at home whilst enjoying football at home with family and friends.
Soft drinks is the best-performing category during the football, with colas contributing the most to category growth throughout the last FIFA World Cup (Nielsen World Cup 2018 Grocery Mults 4 w/e 14 Jul 18 vs LY ). And of that growth within the colas segment, more than three quarters came from Coca-Cola (ibid).
From 25 May, consumers will be able to scan QR codes on 500ml PET bottles of Coca-Cola Original Taste and Coca-Cola Zero Sugar – including Cherry and Vanilla variants – and 250ml cans of Coca-Cola Energy and Coca-Cola Energy Cherry, to find out instantly whether they're one of thousands of winners.
Prizes will include Hisense televisions, Just Eat vouchers, PS4 access codes and ultimate Coca-Cola fan kits complete with sunglasses and scarves. The aim is to help fans recreate the matchday experience at home, while limits remain in place on stadium attendance.
From 1 June, shoppers buying multipacks of cans of Coca-Cola Original Taste and Coca-Cola Zero Sugar will have the chance to win one of 5,000 limited-edition Coca-Cola UEFA EURO 2020 branded footballs.
Every time a ball is claimed, Coca-Cola will donate another ball to a local community through its longstanding partnership with football charity StreetGames. The winner can choose which region across GB they would like the ball to be donated to.
Paul Hiskens, associate director commercial development at CCEP GB, said: "The Coca-Cola brand always delivers during the football – and even with lots of sporting events cancelled last year, we still achieved 9% value growth in grocery and convenience [Nielsen Total coverage GB incl discounters MAT VAL to 26.12.20]. Our large PET bottles and multipacks of cans are performing especially well, with our 24-can multipack alone adding £111m in value over the last year [ibid]. This is down to an increase in at-home occasions which we see as a continuing opportunity for the foreseeable future.
"The UEFA EURO 2020 promotion featuring on on-the-go formats will help reignite the sales of immediate consumption soft drinks which will start to increase as restrictions continue to ease and there are more people out and about. Now is a great time for convenience retailers to get their on-the-go soft drink core range back in order!"
Both promotions will be supported by high-impact point-of-sale material to help retailers create a sense of football fever in-store and online.
The activity will tie in with a new marketing campaign featuring footballing superstars, designed to drive awareness of the two on-pack promotions and sales of Coca-Cola at mealtimes – which align closely with the match schedule. Supporting digital materials will drive engagement pre, post and during the games.
CCEP has also unveiled an expanded renewable energy initiative which will save almost 1,800 tonnes of CO2 per year. The firm will support the expansion of a local solar farm from five to 8.1 megawatts, meaning it will now deliver almost 20% of the site's total electricity.
Since 2017, CCEP has been using 100% renewable electricity at its sites. The solar farm expansion is one of the first major projects launched since the announcement of CCEP's €250m investment programme to support its Science Based Targets to be net zero by 2040, launched last year.