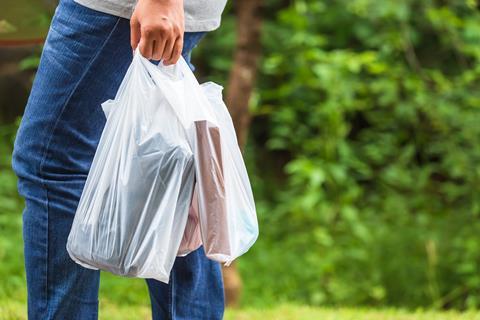 The planned increase in the charge for plastic bags has been delayed from its proposed implementation date of 30 April.
DEFRA (the Department for Environment, Food and Rural Affairs) confirmed to the Association of Convenience Stores (ACS) that changes to plastic bag charge regulations will now not come into force on that date, with an as-yet undetermined date for implementation.
According to the ACS statement, "DEFRA will be updating on the new timetable for implementation in due course, which we expect to be in the coming weeks".
A DEFRA spokesman confirmed to ConvenienceStore.co.uk: "We will set out when the 10p charge will be introduced after the pre-election period so we can ensure businesses have the necessary time to finish their preparations."
Earlier this month, a DEFRA spokeswoman stated to ConvenienceStore.co.uk that the aim for implementation was "mid-Spring" and that "to account for the very busy parliamentary timetable and ensure there is sufficient time for debates for this SI, the Order (SI) will come into force the day after the day on which the Minister signs (makes) the Order. This usually happens a matter of days after Parliament has approved the SI."
When the change was first announced, it was stated that "the government will put in place an effective communications strategy ahead of the proposed changes to extending and increasing the charge, to ensure that consumers and businesses are aware of the changes" and that the relevant guidance on the GOV.UK site will be updated.
In response, a Defra spokeswoman told ConvenienceStore.co.uk: "We are writing to stakeholders to inform them of the changes the SI will introduce and will provide an update once the dates for parliamentary debates have been set. We will also be sharing updated guidance informally with stakeholders, in advance of it being published on gov.uk."
The proposed changes to the single use carrier bag charge rules will see the minimum charge for a plastic bag rise from 5p to 10p, and all businesses included within the rules, where previously only those with more than 250 employees have been included.
The changes were first announced last August by DEFRA, including the increase of the charge for a single-use plastic bag from 5p to 10p in England, Northern Ireland and Wales.
Scotland introduced a similar increase at the start of April that was widely welcomed by the industry.
ACS chief executive James Lowman urged DEFRA to provide as much notice as possible for retailers for the change in charge. "Small retailers need as much notice and support from DEFRA as possible ahead of the change to enable them to provide advance notice of the change to customers and colleagues, which will reduce the risk of confrontation in store. We welcome the update on the implementation date and look forward to working with DEFRA on communicating the details to our members.
"ACS has long supported the extension of the plastic bag charge to all retailers in England as a way to provide consistency for customers, and as another great way of raising money for local and environmental charities."