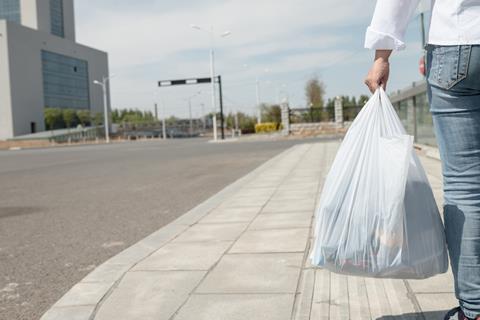 Amar Uppal wanted an update on carrier bag charges. He wrote: "I saw an article and email from NFRN that this was delayed to allow for better communication from central government and that posters etc would be provided from NFRN in due course. In the meantime nothing at all. No general press or headlines to inform the public and no posters/material from NFRN or others.
Could you clarify if the carrier bag charge has come into force and point us in the way of any publicity material?"
I told Amar that, as far as I knew, the date the changes were implemented was 21 May, but I would clarify this with the federation.
A spokeswoman replied: "The government did delay its introduction – originally the charge was due to come into effect in April but because of the elections etc it was pushed back to May but I would like to think we have kept members informed!"
Indeed they had issued a press release and advised members internally. "We also welcomed the news that members would not have to complete the paperwork that the supermarkets do."
She also sent me an official response. "The carrier bag charge came into force on May 21 and leading up to this event and still today the NFRN has a banner on our website front page alerting members to this date and giving them access to posters for them to advise their customers:
https://thefedonline.com/ (the banner does change but it should be the first to be displayed!).
Clicking on the link takes you to a page where the law is explained in detail and the posters can be downloaded https://thefedonline.com/carrier-bag-levy/
"On May 21, we issued a press release announcing that the change had come in, Stuart Reddish was interviewed on Sky News, and we also advised members of the move in our weekly Friday email and with a story on the front page of the website: https://thefedonline.com/homepage/nfrn-welcomes-new-plastic-bag-charge-in-small-shops-as-levy-doubles-to-10p/
"We also remind them every month that the charge has come in in our members' magazine The Fed in a column on latest legislation."
The introduction of the charge was a massive coup for the NFRN as it had lobbied the government for it for several years.
National president Stuart Reddish says: "We've been pushing for this for the last six years and now we've finally got a level playing field.
"A lot of smaller retailers do make a charge already, and that money goes into local charities.
"It's about being eco-friendly. We've seen how plastic can devastate the oceans, and cause massive problems for landfill. I just hope the customers understand why it's necessary.
"It has always seemed odd that members in Wales, Scotland and Northern Ireland charged their customers for single-use plastic bags, while smaller stores in England were not included in the legislation.
"The carrier bag charge has made a huge difference by drastically cutting the use of single-use plastic bags so we are delighted that smaller retailers can now play an even greater part in reducing waste and raising money for good causes."
I sent all this to Amar who was very appreciative but who also added: "I agree with the principle but the lack of awareness from the government about the charge being eligible in all shops is very poor. The concern with this lack of general awareness for us as retailers is the minority that will lash out and assume we are just profiteering for personal profit."
He has now printed the posters and put them up.