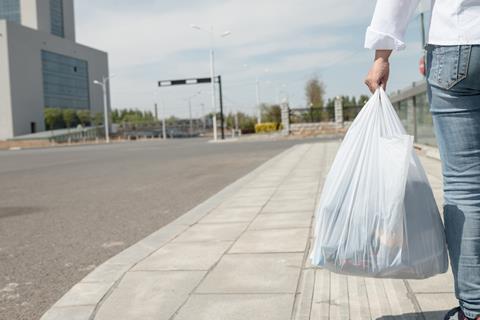 Defra has confirmed that the charge for plastic bags will increase from 5p to 10p on 21 May.
Announced last August with a proposed implementation date of 30 April, the changes were delayed to "ensure businesses have the necessary time to finish their preparations".
Environment Minister Rebecca Pow said: "The introduction of the 5p charge has been a phenomenal success, driving down sales of harmful plastic bags in supermarkets by a remarkable 95%. We know we must go further to protect our natural environment and oceans, which is why we are now extending this charge to all businesses.
"Over the next couple of weeks I urge all retailers of all sizes to make sure they are ready for the changes, as we work together to build back greener and strengthen our world-leading action to combat the scourge of plastic waste.
Association of Convenience Stores chief executive James Lowman added: "We strongly welcome the inclusion of local shops and other small businesses into the successful plastic bag charging scheme, which not only helps the environment, but is also a great way for retailers to raise money for local and national charities."
According to a new survey of 2,000 adults by WRAP, 73% are either 'strongly' or 'slightly' in favour of the charge, compared to 69% when it was first introduced.
Of those surveyed, two in three (67%) said they used a 'bag-for-life' - either fabric or more durable plastic - to take their shopping home for a large food shop in store, with only 14% using a single-use carrier bag. Meanwhile, only one in four (26%) purchase bags from the till when doing food shops – including 4% who say they do this 'always'.
The survey also found a lack of awareness over how the money is used. 38% said they didn't know, 25% believed it was paid to the government while 15% said it was kept by the retailer. The money generated by the charge is donated to charity and since the introduction of the charge, retailers have donated over £150m to good causes in charity, volunteering, environment and health sectors.