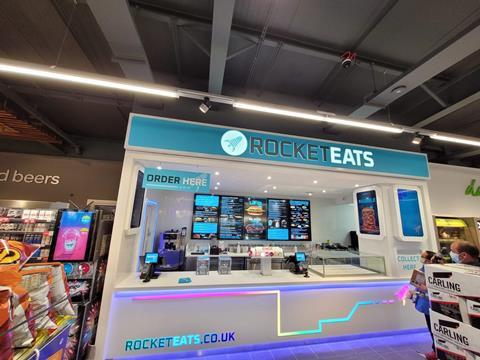 Baz Jethwa of Spar Rocket in Bolton has a new premium food to go offering that could be out of this world. RocketEats offers gourmet burgers, loaded fries, waffles and milkshakes from a bespoke concession stand in his store, something that he has been brewing for some time.
Baz explained to ConvenienceStore.co.uk how the new concept came about. "Our food to go sales have always been strong, even during Covid-19 but we did notice that grab and go was becoming more popular and we weren't utilising the space for the category as well as we could have. We wondered what we could do with that space and bring more customers in. Everyone has got Subway or delis, or F'real or Tango Ice Blast so I wanted to do something different. So I hit upon the idea of five-star shakes and I knew that would attract customers."
Franchise model
While Baz has been working on this since last summer, his goal was to create something he could franchise out to other retailers. "This is the trial and we'll learn from this to apply to other stores that will have it. We've got a second one opening in June and a third one opening in September, both in Manchester.
"We'll see how we're doing towards the end of the year with these three and then how they're performing with a view to franchising the model out further."
Investment plan
Always one to go big, Baz outlined how much they want this to work as they see it as a future new business model. "It's a business within a business and we've invested £250,000 on RocketEats in our Bolton store. We've created our own packaging and spent over £25,000 on it. We've created a website and social media to promote the offering.
Instead of going for the American diner theme, Baz and his team have gone for the space theme. "The blue look and the font we use is similar to NASA's. We also want to make it fun and educational for kids from an environmental point of view. We also want to create a charity foundation with RocketEats to help feed children who are hungry.
"We're not trying to go down the diner route but the food is premium desserts, gourmet burgers and loaded fries. It's all fresh food and none of our products are frozen besides the ice cream of course. Everything is cooked to order.
Top quality food attracts a premium price point. "Our burger prices will be from £7.00 to the £9.50 as we're trying to keep it below the £10 mark but it's the upsell for fries for £1 with a burger or £2 for a milkshake as part of a meal deal but if they wanted to buy a milkshake on its own, that would cost £4.50 or chips on their own, that would be £3."
It also attracts some high margins, Baz is tracking 80% margin on the RocketEats offering. "The margin we're working towards and are on track to hit is 80%."
"This is what people want. We're targeting 16-30 year-olds. They'll still come and pick a pasty or bacon buttie up so we provide that but then people also want shakes, waffles, gourmet burgers and loaded fries. This feels like a gamechanger for food to go in convenience."
The offering also requires an investment in people and RocketEats will have a full complement of staff. "For RocketEats, we'll have 18 members of staff. We'll start off at midday opening until 11pm but going forward we'll branch out into breakfast, we'll just get it settled first."
Baz has also dedicated 1,200sq ft of the store to RocketEats, 500 of that is front of house while 700 is prep area. He's also given it another 300sq ft of warehouse area. To make space, something had to go but Baz found a way to make sure he was covering all the bases.
"We had the Daily Deli but our model for that has become more of a grab and go offering. I didn't want to lose that offer so we gave up the serveover space and just had product ready to pick up. Interestingly, the sales for the Daily Deli haven't suffered because of this so it's important we keep catering for that type of customer."
Delivery options
As with most food to go offerings right now, delivery is crucial to get right and Baz has prepared for this. "Wait time in-store would be around 10 minutes but we're going big on deliveries, we'll be on Deliveroo and Uber Eats. I think the breakdown in the beginning will be 70% delivery and 30% in-store but once it the weather improves, that could change to 50/50. We also have an app so customers can order ahead and pick-up."