The National Convenience Show combined lively debate, informative advice sessions, new products and networking opportunities
The National Convenience Show at the Birmingham NEC last month was a resounding success, with suppliers, retailers and industry experts coming together and sharing best practice. Central to this was the Retailer Hub, which provided a platform for wide-ranging analysis and market insight. Here are some of the highlights.

The high street fights back

In this lively debate, Jonathan James of James Convenience Retail, and Paul Cheema of Malcolm's Stores discussed how independents can hold their own on the high street. Both agreed that to fight back against the big supermarkets stores need to work together and take on a more joined-up approach.

"Stock what the other shops can't, work together rather than work against each other," said Paul. His Tile Hill store in Coventry is next to a fish and chip shop, so Paul has agreed not to sell food to go as it could take away some of next door's customers.

In order to stand out and show that convenience stores are more than just a shop, they need to give consumers a reason to think this, the speakers agreed. "Promote the benefits of independents by offering community engagement and personal services," said Jonathan, who offers a delivery service to the elderly.

"Look out for the upcoming threats to stores. The pace is changing, stores are expanding their food-to-go offer with some even adding in seating areas, and online shopping is more common.

"We have to work together to make solutions, and it is the cohesion of shops on the high street that makes such a different, vibrant and buoyant high street," he added.

Tap into the potential of forecourt retailing

This session identified the opportunities for forecourt retailers to tap into the convenience shopper. Blake Gladman, research manager of HIM Research & Consulting, said that one in three forecourt shoppers were not buying fuel, while 13% had not arrived in a car. "They're being treated as shops," he said. "It's time we view forecourts as shops that sell fuel."

He added that forecourts were increasingly becoming the heart of the community, with the presence of Subway and post offices within them growing. "Convenience stores aren't the only solution on the high street anymore," he said.

HIM research also revealed the thirst for new technology in forecourts, with 53% of shoppers wanting more self-scanners and 30% wanting to check fuel prices on smartphones.

"Quicker ways to pay on a forecourt are key," Gladman said.

Brian Madderson, chairman of the Petrol Retailers Association, warned that fuel duty was likely to rise after the General Election. "Fuel tax is a very easy tax to put up amid looming cuts. I'm certain any new government would move quickly to put fuel duty up."

He said he was hoping for a radical shake-up of business rates to "bring some parity for forecourts".

The gold standard

Three award-winning retailers discussed the impact of their recent accolades on their businesses. Gordon Miller, managing director of High Noon Stores, which owns 13 stores in Wales and the South West, said: "To be recognised by the industry is something brilliant and something we can tell staff is because of them." The chain was crowned Grocer Gold Independent Retail Chain of the Year 2014.

Paul Stone, who runs five Spar stores in Manchester, claimed the Best Independent Retailer award for his Oxford Road store at this year's Convenience Retail Awards. He said winning had created a lot of rivalry between his stores, "which we try to encourage positively". He added: "Our stores are difficult to run so to maintain our standards is challenging. Once you've won you have to maintain those standards; it's a great motivation."

Paul said the feedback from suppliers had been "tremendous" since the awards, and they wanted to work more with him.

Gordon added that suppliers he'd never heard of now contacted him. "We are taken a lot more seriously now," he said.

Paul Cheema of Malcolm's Stores and Convenience Retailer of the Year 2013 said having the right staff was key to winning awards. "The day we took over our forecourt, our manageress said she wanted to be on the same level as our other store. She wanted to be up there and known as an award-winning store."

Good to go

To maximise returns in the food-to-go sector, retailers needed to keep it simple, said Max Jenvey, managing director at Oxxygen Marketing. "With the latest emerging food trends showing that customers are looking for healthier on-the-go offerings, keeping your store stocked up with quick-to-prepare, low-calorie food to go can really help to enhance sales," he added. "Offer a variety of cereal bars as they are a great impulse buy for those who were originally just coming in for a drink."

Jenvey also recommended keeping a good stock of fresh produce. "Customers like to know where their food is coming from and to see that it is of a high quality. Sourcing from local suppliers also helps to satisfy a customer's needs as studies show 26% of customers are looking for locally-sourced foods."

The key categories to focus on are meal deals, bakery, soft drinks and hot drinks, as "34% of customers are looking for a hot drink with a meal deal," added Jenvey.

All you need to know about e-cigs

The e-cigs market is growing at about 20% year on year, Ian Robertson from e-cig brand Blu said, and if retailers wanted to capitalise on this evolving market "it is key that they have their marketing and offering right".

He added: "There is still a lot to learn about e-cigs and customers will purchase from you only if they trust you. Show that you are knowledgeable about the three types and offer them a wide range of brands."

Retailer Raaj Chandarana of Premier Tara's News, High Wycombe, Buckinghamshire, said: "In order to find the right offering and solutions you need to speak to your customers and learn what they want. I began stocking lots of brands which I didn't have the space for, which meant they stayed behind the counter, out of the eye-line of the public."

After a lot of research Raaj stocks only one brand now.

Natasha Kendall, lead tobacco and vaping analyst at Nielsen, said: "Research shows that consumers want choice, mostly that of flavours. There are 240 brands out there and online retailers can offer that choice and extensive information about the product - this is what c-stores need to compete with."

E-cigs may be evolving, but with that comes regulations, she added. "The future shows regulation followed by rationalisation. In 2016 retailers will begin to see these regulations coming into play."

On a mission

C-Store editor David Rees was joined by retailers Alpesh Shingadia of Londis Southwater in West Sussex, and Nisa retailer Jamie Keshwara, who owns stores in Peterborough, to discuss the best way to organise your store to meet a customer's needs. Jamie has recently had his Victory Avenue store in Whittlesey refitted, based around customer missions. "The store flows better now and customers can find what they need; before it was too disjointed," he said. Since the refit just over a year ago Jamie has seen an £8,000 increase in turnover, a rise in basket spend and his new food-to-go area has added £4,000 to the store.

Alpesh worked closely with Londis and Unilever to get his shopper missions right. He puts complementary foods together and his hot food stand, confectionery area and Tchibo machine are all in close proximity to one another, resulting in a 20% uplift in food-to-go sales.

"Although breakfast and lunchtime offerings are valuable to convenience stores, retailers need to start focusing on meal-for-tonight missions," added HIM shopper insight manager Louise Howarth. "Meal for tonight is where the market is going," she said.

Interview - loving local

Customers have a growing appetite for local foods and retailers can capitalise on this by working closely with local suppliers for mutual benefit, speakers in this session emphasised. David Knight, who owns two Budgens stores in West Sussex, makes between £10,000 and £15,000 on local produce every week. He explained: "We work closely with our suppliers, hold meetings with them and see what we can do to benefit us both. This has given us a more sophisticated relationship."

Suppliers must commit to two tastings a year in David's store before he takes them on.

David stocked only confectionery and cakes from local producers at first, but now says it's very much about stocking fresh food such as meats and vegetables from nearby producers. "It's all about the provenance. Local suppliers are unique, and if the consumer is hungry for new things and the products are right the retailers will start to see the growth," he said.

"My customers want to see something new each time they come into the store and Budgens has helped us to do that by supporting our local suppliers and helping us do background checks on them."

He also advised retailers to learn all about the range they are stocking. He added: "Make sure you give the product a good space in the store and remember it's okay to start small and grow; make things simple for yourself," he added.
Best new idea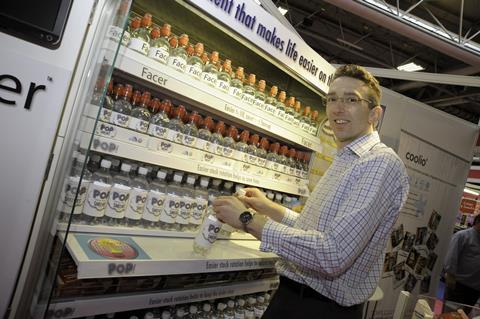 The POP retractable chiller shelf from Big Skies was voted the Best New Idea at the show by visitors.
The extra shelf, demonstrated here by Big Skies managing director Conway Daw, provides a flat platform to put products on, in order to facilitate stock rotation during replenishment and remerchandising.
The POP shelf can be retro-fitted to existing equipment. Visit www.bigskies.net for more details.
Close runners-up from the visitor vote included the Nature Valley protein bar from General Mills, a cereal bar with added natural protein in order to leave consumers "fuller for longer", and the Cash 45 service from G4S, which allows retailers to order cash collections of up to £4,500 on demand.
Also figuring prominently in the vote was the self-merchandising mobile accessory units from Fifo Wireless, turning chargers and headphones into impulse items.
New products
Delamere ready-to-eat chicken range
Delamere, a range of ready-to-eat chicken products from Forresters, is now available to convenience retailers.
The range is designed to cater for increasing consumer demand for quality, on-the-go cooked products. The Delamere range includes chicken slices, chicken fillets, roast chicken thighs and roasted whole and half chickens, all of which are ready to eat straight from the pack. Some of the products are also available in different flavours such as Tikka and Hot and Spicy. Rrp is £1 for the chicken slices, and 'two for £4' for the roast chicken thighs and fillets.
Get Jerky
Exhibiting at NCS was Trailhead Fine Foods, showing its new range of Beef Jerky products. The low-fat, high-protein snack comes in a selection of nine authentic recipes made from marinated air-dried pieces strips of beef: Original, Black Pepper, BBQ, Old Smokey, Hot Smoked Chipotle, Raging Bull Chilli, Moruga Scorpion Chilli and XXX Hot Naga Jolokia.
The jerky comes in compact, lightweight packaging, ideal for retail outlets looking to stock a healthier snack alternative. Rrp is £2.99.
More Drinks
More Drinks was at the show offering tastings of its low-calorie, still and sparkling vitamin drinks.
The More Drinks products all contain less than 10 calories, are sugar free and includes ranges aimed at adults - Get More 500ml (rrp £1.69) - and children, A Little More 33ml (rrp £1.09). Each drink is a blend of spring water, natural flavours and a dose of a specific vitamin or vitamin/mineral blend.
Go Coco Milkshakes
Go Coco unveiled its new line of Go Coco coconut milkshakes at the show. Each drink is 100% natural and dairy-free. Three flavours are available: banana split; strawberry and cream; and chocolate fudge. The milkshakes are naturally low in sugar as the sweetness is added from crushed dates and Stevia. Go Coco coconut milkshakes will soon be available 
in stores and online in 1tr packs, rrp £2.99; and 330ml, rrp £1.49, Tetrapaks.