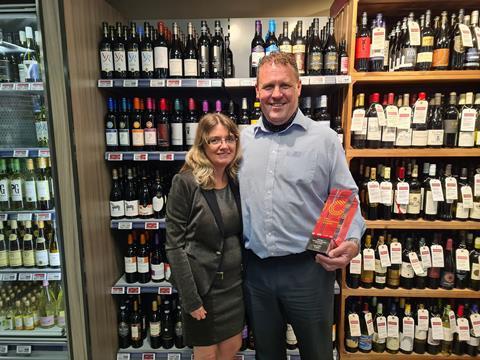 Conrad Davies, owner of Spar Y Maes in Pwllheli, has been crowned Convenience Retailer of the Year 2020.
Announced online at The Convenience Awards, the store won the Best Independent Convenience Store of the Year category as well as the top prize of Convenience Retailer of the Year.
Understandably pleased with the award, Conrad explained what winning this award means for his business. "It's fantastic to win this award. It's a complete shock for us but we're really pleased. With everyone going through tough times right now, it's great to have a morale boost like this.
"It recognises the dedication that retailer and their staff have displayed to make sure communities are catered for."
The store recently underwent a refit to give it a premium feel.
"The whole store has been laid out to give it a market-style Waitrose feel so that customers see a quality fresh offering as soon as they enter."
As well as the typical grocery mix, the team has a collection of premium products.
"We sell products like premium gin and tonic infused salmon which would sell for more than £10 in Selfridges and we would sell for less than £6 which is still a strong margin for us."
One unique selling point of the store is the lobster tank. "We've been selling lobsters since 2009 and sell about 200 a year. We started selling them because a local fisherman was selling them all to France because they couldn't sell them here and we got involved."
Conrad also discussed how the coronavirus has changed shopper habits. He explains that in the first few months of the pandemic when Wales had strict travelling rules sales were down which led to significant concerns.
"We did a massive refurb with a five-year plan that was shafted by Covid. We lost Easter sales which was tough but once the five mile rule in Wales was lifted, sales grew as people could travel a bit further and it's just carried on.
"We're usually a seasonal store and would be winding things down but it's just carried on going and we're 35% up on last year."
Shopping habits at the store have changed including a shift towards premium. "Fresh food accounts for 53% of the business but we've seen a massive increase in meat and fruit and veg due to people not eating out.
"Meat sales have just been phenomenal. We've cut down on promotions and placed an emphasis on local suppliers, of which we have 80."
He says that alcohol has also seen a benefit. "Cigarettes haven't grown in sales but alcohol has grown. There's been a lot of trading up in the alcohol category. Our premium wine sales have increased. We brought in several tiers of premium wines which haven't cannibalised the existing ranges and a premium wine display with price points as high as £250. We would sell a few bottles from this cabinet over the course of a year but it adds depth to the range."
Conrad adds that not every category has returned to full strength. "Food to go is the only category that hasn't bounced back yet. We had an extensive offering that included a help yourself display before coronavirus but we've had to change to a prepack range and rebuild customer confidence which has been tough."