Paul (pictured right), Pinda and Aman Cheema have worked with a raft of suppliers in order to give their newly opened Kwiksave store in Chelmsley Wood, on the outskirts of Birmingham, a real point of difference. From the signage to the store layout and ranging, every factor has been carefully thought out, taking into consideration the store's location and customer base. "It's about collaboration between great retailers and great suppliers," says Paul. "You are learning every day." Paul takes C-Store on a tour of the new outlet and shows what these partnerships can achieve
Signage
Design 4 Retail came up with the speech bubble-style signage, which immediately creates a welcoming, conversational atmosphere throughout the store. "We've gone away from the traditional Kwiksave look and smartened it up. Normally, the signs are just white and grey, so we've introduced the red accents."
The store uses the Kwiksave slogan 'Savings to smile about'. The branding is used on vibrant signage all over the store, particularly on aisle ends, adding to the perception of value and highlighting promotions.
Country Choice supplied the store's baked goods stand. "We just took the wheels off and added red panelling and the Malcolm's branding to make it stand out," explains Paul.
Security
The store's computer system is in a small room beside the tillpoint, so the manager is on hand to deal with any issues at the counter.
The Senaca Tech CCTV system enables Paul to hone in on any product. It can tell him how many people have walked past an item, so he can define the highest footfall areas. He can even set up an alert so that he receives a text message if a certain item is touched, and therefore at risk of being stolen.
To cut shoplifting, Paul does not stock expensive items such as razors, and removes the tops of aerosol cans to keep behind the counter.
Design features
The counter was designed by shopfitter Activ Projects and comprises interchangeable shelving. It currently displays cereal bars and Galaxy tablets, but can be switched to hanging confectionery bags another week. "If you just have confectionery across the counter, it loses impact," claims Paul.
Red Bull supplied the fridge that is imbedded in the counter. "Having the lottery stand above makes it a real focal point," says Paul.
The freezer, from Arneg, has sloping profiled shelves, which offer plenty of storage, and make shopping easier.
Fresh & chilled
Bags of potatoes positioned by the store entrance are flying out the door. Paul sells 45-50 of the 10g bags a week for £3.99 each, bringing in a healthy margin of 32%.
Convenience Store's Chilled Champions group advised on the store's chilled product range and flow. Paul also wanted to do something a little different and has installed shelving displaying ambient snacking between single-serve chilled drinks and chilled snacking offerings.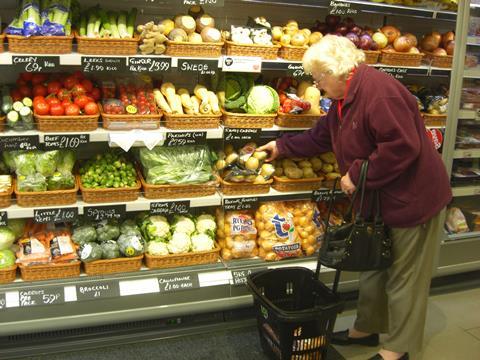 An attractive display of fresh produce is the first thing customers see when they enter the store. "Wicker baskets and chalk boards are becoming standard in convenience stores now," says Paul. He buys fruit and veg twice a week from a wholesale market.
Grocery
Grocery accounts for 80% of sales. "We get a lot of big basket shops of £70-£80. Shoppers say we have 'brought life back to Bosworth Drive'."
General Mills has provided eye-catching POS referred to as 'goalposts', which surround the World Foods zone. The company has created similar POS for the home baking and wholesome snacking sections, too.
The second aisle is dedicated to the morning shopper mission, with preserves, eggs and cereals. General Mills provided another goalpost for the area, while Nestlé Cereal Partners helped with the ranging.
Promotions
A promotional bay on an aisle end at the back of the store is the most popular, so Paul has ended up changing the deal twice a week as he runs out of stock. He is currently using the space to sell large value packs of washing powder.
A prominent pound zone ensures customers feel they are getting value for money.
Extra services
Kepak's microwave is popular with ravenous kids on their way home from football training, who come to the store to snack on Rustlers burgers.
The store also has a large Amazon collection point outside where customers can pick up their parcels.
Customer focused
By performing postcode mapping, Paul found that the key demographic is D and E groups. This led him to conclude that pricing would be customers' primary concern, but he was surprised when he observed their shopping habits. "It's not just about value, it's about the feel good factor and so our customers want the power brands."
Paul is in the process of setting up an HIM consumer survey terminal, which will ask shoppers for feedback.
Pinda's wife Mandy (pictured) and Paul's wife Dav work at the store on alternate days to ensure there is always an experienced member of staff at the tills, offering a high level of customer service.
Beers and Wines
Wood-effect flooring in the alcohol area differentiates it from the rest of the store, where ceramic tiles are used.
Initially, Paul was stumped as to why alcohol wasn't selling well. "It was keeping me up at night thinking about it, because we had checked prices in the local area and knew that ours were cheaper," he says. "Then I realised that it was because all our beer offers were for eight beers, and all our wine deals were three for £10, so we started selling in smaller quantities." He now sells single bottles of wine, the most expensive of which are £7, and four-packs of beer.
Behind the counter
The Cheemas worked with First Drinks on the spirits fixture, which is behind the counter. "They advised us to block brands horizontally, rather than vertically, in order of size, starting with 35cl bottles on the left and ending with 1ltr formats on the right. Premium brands are on the left, while economy products are on the right. This is in response to the finding that people tend to shop from left to right.
Even though the store has an Imperial Tobacco gantry, Paul claims that JTI has been "a big help" in looking at customer demographics. "We now sell a bigger range of brands and have delisted lots of slow sellers," says Paul.