Paul Gardner's Budgens in Islington, North London, was a finalist in the CRA large store category in 2015, so his credentials were in little doubt. But like all leading retailers, Paul realised innovation was the key to staying ahead and set about refitting the store, gaining an extra 500sq ft of space in the process. In came a plethora of food-to-go concessions, self-serve tills, a sharper focus on Free-from and local products, and a larger alcohol range. The results speak for themselves: sales are up 10%, with an impressive £25 per sq ft weekly turnover.
Concessions and food to go
Foodservice concessions include Max's Kitchen Italian, serving breakfast, lunch and dinner. Fare includes pizzas, as well as freshly-prepared food to go. Maido Sushi is planning to introduce a work stir-fry service using meat from the in-store butchery concession.
The butchery turns over £3,500 per week. A rotisserie is the next development, to provide hot filled baguettes.
Upper Street Fine Chocolates offers a selection of fine chocolates which can be gift-wrapped at customers' request after 3pm. It shares the counter with a Juice bar, selling freshly-squeezed juices blended to customers' tastes before 3pm.
A Country Choice hot food-to-go fixture is located at the front of store alongside a Costa Coffee unit.
Innovation
Self-serve tills operate alongside four manned tills, with a staff member trained to assist with self-serve always on hand. "I was concerned with self-checkout, but we've got to cater for all ages," says Paul.
Concessions feature multimedia screens advertising available products and providing ideas and inspiration.
Max's Kitchen now uses Deliveroo, with orders continuing to grow.
Chillers have retro-fitted doors and the store has LED lighting throughout.
Community
The store actively recruits from the local area using council services to support people back into work, including those with learning difficulties, physical disabilities or former offenders.
It recently recruited a Life Coach to help employees with a difficult background adjust to working as part of a team. This has resulted in a low turnover of staff.
Food near its sell-by date is collected by a number of local charities on a daily basis.
The store funded a 'quiet contemplation' area in the playground of a local school.
Chilled and frozen
The 80 metres of chilled includes a Free-from section, Discover the Choice own brand and premium Charlie Bigham's ready meals, as well as pre-packed meat from the in-store butchery.
Sandwiches and meal deals are located in chillers near the front of the store.
An extensive fruit and veg area includes organic and exotic items, along with locally-sourced produce.
A self-serve deli is located at the back of the store.
Eight Cook chest freezers have been brought forward since the refit (there were only three upright freezers), turning over £3,500 per week.
Frozen also includes exotic meats such as zebra sausages and ostrich burgers.
The in-store bakery produces bread, cakes and rolls, which are showcased on a low-level table.
Off licence
The off licence was extended in the refit, with more space allocated to local ales and a "massive increase" in the spirits range, particularly in craft gins.
Spirits are displayed in an eye-catching glass cabinet near the tills. "We have become a destination for craft beer and are now becoming a destination for a huge selection of spirits on what I describe as semi-free flow, with people willing to trade up," says Paul.
Off-licence sales are up by 15% since the refit and increasing all the time.
A variety of offers are available on wine and beer, with attractive wooden barrels used to display deals.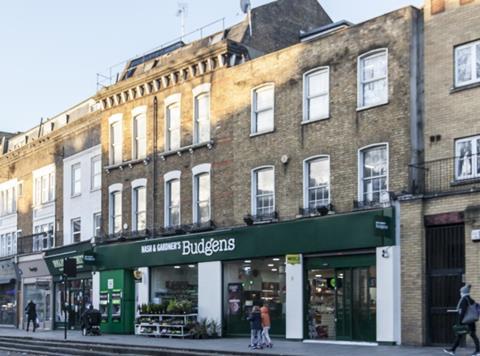 Winner
Community Retailer of the Year
The judges agreed Budgens in Islington was the worthy winner of this award, too. They commented: "The store supports those less fortunate brilliantly, through food bank donations as well as really investing in back-to-work support."
Sponsored by: Camelot