Stephen and Donna Mullan, of Mullan's Spar in Armagh, Northern Ireland, picked up two more awards to add to their growing collection at the Convenience Retail Awards 2018. Last year's Convenience Retailers of the Year have recently added a second store to their portfolio and have enjoyed further sales increases in the original outlet by continuing to play to their great strengths in fresh food and community engagement, as reflected by wins at the 2018 awards for Best Customer Service and Mealtime Missions.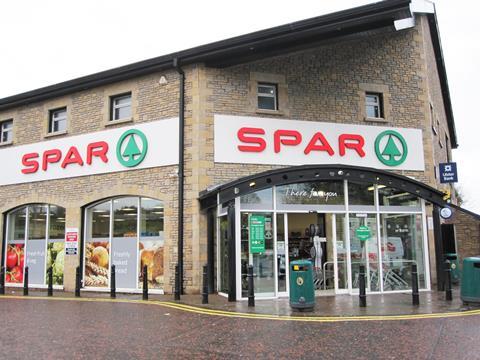 Fresh food
Fresh food, comprising produce, chilled and the in-store food-to-go deli counter, account for an impressive 55% of total sales, up from 50% last year.
The Mullans have noticed a growing customer preference for convenience food rather than scratch cooking, so have enhanced their range of prepared vegetables and accompaniments, as well as the established core range of meal solutions.
Healthy options are also increasing, with fresh fruit a strong seller at lunchtimes.
The store's reputation for quality fresh foods is growing, helping to drive total store sales by a further 8% this year, on top of a similar increase last year. The outlet now averages £50,000 per week from a footprint of just under £3,000 sq ft.
Own brand
A huge range of own-brand ready meals, made in the store kitchen, are merchandised in the main chiller and in this spider unit.
The Mullans are constantly seeking feedback and suggestions from customers on new meals to create.
The trays can be heated in either the oven or the microwave for maximum speed and convenience.
A local butcher also supplies prepared meat and veg dishes, including a bulk pack of mixed meats for £40 which sold very well in the run-up to Christmas.
Food to go
The in-store deli offers a huge variety of hot and cold options for breakfast and lunch, including hot meals, freshly-prepared sandwiches, salads, tasca and panini.
The deli service closes down mid-afternoon with the evening meal offering focused around "fakeaway" ready meals prepared in the deli kitchen.
With food-to-go sales increasing 5% year on year, capacity is getting tight so the Mullans are planning to convert the upstairs space into a larger kitchen.
Increasing demand for coffee was creating long queues in the shop so a second machine was added to the coffee station. Weekly sales have since increased from 750 cups to 1,000.
Customer service
Regular in-store tastings add interest and deliver valuable customer feedback.
Last Christmas the store offered a 'letter to Santa' service, with a dedicated post box in store.
All children received a handwritten reply from Santa (Donna), which proved a hit on social media and delighted parents and children in the community, although the popularity of the idea meant that Donna had a huge extra workload to cope with.
Shoppers are offered free infused water at the food-to-go counter to drink on their way around the store.
CRA WINNER
Best Customer Service
Great customer service requires genuine passion and a huge amount of effort and there was no doubt among judges that Donna and Stephen really do go the extra mile for their customers. The judges noted that the Mullans had introduced product solutions to meet their customers' needs and continue to evolve and create points of difference, such as a 'Letter To Santa' campaign last Christmas. In a highly- competitive location they use customer service and engagement to serve the community to very high standards.
Sponsored by Bestway
CRA WINNER
Best Mealtime Missions
Judges agreed that this store offers a great mix of high-quality traditional and innovative products, and plenty of interesting ideas. The Mullans provide fantastic mission-based POS and interruptions with signage, while the own-brand range of Mullans meals made on-site looks very tempting, and in-store sampling to engage consumers and encourage purchase was a great addition to the offer. All in all, they go the extra mile to have a point of difference and improve shopper experience, and to inspire with solutions.
Sponsored by Aunt Bessie's