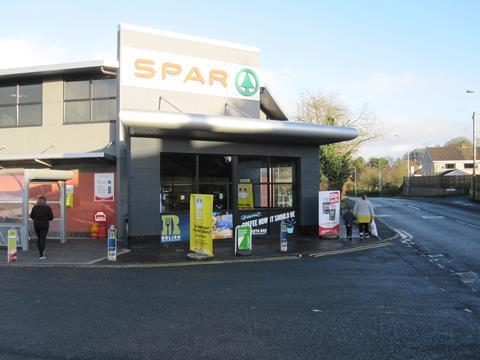 Faced with the challenge of falling footfall due to the relocation of the local health centre, Peter McBride invested in a £400,000 refit for McBride's Spar Mullaghmore in the town of Omagh, Northern Ireland. The higher-spec store is designed to improve the shopping experience, with a reduction in ambient grocery and a wider range of fresh, convenient food. The store picked up the award for Best Fresh Produce Retailer at this year's Convenience Retail Awards, as well as being shortlisted in the Best Large Store category.
Fresh produce
Fresh fruit and veg takes pride of place in the first aisle of the new-look store. An exposed ceiling and premium lighting help to display produce at its best.
Bespoke wooden crates were made to order to keep the loose items tidy and easy to manage.
Mullaghmore now stocks fresh meat and convenience food items under McBride's own Prime brand. Products are packed at one of the company's branches in Enniskillen and distributed to other shops across the estate. Peter operates 11 Spar stores in total.
Meat sales are up by 52% and now account for 5% of shop sales as well as providing customers with an increased range of choices for 'tonight's tea'. Fresh participation as a whole has increased from 43% to 48%.
Food to go
A huge range of hot and cold food to go is available, complemented by a coffee machine at the front of store.
Cold serve-over food to go is available all the hours the store is open, a key point of difference locally.
The hot food service includes whole rotisserie chickens, selling for £4.99.
High-quality presentation of product is key to the store's success. Peter saw this spinnable merchandising unit at a trade show in Germany and uses it to provide some additional options at the deli counter.
Local credentials
Artwork behind the counter portays Mullaghmore Castle, no longer standing, from which the store gets its name.
The store is on the same parade as Peter's first shop. Peter is now an advisor to a project supporting young entrepreneurs in the area.
The relocation of the local health centre meant fewer visitors to the area, but the revamped store has successfully increased basket spend to more than £7. Average weekly sales exceed £70,000, a year-on-year increase of more than 4%.
CRA WINNER
Best Fresh Produce Retailer
The judges were impressed with how Peter and the team have looked at and taken inspiration from best practice and innovation from around the world to create outstanding presentation of products.
The attention to detail shown by the store in creating an appealing fresh produce display was excellent, including the extra effort to have bespoke crates made for fruit and veg. They were also impressed by the range of freshly-prepared meal solutions that include a wide variety of vegetables and healthy produce.
Sponsored by Peas Please