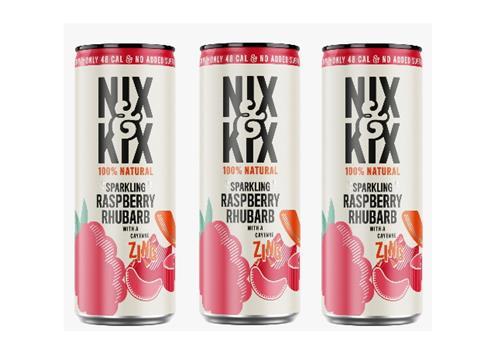 The premium soft drinks company is releasing the new variant, alongside a brand relaunch
The raspberry rhubarb variant, which comes in a 250ml can, reflects a change in consumer tastes, with pink drinks becoming part of the top drinks trends of 2020 and raspberry as a flavour growing by 10%, according to Nix & Kix. The company is targeting customers in the 30+ age bracket who, it claims, are looking for less sugary, more complex drinks products. The new flavour joins the existing Nix and Kix portfolio, which comprises: mango ginger, blood orange turmeric, watermelon hibiscus and cucumber mint.
Nix & Kix drinks are stocked in BP priced at £1.29 and Moto Service Stations priced at £1.50.
As part of the brand's relaunch, it now boasts a new 'The Drink with a Zing' proposition, with packs communicating the subtlety of cayenne spice in each product, whilst bold ingredient visuals now make it easier to identify each flavour. The brand has a new logo and the fact that it is 100% natural with no artificial ingredients and has a low calorie count is more clearly communicated.
Before the pandemic hit, 50% of Nix & Kix's customer base represented food service and casual dining, but the company has since focused on its online and retail arms and now claims to have performed 20% better year-on-year in September, which represents the company's best month ever.