For 10 years, Jerry Tweney worked for retailer Guy Warner, as part of the Warner's Budgens. Now he has opened his own store, in Prestbury, near Cheltenham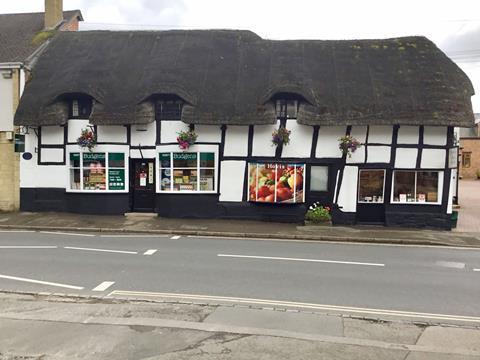 Chicks never fly far from the nest and that's certainly true of Jerry Tweney, who after years of working for Warner's Budgens in Gloucestershire, has gone it alone and opened his first store, in Prestbury, near Cheltenham.
It's a big step for Jerry, who was manager of Guy Warner's Budgens Moreton-in-Marsh store for more than a decade, and the fulfilment of a long-held ambition. "I first had an interest in running my own store when I left Safeway in 2003," Jerry explains. "I didn't want to work for Morrisons, but then I heard that Budgens were selling their stores to independent owners. I looked for a store in the area, but Guy had bought them all! Then he asked me to come and work for him and help him in his Moreton store. I was meant to stay there a couple of years, to get things up and running, and ended up staying for 10!"
Jerry says his time at the Moreton store raced by, as there was always a new project to focus on. However, the dream of owning his own store never went away. "About two years ago, I again started to look for my own store to buy. I thought now I'm approaching 50 (I'm 48 now), if I want my own store then now is the time to do it," Jerry says.
Last year the right store came up and Budgens Prestbury Village Stores opened its doors at the end of August.
One of the first decisions was whether to stick with the existing Premier fascia, but for Jerry switching to Budgens was a natural move. "I know how Budgens works. Their fresh range is superb and I get a delivery about three times a week at 5.30 in the morning, and they're never late. We must be running at 90% availability in the store at the moment."
Store Facts
Prestbury Village Stores
Size: 1,600sq ft
Staff: 7 part-time
Basket Spend: £6.04
Opening hours: 8am-9pm Monday - Sunday
Services: Parcel collection, home delivery, ATM, Payzone
Another consideration for Jerry was ensuring any changes were in keeping with the 400-year-old store's long history. "John Forger owned this store for 40 years and the Queen Mother used to visit when she went to the Cheltenham races. The car used to pull up outside, and the streets would be lined with people, because everyone in the village knew she was coming. John would come out, shake her by the hand and give her sweets and flowers for the day."
Therefore the thatched roof, wooden beams and period features of the Grade II-listed Prestbury store have been preserved, with Jerry complementing them with a fresh, but traditional, store design.
Jerry says: "We have evolved what was done here before. The store is now split into three sections: food to go; chilled & fresh; and kitchen cupboard."
At the front of the store are snacks and confectionery along with food to go and 'grab and go' products. The store now offers hot food alongside sandwiches, cakes and donuts. "We have also put in a Rijo bean-to-cup coffee machine and reinstated the in-store coffee shop," he adds.
"We do about £400-worth of hot food and about 100 coffees a week. Even if we did 30 coffees a week we would be breaking even on the machine."
Local goods play a key role in the product mix, too. "Our best-selling product at the moment is bread. It's from a local supplier, North's Bakery, and gives people a reason to come to the store," he states.
"When we first got North Bakery's range in, we had the usual selection of white bread, wholemeal and so on. Then we were told to try their Marmite & cheese bread, which took a bit of persuading because I'm not a fan, but now it is our best-selling bread and our customers love it."
A selection of eggs, fruit and vegetables also come from local suppliers, some just a couple of miles away, and the fresh meat section includes cuts from the village butcher.
Jerry's aim is to make sure the store appeals to all the village's residents, from elderly people to young professionals, school kids to busy mums. "We have a real mix of customers here ," he says. "At the moment our busiest time is between six and eight in the evening when people come back out to pick something up for dinner."
Hence the store is focusing on ready meals for the evening "as it could be a real growth opportunity for us," Jerry asserts.
Like many new business owners, Jerry has been thankful for the support of fellow retailers and suppliers when starting out on his own. He says: "It's nice as a new business owner to have suppliers and other retailers looking out for you, because when you start a new business you need all the help you can get!
"Suppliers such as Heineken and Coca-Cola have been really helpful, giving us special shelves and merchandising advice." He adds that Budgens and Booker have also been a support, "getting products in the right place and organising everything by category".
The help has paid off, says Jerry, "as everything has surpassed our expectations, which is really exciting".
Sales figures on the up
The Prestbury store previously turned over £3,000 as a Premier before Jerry bought it. Jerry has quadrupled that figure to £12,000 a week, but he is already aiming to increase it to £15,000 over the next 12 months. The store's basket spend has also gone up, from £3.80 to £6.04.
Jerry is confident that he can hit his target, despite facing plenty of competition in Prestbury and Cheltenham. "Our big local competition is Sainsbury's and there is also an M&S Simply Food forecourt about a mile and a half away. We also have a Costcutter and Premier close to us in the centre of Cheltenham," he says.
Keen price promotions are helping keep shoppers coming back, though. "We have 150 promotions in store and are working to get the right offer that works for us," says Jerry. "That includes niche products that can't be found in Sainsbury's. It creates a nice point of difference to have local products that people want."
Jerry has an order book behind the counter where customers can make requests for products that the store doesn't have, and the store's new website is also launching in the next couple of weeks. He is working with the post office next door, too, to distribute flyers to local residents.
"The reason we haven't launched our marketing straight away is because we want the store to grow gradually. It has surprised us how much the store has grown in such a short amount of time without any marketing," he adds.
Now he has a better idea of what locals want, spreading the word about the store will take a bigger priority.
"We are holding a sampling and tasting weekend soon. We are going to try to bring people into the store and showcase local products, and some branded produce, too, especially Budgen's new range of ready meals. "We want feedback so that we can keep getting better," Jerry adds.
The positive reaction from local people has surprised Jerry, but he can see he is giving something back to the community by breathing new life into Prestbury Village Stores.
"We have had one or two people who haven't been here for five to 10 years and they stand outside and say 'Wow, they have made some changes here!', which is always nice to hear."
Jerry acknowledges that there is plenty more to do at the store, and that it isn't award-winning material just yet – "more division two than premier league" – but in a few years' time Jerry wants to be sitting alongside fellow retailers at all the industry awards.
He says: "When you look at award-winning stores that have a credible range of fresh food and do a storming trade in spaces smaller than ours, I look at that and think I want to do something like that in our store."
Now that he has spread his wings, there's no holding Jerry back.