Kay Patel's attention to detail and ability to adapt in a fast-changing industry has paid off, with his Best-one Wanstead store winning the Best Small Store category.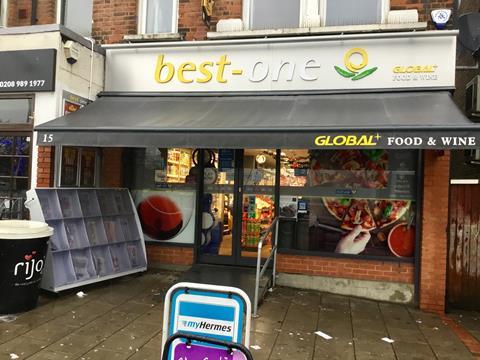 Kay Patel has always maintained that it's the little touches to a store that can make a massive difference to the shopper's experience, and this is abundantly clear in his Wanstead store in North-East London. From modern fixtures and fittings, to bespoke food to go and premium alcohol and tobacco, Kay's high standards are apparent.

"Customers are concerned with the look and feel of the place," Kay asserts. "If the store is a nice place to be then they will be more inclined to come back. This is quite an affluent area, so we need to make sure the store is looking its best as soon as shoppers walk into the shop."

To keep it looking good the store received a £120,000 refit in 2016, focusing on aesthetics and energy-efficiency, including chillers with doors, LED lighting and modern shelving throughout.

The 950sq ft Best-one store, which is part of the Global Food and Wine brand and one of seven owned by Kay, has to keep customers happy given that on Wanstead high street there is a Co-op and Tesco Express and soon the prospect of a new M&S Simply Food.

"The new M&S store was meant to open last year, but it has kept getting delayed," Kay adds. "We responded to the planned opening with new offers on bakery items and meal deals. We know these are the kind of products M&S customers like."

The Simply Food is set to open right next to Wanstead tube station, but Kay sees this as an opportunity. "There are two tube stations in Wanstead," he says. "We think once the M&S is open more people will use the station on our side of town and it could draw more customers over to us. We offer confectionery, household and some chilled products that M&S would struggle to match."
Store Facts
Best-one Wanstead, London
Store size: 950 sq ft
Average weekly sales: £18,000
Basket spend: £4.80
Age: 10 years old
Staff: three full-time and two part-time
Services: National Lottery, coffee machine, MyHermes, PayPoint, home delivery including Deliveroo
One area that stands out against the competition is Kay's food-to-go section situated at the front of the store. There's a Rijo coffee machine, bespoke 'Made with Love' grab-and-go range and a meal deal offer, including plenty of healthy options. Even the meal deal itself is healthier than most.
"We took the decision to replace the soft drinks in our meal deal option and add water, coffee and orange juice instead. It's about trying to give customers healthier options," Kay says.

The store also sells pasta pots, fruit pots and protein pots to add choice to the usual baguettes, rolls and wraps. Kay uses his own machine to seal the products and print unique labelling.

The packaging device is also put to use for Kay's 'Sweet Shop' range of pre-packed confectionery, which when C-Store visited was doing a roaring trade from its prime position at the front of the store.

With a large Asian community, Kay's Wanstead store goes big on World foods, offering customers spices and sauces from India, South Africa and Mexico. The range is pricemarked where possible, which Kay says gives customers better value and makes the products easier to shop.

"My motto is service, value and availability, with availability at the top," Kay asserts. "First and foremost, we need to have everything in stock, which is why we have invested so much money in outdoor storage. This store even has an underground cellar full of beers, wines and spirits.

"It is important that each of my stores in the area specialises in a particular category, so they can be called upon to distribute products to one another when needed."

Availability has become even more of a focus for Kay over the past few months as his store is now selling alcohol online through fast food delivery firm Deliveroo. As part of the service, Kay has to commit to keeping stock levels high.

The store's alcohol range spans multipacks of chilled beer and wine and a premium range of spirits; it offers more than 30 single-malt whiskies.

Kay says: "The most premium and expensive alcohol lines are displayed at till point, highlighted by special LED lighting."

The tobacco range is also skewed to the premium end. Says Kay: "We took the unusual decision to expand the amount of tobacco brands and lines we had in the store. This meant getting rid of middle-tier varieties and stocking up on lots of high-end products that can't be found anywhere else."

The move has paid off as tobacco sales have increased by 20%, he says.

Confectionery is also selling well after Kay put the focus on £1 sharing bags displayed at the till point. He made the move after noticing that single chocolate bars were an easy target for thieves. So Kay introduced 10 CCTV cameras and reduced the number of single chocolate bars stocked.

Kay says: "We want to make the store a safe place and minimise the temptation for people to steal. The single bar chocolates are so easy to slip into your pocket, so it was an easy decision make."

For Kay, it's all about offering something special. A Leytonstone baker provides all the bread and rolls for the store, while Kay visits Spitalfields Market three times a week to pick up fruit and veg.

Kay is quick at spotting a business opportunity. For example, when the only bank within a mile of the Wanstead store closed late last year, Kay promoted the fact that the store has a free ATM. It has been a victim of its own success, though: "I just can't fill the machine fast enough," Kay says.

"I'm going to have to ask the machine operator to help out, because I'm spending so much time going to the bank to fill up the ATM. On the plus side, the machine is at the back of the store so more people are looking around the whole of the shop."

Promoting different areas of the store is done through a digital screen. When Kay used his digital advertising screens to ask customers 'Did you know we sell all Royal Mail stamps at PO prices?', the message resulted in a 30% increase in sales.

"We sell more stamps than anywhere else in the area. It's a simple idea but it's all about perception. People just don't know that our prices are the same as anywhere else and may not know we even sell them if it wasn't for the signage. They are low-margin items, but it all adds up and helps improve the feel and reputation of the store."

Another way that value is being promoted at Best-one Wanstead is through Zapper, the payment and loyalty app. Kay says: "We use Zapper across the store to provide even better value for shoppers. It is also great to see what products sell the best, without using epos data."

He is a big fan of technology, and uses WhatsApp to communicate with all his staff. "We send about 1,000 messages every day, and when we interview for jobs I even ask candidates whether or not they would be comfortable using the system. It saves a lot of time making phone calls!"

Giving back to the community is another of Kay's philosophies, and he works closely with his former primary school. "They took me on a tour of the school and pupils pitched project ideas to me and my staff," Kay explains.

He donated more than 100 bottles of water and soft drinks for the school's sports day in the summer and held a Soapbox race at the London Olympic Stadium; he also provides seasonal hampers for the school's Christmas fundraiser and Easter celebrations.

The store's customer survey is also used to raise more for charity. Printed on every receipt is a note to encourage customers to provide feedback on the service they receive in the Wanstead shop. For every suggestion, Kay donates 10p to charity.

The store works with a number of local nursing homes, too. "We deliver daily essentials and requested products to elderly residents in Wanstead," Kay explains. "We make about 30 deliveries a week, and staff also help older shoppers to get home safely, by walking them to their house or carrying their shopping for them."

Kay's dedication has been praised by the CRA judges this year and winning the Best Small Store award shows that his reluctance to stand still is all worth the effort.